Each year, Chowan recognizes one young alumni who has truly excelled in his or her chosen profession at the Distinguished Alumni Dinner which is held Homecoming weekend.
The recognized alumni have made significant contributions to our society through his or her career or life accomplishments that are a testament to the work and mission of the University. Distinguished Alumni recipients are recognized for supporting their alma mater through participation in events on and off-campus, board memberships, and financially.
Nominations for Distinguished Alumni are made through the Alumni Relations Office.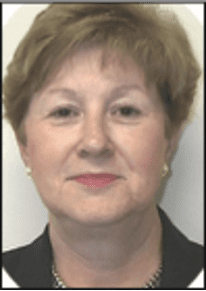 COMMUNITY SERVICE 2021
In 1983, Sallie Pait Surface began her thirty-eight-year career at Choanoke Area Development Association, of NC, Inc., (CADA), a private, non-profit corporation that has served Northeastern North Carolina-Bertie, Halifax, Hertford, Martin, and Northampton Counties-since 1962. The late Dr. Bruce E. Whitaker, Chowan President Emeritus, was one of the founders and first President of the inaugural CADA Board of Directors.
As the Executive Director of CADA from 1991-2021, Ms. Surface facilitated partnerships to assist families and communities to build assets and a better quality of life. She expanded CADA's role in Community and Economic Development to include:
Grantee for Head Start and Early Head Start Program and child development initiatives;
An educational homeownership counseling program for prospective buyers and designation as a HUD Housing Counseling Agency that led to a NCHFA Rural Homeownership Development Award for the number of first-time homebuyers served;
The development of affordable housing communities- Choanoke Meadows in Rich Square and the expansion of Southgate subdivision in Roanoke Rapids;
Partnerships with local municipalities such as Roanoke Rapids for the nationally recognized redevelopment of an economically distressed mill town area of the city;
The use of historic and low-income tax credits to convert three historic schools into award- winning, subsidized senior-living apartments: Woodland-Olney School. Ahoskie High School Apartments, and Enfield School Apartments;
The ability to respond quickly to community needs such as the aftermath of natural disasters and the COVID-19 pandemic; and
Programs such as Welfare to Work and workforce development programs, youth programs, Mobile Food Pantry, a solar energy pilot program to lower home-energy cost, an IDA Program, Urgent Repair and Healthy Homes, and a focus on Financial Literacy.
Ms. Surface, a graduate of Wake Forest College-now University, has had additional training in Economics and Community Development. She is a graduate of the Rural Economic Development Institute and the Center for Creative Leadership, has served on the Board of Directors for the North Carolina Low-Income Housing Coalition, North Carolina CRANC (Community Reinvestment Act), and the PNC Eastern North Carolina Advisory Board.
Currently, Ms. Surface as a Senate appointee serves as Vice-Chair of the North Carolina Housing Partnership Board that provides oversight of the North Carolina Housing Trust Fund, and is a member of the NC Weatherization Assistance Program Advisory Council. She has been a presenter/facilitator for local, state, and national conferences such as the National Rebuild America Conference, National Affordable Energy Conference and National Weatherization conferences. She has been featured in the Wall Street Journal for her advocacy for rural banking services as many rural communities are becoming un-banked.
Ms. Surface received the 2006 Outstanding Rural Leadership Award presented by the NC Rural Economic Development Center and the Rural Economic Development Organization. In April 2015, Governor Pat McCrory conferred the Order of the Long Leaf Pine to Ms. Surface for over 30 years of service to the citizens of North Carolina. She was inducted into the North Carolina Community Action Hall of Fame in 2004.
The CADA Board of Directors has bestowed on Ms. Surface the title of Executive Director Emeritus. The counties CADA serves acknowledged her leadership and declared August 22, 2021 Sallie Surface Day, and on that date, the CADA Board of Directors re-named the CADA Administrative Office, Rich Square, NC, the Sallie P. Surface Complex.
Ms. Surface and her late husband, Dan Surface, Chowan Coach, Athletic Administrator, and Professor Emeritus-and for whom two endowed Chowan scholarships are named, have three children: Dr. Eric Surface, a former member of the Chowan Board of Visitors, Julianne Surface, and Brian Surface, a Chowan University Graduate.
The Dan and Sallie Surface History Lecture Series at Chowan has been endowed in their memory and honor by family friend Warren Chauncey.
Ms. Surface encourages all to "Bloom where they are planted" and work for extraordinary results in ordinary places through partnerships.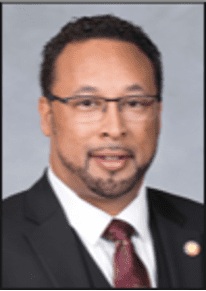 COMMUNITY SERVICE 2020
Howard J. Hunter, III is a Democratic member of the North Carolina House of Representatives, serving District 5 — Gates, Hertford and Pasquotank Counties. He is the owner and operator of Hunter's Funeral Services with locations in Hertford and Gates counties and is serving his 3rd term in the North Carolina General Assembly. Howard is the proud father of four children and lives in Ahoskie, NC.
Representative Hunter graduated from Chowan University in 1995 with a BS in Elementary Education. He also graduated from Fayetteville Technical Community College with a degree in Funeral Services.
He began his public service career in local government by
serving ten years on the Hertford County Board of Commissioners.
As a commissioner, Representative Hunter served on various
boards and commissions including the Mid-East Commission and Workforce Development Board, Hertford County Public Health Authority, Hertford County Economic Development Commission and the Chowan University Board of Trustees. While serving as county commissioner, Representative Hunter was an active and well-respected member of the North Carolina Association of County Commissioners and was elected by his peers to serve as President of the Association in 2012-2013.
Representative Hunter is a dedicated member of the NC House of Representatives and serves on the following standing and select committees:
Standing Committees
Agriculture – Vice Chairman
Appropriations
Appropriations, Information Technology
Ethics
Health
House Select Committee on Community Relations, Law Enforcement and Justice – Chairman
House Select Committee on COVID-19
House Select Committee on Disaster Relief
House Select Committee on Residential Planning and Permitting
House Select Committee on Strategic Transportation Planning and Long Term Funding Solutions
Rules, Calendar, and Operations of the House
Transportation
Select Committees – Non Standing
Joint Legislative Education Oversight Committee
Joint Legislative Commission on Governmental Operations
North Carolina Child Fatality Task Force
Joint Legislative Oversight Committee on Information Technology
Joint Legislative Economic Development and Global Engagement Oversight Committee
Representative Howard J. Hunter, III has been and remains committed to serving the people of District 5 as well as the State of North Carolina.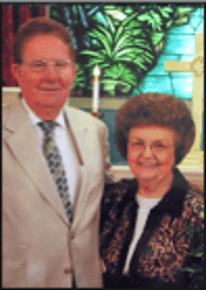 COMMUNITY SERVICE 2019
Robert Earl and Carolyn Brinkley are not strangers to the community. Robert Earl was born and raised in the Center Grove Community and Carolyn was born and raised in the Early Station Community. They both attended Ahoskie High School where they began dating, fell in love, and married at a young age.
Soon after marriage in 1951, Robert Earl was drafted in 1952 during the Korean Conflict into the United States Army and after basic training, he was stationed at Ludwigsburg, Germany. He achieved the rank of corporal/company clerk and received an honorable discharge in 1953. After returning home, he worked several different jobs and tenant farmed to provide for his family. In 1963, he was employed by Planters National Bank, which later became Centura Bank, in the Trust Department in Ahoskie specializing in Farm Management. After retiring from the bank in 1990, he opened his own farm management business known as REB Farms Inc. which remains operational today.
Carolyn supported her husband during his military service and remained in the Early Station Community until his return. When he returned, they made their home in the community that she grew up in. They have called the Roanoke-Chowan area home for their entire lives. Carolyn also provided for her family by working several different jobs. She worked for the Hertford County Tax Assessors Office as a "list taker" for over 45 years. During her employment with the Tax Office, she was also the Office Manager for Farmers Tobacco Warehouse for over 33 years. During all of this, she remained a mother to their three sons as a taxi mom and supporter in the education of their children.
The Brinkleys have always believed in community involvement. Robert Earl was part of the Ahoskie Lions Club and was instrumental in the creation of two scholarships, the Mack Jones Scholarship and the Ahoskie Lions Club Scholarship, at Chowan University which continue to financially assist students at the University. During his membership in the Lions Club, he served as President and received the Jack Stickley Lion of the Year Award by the North Carolina Lions Foundation. Because of his love for agriculture, he has also served on the North Carolina Peanut Growers Association, the North Carolina Society of Farm Managers for 20 years, the United States Farm Service Association for 42 years, the Hertford County Soil and Water Conservation Board for 41 years, the Hertford County Farm Bureau for 35 years and is presently a member of the Ahoskie Chamber of Commerce and a Board Member of the Ahoskie Rural Fire Department where he has served as Treasurer for over 37 years.
Carolyn has been a member of the Ahoskie Woman's Club for 44 years, which also provides a scholarship at Chowan University. She has served as President, chosen as Clubwoman of the Year in 1986 and 2011, received the Juanita Bryant Citizen of Year Award, Working Woman of the Year and Woman of the Century Award. She has been a member of Roanoke Chowan Hospital Auxiliary and has volunteered at Vidant Roanoke Chowan Hospital for over 45 years in various positions and recently received the Governor's Award for Volunteer Service in Hertford County for her involvement in the Community.
Both are still active members of Earlys Baptist Church. Robert Earl has been a member for over 62 years and continues to serve as Deacon, Sunday School Director, Treasurer and has been very instrumental in several remodeling projects and two major building projects. Carolyn's family was founder of the church; therefore this church has been her church for her entire life. She continues to serve as teacher and has been for 66 years, church clerk 33 years, Women's Missionary Union for 68 years, choir member and other various positions. Both continue to be part of the Chowan Christian Service Association at the University.
In June, they celebrated 68 years of marriage. They have three sons, Bob (wife, Carol) of Raleigh, NC, Don (wife, Debra) of New Bern, NC and Doug (wife, Susan) of Ahoskie, NC. They have seven grandchildren and four great-grandchildren.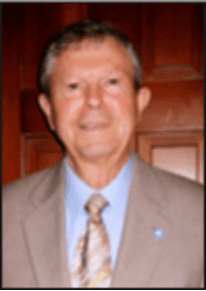 COMMUNITY SERVICE 2018
Brinson Paul is a 1952 graduate of then Chowan Junior College. He played varsity baseball and basketball, managed the book store and soda shop, and was editor of the yearbook. He also worked at the local Western Auto Store and the Murfreesboro Newspaper to help pay his way.
Following graduation, he began his working career in Norfolk, Virginia with the Virginian Railroad and worked there until entering the army in December 1952 where he served as discharge and reenlistment sergeant for the Headquarters Commandant Regiment. While in the Army, Brinson married the love of his life Lorene Bennett who also had graduated in 1952 from Chowan College.
Upon separation from the Army in 1954, he began his 37-
year career with the Insurance Division of General Motors in Raleigh. During this time, he held various positions in eight cities throughout America. He retired in 1992 from his last position as Director of Field Operations for the United States while assigned to the General Motors Home Office in Detroit, Michigan.
Brinson and Lorene, upon retirement moved to Murfreesboro. Even before all the boxes had been unpacked, Bob Hill enlisted Brinson to help him with the "Community Service Program" and the Murfreesboro Historical Association.
When the potential opportunity to acquire the "Jefcoat Collection" became known, Brinson agreed to spearhead this project, which became a near full time job for over fourteen years. Brinson worked to raise the money to purchase the Murfreesboro High School Property, renovate the buildings to Museum Standards, bring the collection from Raleigh, and establish the collection as a museum. With a cadre of over 100 volunteer helpers, Brinson brought to life what is now the largest museum collection on display in North Carolina.
The Jefcoat Museum has brought thousands of visitors to Murfreesboro including visitors from each inhabited continent on the globe.
In retirement, Brinson has served Chowan as a member of both the Board of Trustees and the Board of Visitors on which he currently serves. He is active in promoting sports and enrollment at Chowan University.
Brinson is an active member of the Murfreesboro Baptist Church. He has served on several committees and has been a Deacon and Sunday School Teacher. He spearheaded the formation of an outreach Garden for Community members who needed help in providing food. The group used their background in gardening and farming to teach the needy how to grow their own food. Brinson enjoyed giving food from his own annual gardens to family and friends.
Brinson and Lorene have two children, six grandchildren and one great-grandchild. Unfortunately, all of these offspring live in Dallas, Texas to Seattle, Washington areas which limits the time spent with them.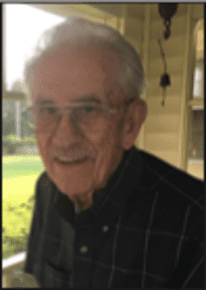 COMMUNITY SERVICE 2017
The circumstances of W.J. "Bill" Little, Jr.'s birth did not foreshadow a future so rich in diverse experiences and service leadership. Born in 1927, to a farming family in Stanly County, North Carolina, this youngest of five children might have remained on the farm had it not been for the Second World War, which, as it did for many Americans, affected the life decisions and directions for the family. Moving from the farm to the city, most of the family worked in the textile mills. After high school, Bill followed his brothers into military service and joined the U.S. Navy. Following his honorable service, he went to college on the GI Bill and became a respected high school teacher and award-winning athletics coach.
After this period of teaching and coaching, he worked for the federal government in critical capacities at the Department of Air Force, the National Aeronautics and Space Administration, and the Department of Energy. Bill has also served as a member/officer of the North Carolina Senior Tarheel Legislature, Chowan University Board of Trustees, Northampton County School Board, Duke University Council on Aging, County Forest Association, and as the chair/deacon for numerous government, agricultural and church committees.
Sharing in Bill's endeavors and successes of those early adult years, and for many years after, was his wife, Mary Jordan. They were married in Jackson, N.C. on June 8, 1949, and together raised two children, Bill, III and Julie Kim, in whom they instilled the lasting value of giving while living and beyond. They co-founded the North Carolina Senior Education Corps connecting local retired citizen volunteers with school needs. In 1997, God called Mary home. Their shared love for teaching and deep commitment to education abides across the state, to include a scholarship bearing their name at this university.
As for Bill's giving, an exhaustive listing would be too lengthy for the purpose of this writing, but it can be said of him that the mention of his name prompts a smile and words of praise for his many contributions to individuals, organizations, and institutions. Anyone who knows him well, and any who only know of him, would say without hesitation that W. J. "Bill" Little, Jr. has been a good Christian, a faithful husband, a loving father, a patient teacher, and a loyal friend.
COMMUNITY SERVICE RECIPIENTS
1995 Hirian C. Hill, Jr.
1996 Jean Simpson Sharp
1997 Rev. and Mrs. Rowland Pruette
1998 Hannah Brown
2000 Cities of Windsor (NC), Ahoskie (NC), & Franklin (VA)
2001 J.E. Skinner
2002 William Hall
2003 Lynn Howell and Artie Johnson
2004 J. Guy and Gertrude Revelle
2005 David, Deborah, and Josh Lane
2006 William Ivey Long
2007 Ray and Judy Felton
2008 Percy and Lynette Bunch
2009 Bob and Josie Hill
2010 W. Julian Robertson Jr.
2011 Wayne and Shirley Brown
2012 Edward W. Jones
2013 Margaret DeLoatch Futrell '50
2014 Michael C. Alston, MD
2015 Kay Mitchell Thomas
2016 Wayland L. Jenkins, Jr.
2017 W.J. "Bill" Little, Jr.
2019 Robert Earl and Carolyn Early Brinkley
2020 Howard J. Hunter, III, '95