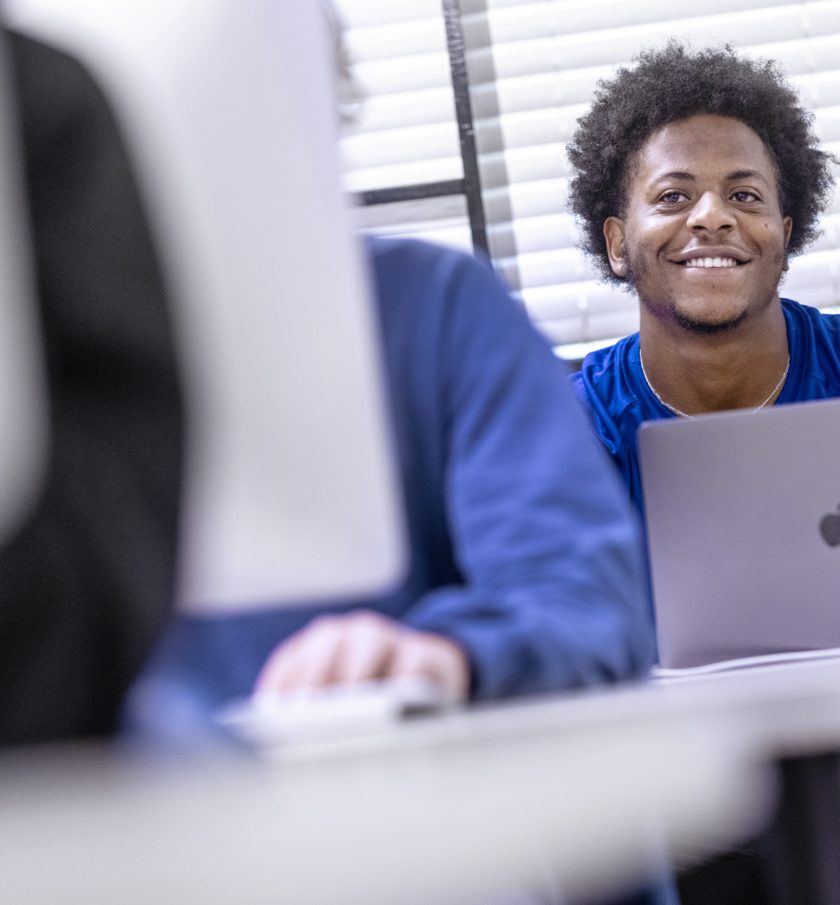 Master the Skills Employers Want
It's the integration of future-proof skills that will set you apart for success.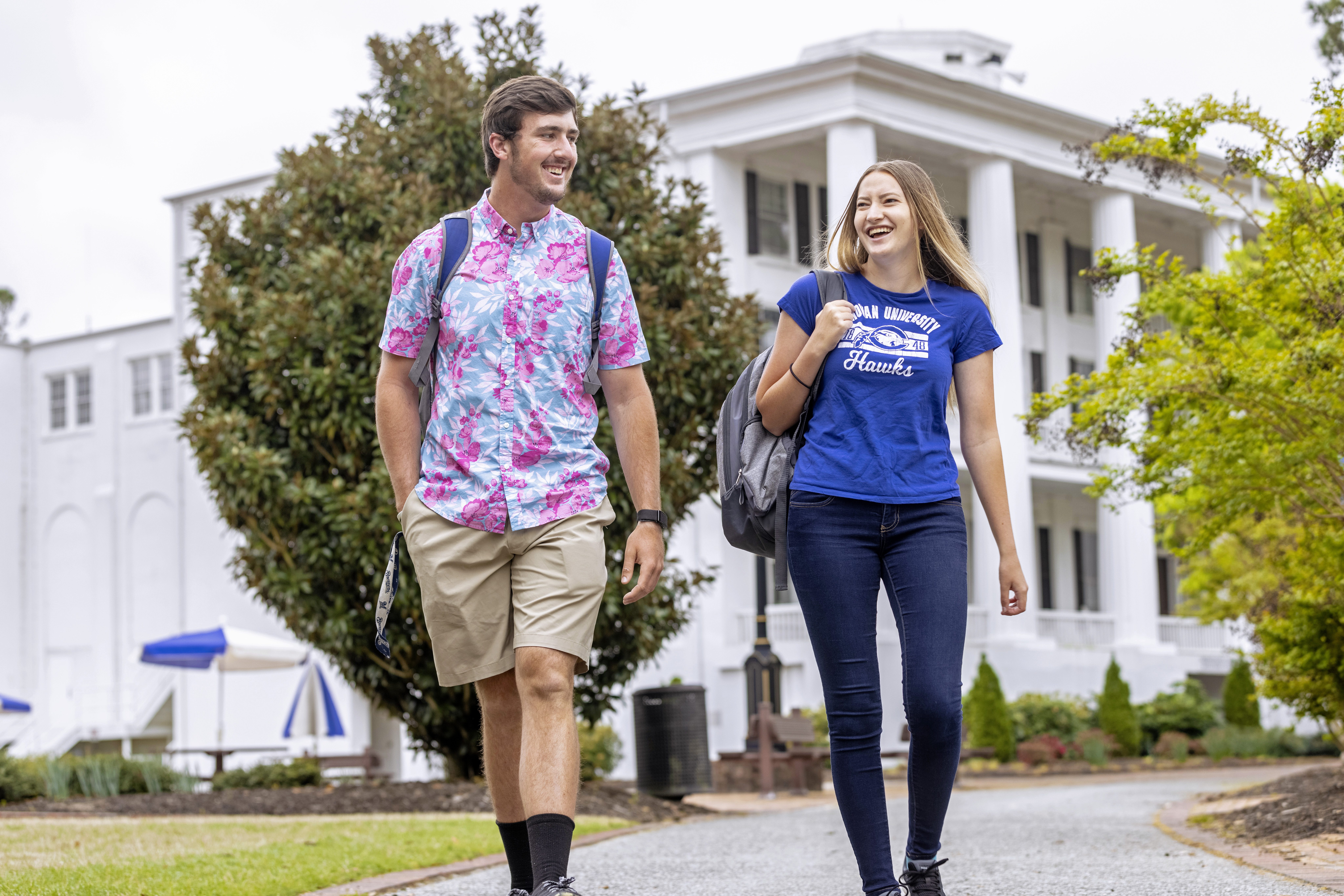 Real World Readiness
While pursuing your degree at Chowan, we'll guide you to master today's most in-demand employment skills. Our supportive community will equip you with career planning, coaching, and a strong spiritual foundation to complement your academic experience.
Graduate with the Skills Employers Want
With these ten crucial life skills mastered, you'll graduate confident in your future and ready to work like a pro.
Effective communication has never been more important in college and the workplace. With a focus on interpersonal, professional, and social media communication, Chowan equips you with the verbal, written, listening, and nonverbal skills you need to be successful in future courses, careers, and communities.
Skills Chowan Students Will Develop
Written
Verbal
Listening
Nonverbal
Interpersonal
Intrapersonal
Professional
Social Media
Public Speaking
Articulation
Clarity of Ideas
How You Will Get It
Present

at the Chowan University Undergraduate Research Conference

Complete COMM 101 Course 

Complete ENGL 101 and ENGL 102 courses
Present in class
Attend a social media workshop
Complete CU 101 course
Speak at a campus event
Get published in The Brown Lady
Present at an off-campus research conference
Take an advance writing or communication class in your major
Whether you are a student or a professional, self-care and wellness matter. As a student, you are expected to balance coursework, work-study, athletic responsibilities, and social life. As a professional, you will face similar challenges. Chowan teaches you how to manage the stresses and strains you will encounter in your college life and professional career.
Skills Chowan Students Will Develop
Physical Fitness
Mental Health
Stress Management
Healthy Habits
Work and Life Balance
Mindfulness
Personal Time
Healthy Relationships
Nutrition
Hygiene
How You Will Get It
Complete SSPE 201 Course

Take a moment to meditate
Attend a nutrition workshop
Meet with a counselor
Walk to class
Use a fitness app
Use the Jenkins Center
Complete a physical exam
Use a nutrition app
Develop an exercise routine
The difference between a good student, athlete, or employee and a great student, athlete, or employee comes down to a coachable mindset. Across our campus, Chowan faculty, staff, and coaches work with you to develop a perspective where you are receptive to instruction, open to ideas, willing to make changes, and eager to improve.
Skills Chowan Students Will Develop
Receptive to Instruction
Open to New Ideas
Willingness to Change
Desire to Improve
Resilience
Perseverance
Ask for Help
Responsibility
Flexibility
Adaptability
How You Will Get It
Visit the Writing or Tutoring Center
Be an active participant in your career coaching sessions
Read a self-help book
Develop an academic or athletic improvement plan
Visit a professor for help
Meet with a librarian to discuss research project
Visit the Life Skills Office
Identify a teammate or fellow major to serve as your mentor
Meet with your peer mentor
Demonstrate through an assignment or an athletic play that you have
learned from your mistake
A strong spiritual foundation is vital in our social, academic, athletic, and professional life. By advocating Christian virtues, Chowan helps you to grow spiritually, develop as a person, find inner peace, manage stress, build confidence, relate to others and the world around you, and use your skills efficiently in college and the workplace.
Skills Chowan Students Will Develop
Honesty
Kindness
Self-Control
Faith
Humility
Compassion
Core Set of Values
Service
Inner Peace
Ethical Behavior
How You Will Get It
Participate in a Campus Ministry activity

Attend a service or event at the Chowan Chapel

Attend a student-led worship service
Take time to pray quietly
Participate in a community service project
Share your faith with a peer
Attend a local church service
Attend a service or event at the Outdoor Chapel
Pray in the Farris Prayer and Meditation Room
Join a Bible study group
In college, in the workplace, and in your personal life, you will encounter many opportunities to solve problems. The Chowan experience cultivates skills that equip you to think and solve problems critically and creatively.
Skills Chowan Students Will Develop
Research
Evaluation
Analysis
Reasoning
Logic
Initiative
Decision-Making
Critical Thinking
Creativity
Quantitative Thinking
How You Will Get It
Complete a quantitative course
Mastered a game, like chess
Helped a friend solve a problem
Complete a research project
Participate in a debate
Learn lateral reading skills
Complete a real-world problem-solving course
Lead the planning phase of a service project
Develop strategies for solving an existing problem
Solve a problem
Planning for your future begins with a strong understanding of personal finance. Recognizing financial literacy as an essential life skill, Chowan faculty and staff empower you with knowledge and resources on personal financial management and responsibility to assist you in attaining financial security and wellness.
Skills Chowan Students Will Develop
Budgeting
Saving
Managing Debt
Investing
Managing Credit
Borrowing
Financial Responsibility
Financial Security
Self-Discipline
Understanding Insurance
How You Will Get It
Open a checking or savings account
Attend a financial planning workshop
Develop a personal budget
Complete a tax return
Join an investment club
Attend a financial aid workshop
Get a job
Manage a club fund account
Create an emergency fund
Establish financial goals
Collaboration is the cornerstone of effective teamwork and networking. As a member of the Chowan community, you will develop the behaviors and approaches for working with classmates, teammates, and work colleagues. In addition, you will establish connections, build relationships, and expand your personal and social circles through networking and effective team building.
Skills Chowan Students Will Develop
Teamwork
Networking
Personal Relationships
Leadership
Conflict Resolution
Negotiation
Empathy
Making Connections
Diplomacy
Emotional Intelligence
How You Will Get It
Participate in a group project
Hold a leadership position on a club, organization, or team
Compete on an athletic or intramural team
Collaborate with a club outside your major
Organize a campus event
Join a club, athletic team, or intramural team
Initiate a club activity
Network with individuals in your discipline
Interview a faculty or staff member
Lead a meeting
Self-confidence allows you to think positively about your academic coursework, athletic performance, and career goals. This will enable you to create a culture of confidence where you aim for excellence and achieve unprecedented results.
Skills Chowan Students Will Develop
Motivation
Perseverance
Integrity
Reflection
Self-Awareness
Positive Thinking
Goal Setting
Self-Esteem
 Know Your Values
Autonomy
Growth Mindset
Self-Efficacy
How You Will Get It
Attend a confidence-building workshop
 Achieve an academic or athletic goals
Participate in an academic or athletic competition
Attend every class session
Talk to a professor about course content
Ask or answer a question in class
Take the lead in a group or service project
Embrace a challenge
Tutor a peer
Complete a challenging course
Technical competencies align with the knowledge and skills needed to succeed in your academic and professional careers. We have tailored our curricula to provide you with the technical competencies in your chosen field of study and career.
Skills Chowan Students Will Develop
Wordprocessing
Spreadsheets
Technical Writing
Artificial Intelligence
Videoconferencing
Information Literacy
Online Research
Social Media Management
Discipline-Based Knowledge and Skills
Quantitative and Statistical Analysis
How You Will Get It
Complete capstone course
Complete IS 101 course
Receive Microsoft certifications
Host videoconferencing meetings
Earn a degree
Create a spreadsheet with formulas
Attend an information literacy workshop
Assist a student with a computer issue
Search a library database
Learn a new software
Professionalism goes beyond developing a resume and preparing for an interview. Each academic program, in collaboration with the Office of Career and Professional Development, will help you develop the qualities of professionalism in the workplace that give you credibility and rapport with coworkers and leaders.
Skills Chowan Students Will Develop
Organization
Planning
Dedication
Reliability
Time Management
Goal Setting
Accountability
Integrity
Etiquette
Branding
How You Will Get It
Utilize resources of the Office of Career and Professional Development

Participate in a mock interview

Develop a resume or cover letter
Attend a business etiquette dinner
Complete an internship or job shadowing experience
Complete CU 102's job boot training camp
Create a LinkedIn profile
Attend a business dress event
Develop an elevator speech
Maintain a calendar and planner
Being a graduate student of Chowan University, I was prepared for life, and I left with great confidence. I learned the importance of networking, time management, and creative skills. Chowan's professors and staff knew me by name and not by number, which taught me how to communicate on an individual basis with my teachers and superiors. Chowan's objective is to not only make sure students graduate in four years, but to make sure we leave ready for the real world.