New students check in on January 8th, beginning at 9 am and ending at 3 pm.
Returning students move in on January 8th, beginning at 9 am and ending at 3 pm.
All NEW students begin the process at Penny Hall (110 Hawks Drive) for key pick-up and additional instructions.
Express Check-In Information
You can speed up the check-in process with Express Check-In. To qualify for Express Check-in, you must complete and return the following before December 1, 2022:
Final High School Transcript (with actual graduation date listed; any transcript stating 'expected graduation date' will not be accepted as final) (New Students)
Housing Preference Form
Medical Form completed and approved by the University
Financial Aid Paperwork
Attend SOAR (New Students)
Student Health Insurance Waiver Approved
Paid your account balance or set up payment arrangements and be current on your payments with the Business Office
If you have questions regarding Check-in please call your Admissions Counselor at 1-888-4-CHOWAN (1-888-424-6926) or 252-398-6230. You may also fax your information to (252) 398-1190 or email it to enroll@chowan.edu.
Failure to pay or make satisfactory arrangements with the Business Office by December 1st for spring or August 1 for the fall semester balance may result in you losing your room reservation if other students are waiting for a room. Failing to check in on the assigned day could result in a fine and loss of your residence hall space.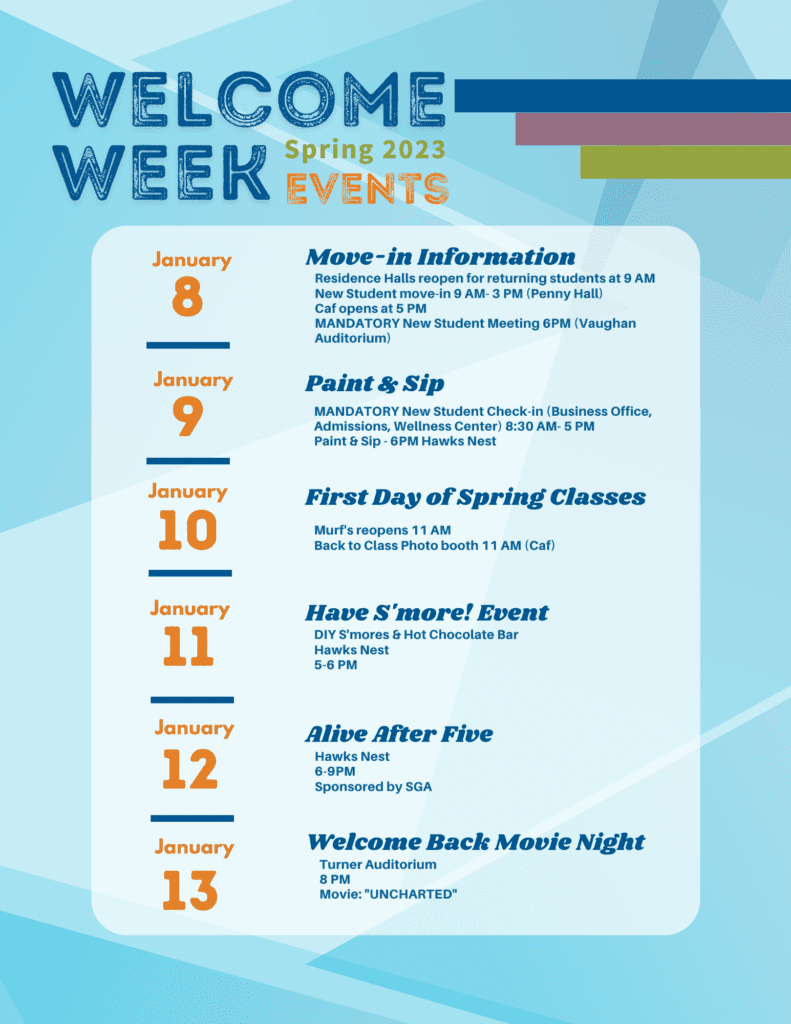 ---
HAWK FLIGHT BOOK RENTAL PROGRAM – The Hawk Flight Book Rental Program is a preferred digital model that allows students to have digital access to all required material (physical books will be used if the digital format is not available for the required material). Students are automatically enrolled into the program each semester; full-time students cost $410 per semester and part-time students cost $200 per semester. Digital access for the Hawk Flight Book Program will be emailed to students before the beginning of the semester and physical books will be available to pick up in the Bookstore at the start of the semester. The deadline to opt-out of the Hawk Flight Book Rental Program for Spring 2023 is January 1, 2023. The opt-out request for the upcoming semester can be completed with the Bookstore Rental Opt-Out link on MyCU. Students who complete the opt-out request, are not eligible to participate in the program until Fall 2023. Students who do not opt-out by the deadline will still be charged for the Hawk Flight Book Rental Program even if digital material is not used or physical books are not picked up. Students will be notified via email about the Fall return deadline for the physical books. Books not returned by the deadline or are returned in a non-reusable condition will result in the non-return fee being applied to student accounts.