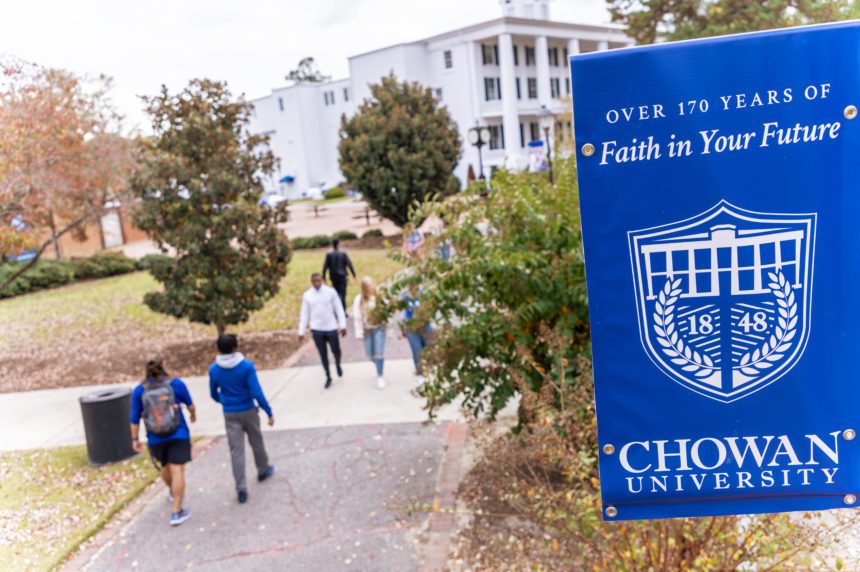 Chowan Unveils Bold Vision for University's Future
Aug 25, 2023
by Kim Sherman Bailey
Chowan University's leadership announces a new vision for the institution's future. As a life skills university, Chowan will empower students for success with a whole new approach to the academic experience.
Following a monumental Board of Trustees Retreat and then called business meeting on Thursday, June 29th, university leadership has worked vigorously to pivot the university into a life skills university. On Wednesday, August 16th, university faculty took another bold move in approving a curriculum change that will begin in fall 2024.
"Recent graduates, parents, and employers are increasingly dissatisfied with how colleges are preparing students for the workplace; in fact, there is only a 36% satisfaction rate with higher education in America," shares President Charles E. Taylor. "Graduates mastering their field of study is still essential, but it is the integration of life skills, or what we like to call 'future proof skills' that will set our graduates apart for career success. That's why Chowan is pivoting to a whole new approach to the academic experience."
The university is focusing on majors in today's highest-demand fields, with practical experience and career mentoring. Chowan's most popular programs, business administration, psychology, criminal justice, biology, sport management, and exercise science, align with today's highest-demand fields.
Beginning in the fall of 2024, a new innovation learning model will be implemented. It will allow students to concentrate on just two classes at a time for seven-week sessions. With classes only four days each week, Wednesdays are free for extracurricular activities and experiential learning. Intensive classes incorporate depth of content knowledge and active learning methodology. Students engage in real-world problem-solving in relevant, meaningful ways.
Throughout all coursework and across the college experience, Chowan will integrate life skills development that prepares students for the demands of career and life. The University will implement a life skills general education core. Through this core, "students will have an easier time articulating to employers the value of their Chowan experience," shared Dr. Danny Moore, Provost. "As part of our new university, we will align life skills with academic life, student life, religious life, social life, and athletic life, and this co-curricular model will provide a framework in which student organizations, athletic teams, classes, and other groups of students will be empowered to apply the skills learned in the classroom to activities outside the classroom."
The entire student experience at Chowan remains built on a strong spiritual foundation, connecting a relationship with God to life in the real world. Faculty and staff invest personally in the lives of students, helping each individual to grow in an understanding of faith.
"Chowan is celebrating 175 years of service in higher education this October," shared President Charles E. Taylor. "It has endured a civil war, two world wars, two worldwide pandemics, and a host of other challenges. Why? Because its committed trustees, faculty, and staff have skillfully adapted its educational product to the changing world around it. Now, we are doing it again."
To learn more about the changes and how Chowan University is preparing its students for the future of work, visit chowan.edu/lifeskills