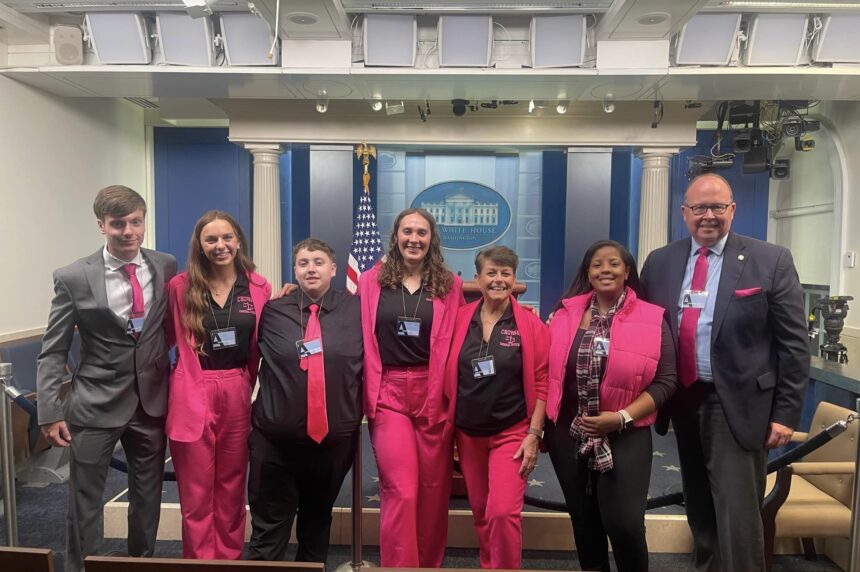 Chowan University Criminal Justice Department Visits White House
Nov 3, 2023
by Zoe Beale
On Saturday, October 28th, a group of Chowan University students embarked on an unforgettable educational journey to the nation's capital. Led by Dr. Pamela Woodard and John Tayloe, the students had the opportunity to explore Washington, DC, and engage in enriching experiences that will leave a lasting impact on their lives.
The day began with an exciting private guided tour of the capital, courtesy of Congressman Greg Murphy's communication director, Alex Crane. The students were captivated as they strolled through the Senate building and the renowned Library of Congress. Lunch was enjoyed at the historic Old Ebbitt Grill, the oldest restaurant in DC, where a surprise visit from Adida Manseka, a former Chowan student and graduate, added to the excitement.
The highlight of the day was undoubtedly the exclusive West Wing tour at the White House. Richard Whitted, a Secret Service agent and Chowan University alumni, provided invaluable insights into his role and daily responsibilities. The students were enthralled as they learned about the inner workings of one of the most iconic buildings in the world.
Throughout the day, the students proudly sported pink and black attire, sparking conversations and connections with fellow visitors. They eagerly discussed career choices, internships, and strategies for success, seeking guidance on how to manage their goals and dreams. The day even began with a practical life lesson, as the students learned the art of tying a tie.
Chowan University was well represented during this remarkable trip, and Dr. Woodard expressed her immense pride in the students' engagement and enthusiasm. The memories made during this educational excursion will undoubtedly shape their futures and inspire them to reach new heights.
For more information about Chowan University and its commitment to providing transformative educational experiences, please visit www.chowan.edu.