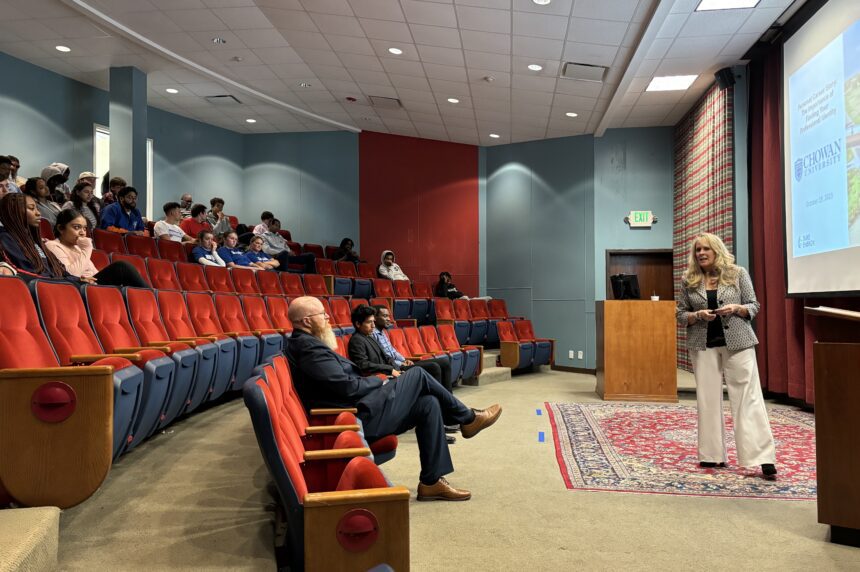 Chowan University Alumna Donna Phillips Askew Returns with Visiting Executive Program
Oct 19, 2023
by Zoe Beale
Chowan University alumna Donna Phillips Askew recently visited her alma mater as part of the prestigious visiting executive program. Askew, a business major and native of Murfreesboro, shared her insights and experiences with current students, emphasizing the significance of professionalism in today's competitive job market. Currently employed at Duke Energy, Askew holds a special place in her heart for rural North Carolina.
During her visit, Askew engaged with students from various disciplines, offering valuable advice and guidance on how to succeed in the professional world. Drawing from her own journey, she highlighted the importance of building a strong foundation of professionalism, which she believes is crucial for long-term success.
Askew's return to Chowan University was met with great enthusiasm from both faculty and students. Her accomplishments since graduating have made her a role model for aspiring professionals, particularly those hailing from rural areas. As an alumna who has excelled in her career, Askew's visit served as a source of inspiration for students, encouraging them to strive for excellence and pursue their goals with determination.
Chowan University takes pride in its alumni, and Askew's achievements reflect the institution's commitment to producing well-rounded graduates who make a positive impact in their communities. By inviting successful alumni like Askew to share their experiences, the university aims to provide students with real-world insights and practical knowledge that will enhance their academic journey and future careers.
Askew's dedication to rural North Carolina is evident in her work at Duke Energy, where she oversees operations in her favorite area. Her passion for her home state and commitment to its development resonated with the students, many of whom also hail from rural backgrounds. Askew's visit not only emphasized the importance of professionalism but also highlighted the potential for success in rural communities.
Chowan University extends its gratitude to Donna Askew for her valuable contribution to the visiting executive program. Her visit served as a reminder to students that with determination, hard work, and a commitment to professionalism, they too can achieve their goals and make a difference in their chosen fields.