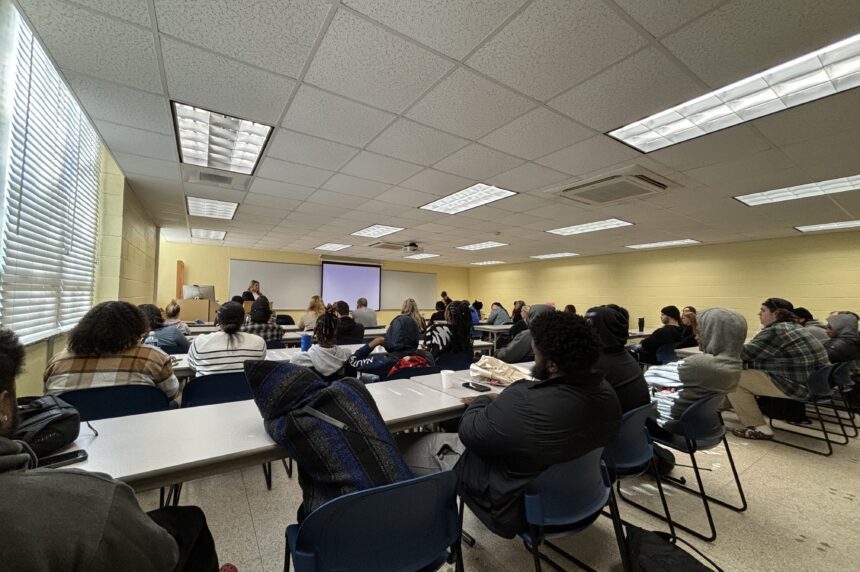 Colleen R. Cloutier Shares Insights on Criminal Justice Work with Chowan University Students 
Oct 18, 2023
by Zoe Beale
Zoë R. Beale
University Relations
October 18th, 2023
MURFREESBORO, NC – Colleen R. Cloutier, a distinguished member of the Northeastern District of the NC State Bureau of Investigation, visited Chowan University on Tuesday, October 17th, to engage with students in the Criminal Justice Department. During her visit, Cloutier provided valuable insights into her work and shared her experiences in the field. After graduating from East Carolina University with a Criminal Justice Degree and a concentration area of Psychology, Cloutier began her career with the SBI in 2007.
As a seasoned investigator, she offered a unique perspective on the challenges and rewards of working in the criminal justice system. The Criminal Justice students were captivated as she discussed her role in the Northeastern District and shed light on the inner workings of the NC State Bureau of Investigation.
Cloutier's presentation focused on various aspects of her work, including the importance of thorough investigations, evidence collection, and the collaboration required with other law enforcement agencies. She emphasized the significance of integrity, professionalism, and attention to detail in the pursuit of justice.
The students had the opportunity to engage in a lively question and answer session with Cloutier, where they delved deeper into her experiences and sought advice on pursuing a career in Criminal Justice. Her insightful responses provided valuable guidance to the aspiring professionals, leaving them inspired and motivated.
Dr. Pamela Woodard, the Chair of the Criminal Justice department at Chowan University, expressed her gratitude to Cloutier for taking the time to share her expertise with the students.
"The Criminal Justice Department strives to bring in speakers that represent a wide array of career possibilities within their major. They can listen and ask questions and many times find their passion for a certain career path," said Dr. Woodard. "They learn about internships and job opportunities each time we have guests. We are fortunate in that guests love to speak to the Hawks and many times their interaction here leads to employment."
Cloutier's visit to Chowan University was a part of the ongoing efforts to bridge the gap between academia and real-world professionals, and served as a reminder of the importance of collaboration between academia and professionals in the criminal justice system. By providing students with real-world insights and a chance to network with professionals in the field, they are better equipped to navigate the challenges they may face in their future careers.
For more information about Chowan University's Criminal Justice program and upcoming events, please visit chowan.edu or contact Dr. Pamela Woodard at pcwoodard@chowan.edu.