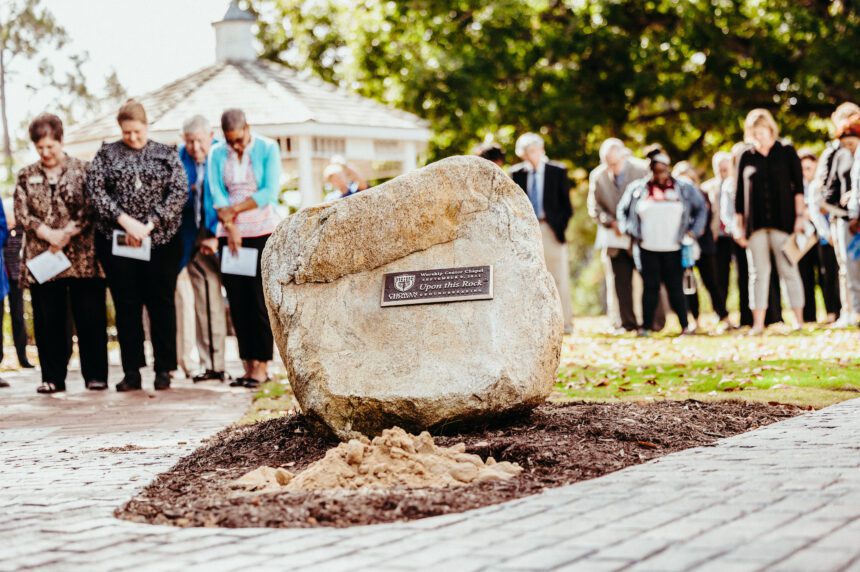 Chowan University Celebrates 175th Anniversary with Service and Time Capsule Ceremony
Oct 13, 2023
by Staff Reports
On Wednesday, October 11, 2023, Chowan University proudly marked its 175th anniversary with a week-long celebration culminating in a memorable ceremony and time capsule burying. Founded in 1848 near the birthplace of American civilization and the early area of Baptist work in North Carolina, Chowan University has a rich history of providing quality education for over a century and a half.
At 11 a.m. in the Chowan Chapel, faculty, staff, students, community members, and regional dignitaries gathered to celebrate the momentous occasion. Proclamations were read by or on behalf of US Senator for North Carolina Thom Tillis, NC Representative Bill Ward, NC Senator Bobby Hanig, Hertford County Commissioner John D. Horton, and Mayor of Murfreesboro Hal Thomas.
In addition to this momentous occasion, on the eve of the 175th anniversary, the same proclamation read by Senator Hanig was read at the NC Senate Chamber, approved and shared across our state. President Chuck Taylor, John Tayloe, Assistant to the President, Board Chairman Kemper Baker, and several other Board of Trustees and Board of Visitors were present in the Chamber.
Following the service on October 11th, attendees gathered to bury the time capsule that will be opened in 50 years. Chowan students, faculty, staff, friends, and alumni had a special opportunity during the 175th Anniversary Exhibit in Green Hall to contribute to a Time Capsule. These heartfelt messages and mementos will serve as a testament to the enduring legacy of Chowan University for generations to come.
The history of Chowan University is one of resilience and growth. In 1848, a group of visionary fathers gathered at the home of Dr. Godwin Cotton Moore, moderator of the Chowan Baptist Association, to establish an institution that would provide their daughters with a well-rounded education. The institution opened its doors on October 11, 1848, with eleven students, marking the beginning of a legacy that would impact thousands of lives over the next 175 years.
Despite facing challenges during its early years and surviving the trials of the Civil War, Chowan University continued to evolve. It transformed into a standard Senior College between 1897 and 1914, officially becoming Chowan College in 1910. In 1931, it admitted male students, and in 1937, it transitioned to a two-year college due to financial pressures. The institution temporarily closed during World War II but reopened in 1949 as a two-year coeducational institution.
In 1992, Chowan College regained its four-year status, and in September 2006, it adopted the name Chowan University. Throughout its history, it has excelled in preparing teachers, biologists, and historians and, in 2010, began offering a Master of Education degree in elementary education.
Despite these transformations, Chowan University has remained closely connected to the Baptist State Convention of North Carolina. The university continues to uphold its commitment to intellectual, social, and spiritual growth, fostering intellectual freedom while embracing Christian principles.
The 175th-anniversary celebration was a testament to the enduring legacy of Chowan University and its unwavering dedication to education, faith, and community. As the university looks to the future, it remains committed to its mission of providing a well-rounded education and making a positive impact on the lives of its students and the communities it serves.
For more information about Chowan University and its 175th-anniversary celebration, please visit www.chowan.edu/175.