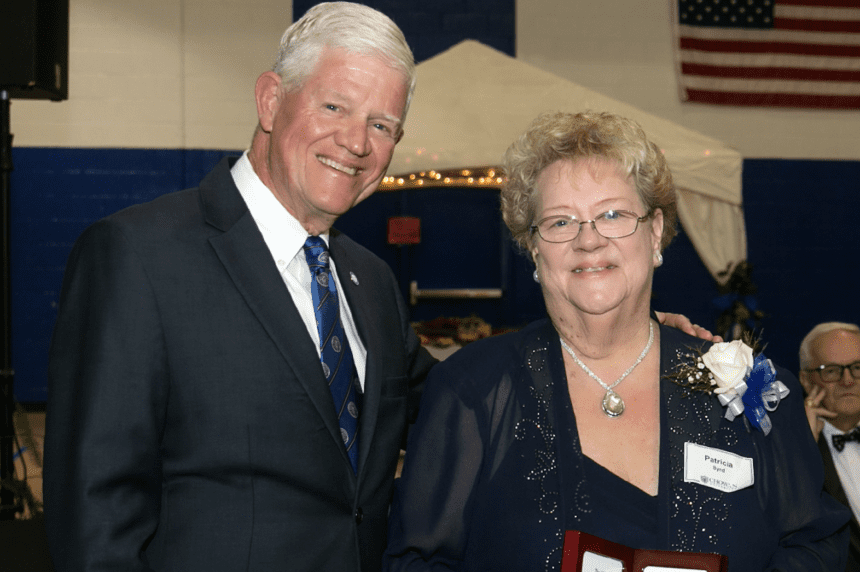 Chowan University Recognizes Outstanding Community Service with the Presentation to Patricia "Pat" L. Byrd
Oct 12, 2023
by Staff Reports
Chowan University proudly recognized and celebrated the outstanding contributions of Ms. Patricia "Pat" L. Byrd by presenting her with the prestigious Outstanding Community Service Award. This award, bestowed upon individuals who exemplify exceptional dedication to community service and a commitment to enriching the lives of others, was presented to Ms. Byrd in honor of her tireless efforts and unwavering commitment to making a positive impact on the lives of those in need.
Born in Norfolk, Virginia, Ms. Byrd later made Ahoskie, North Carolina, her beloved home. Her journey has been one marked by perseverance, determination, and an unwavering commitment to service. Ms. Byrd dedicated 32 years of her life to Vidant Roanoke Chowan Hospital, where she made significant contributions in various departments, including business, compliance, and finance. Her dedication to her career was matched only by her devotion to her faith, as she is a cherished member of First Baptist Church in Ahoskie.
Ms. Byrd's dedication extended beyond her professional career as she worked tirelessly to provide support and opportunities for those in need. After her retirement in 2009, she established the Roanoke Chowan Christian Women's Job Corps in Hertford County in 2011. This remarkable initiative aimed to empower women to achieve self-sufficiency through education, employment, and the embrace of spirituality as a guiding force in their lives.
Under Ms. Byrd's leadership, the Roanoke Chowan Christian Women's Job Corps became a beacon of hope for countless women and their families. Over the years, the organization has assisted approximately 275 women, offering educational opportunities, financial support, and unwavering encouragement to overcome obstacles and achieve their goals.
In 2023, the organization expanded its mission by moving to a new space known as The Gathering Place. This facility hosts various community programs, including grief counseling classes, senior meetings, a Clothes Closet for women and men in need, and the provision of household items to those facing adversity.
Ms. Byrd's remarkable dedication to her community also led her to become deeply involved with Chowan University through her work with the Ahoskie Women's Club and the Christian Job Corps. Her passion for education and empowerment has paved the way for many individuals to pursue successful careers and make meaningful contributions to society.
Ms. Byrd's legacy lives on through the countless women who have become teachers, nurses, nurse aides, office workers, entrepreneurs, and more, thanks to the guidance and support she provided through the Roanoke Chowan Christian Women's Job Corps.
Chowan University is delighted to celebrate 175 years of preparing students for lives of active learning, career success, personal growth, and service to society. Founded in 1848, Chowan University has evolved into a vibrant and beautiful institution committed to nurturing individuals who, like Ms. Pat L. Byrd, make an indelible mark on their communities.
The University Community Service Award presented to Ms. Pat L. Byrd is a symbol of gratitude for her extraordinary commitment to community service and her unwavering dedication to improving the lives of others. Her exemplary work continues to inspire us all.