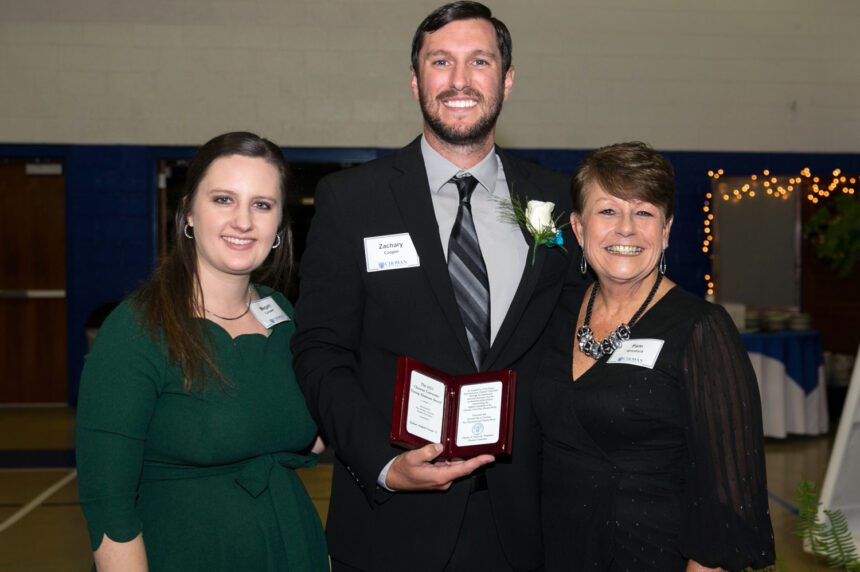 Megan (Zach's wife), Zach, and Dr. Pam Woodard
Chowan University Honors Young Alumnus, Zachary Andrew Cooper with Prestigious Award
Oct 12, 2023
by Staff Reports
Chowan University proudly recognized and presented the Young Alumnus Award to Zachary Andrew Cooper, a distinguished 2017 graduate of the institution, during a special ceremony held on October 7, 2023. The award was presented by Pamela C. Woodard, Associate Professor of Criminal Justice and Chair of the Department of Criminal Justice at Chowan University.
Zack Cooper, who graduated Summa Cum Laude in 2017 with a degree in Criminal Justice and a Minor in History, has consistently exemplified excellence throughout his academic and professional journey. During his time at Chowan, Zack not only excelled in the classroom but also made a significant impact on the baseball field, earning All-CIAA honors in 2016 and D2CCA Third Team All-American honors in 2017 as a proud member of the university's baseball team.
After completing his undergraduate studies at Chowan, Zack continued his pursuit of academic excellence by attending law school at the Robert Khayat School of Law at the University of Mississippi. He successfully graduated with a Juris Doctor in the fall of 2019. In 2020, Zack achieved another remarkable milestone by passing the North Carolina Bar Exam.
Following his bar admission, Zack embarked on a mission to help families secure their future through estate planning. He founded his own estate planning and probate law practice, Zachary A. Cooper Law, with a strong commitment to making estate planning accessible and affordable for young families. Zack's dedication to his clients not only ensures their peace of mind but also saves their loved ones time and money in the future.
Beyond his professional achievements, Zack finds joy in traveling with his wife, Megan, and pursuing his passion for golf. He is also an active member of Fairview Baptist Church in Apex, NC, where he and his wife have participated in short-term missions teams, including recent trips to Hungary and Ukraine.
Zack Cooper's commitment to Chowan University extends beyond his student years. He currently serves as the President of the Alumni Council, where he collaborates with fellow alumni and university staff to promote the institution, organize alumni events, and raise support on Giving Day.
Chowan University, celebrating its 175th anniversary, takes pride in its rich history of preparing students for lives of active learning, career success, personal growth, and service to society. Founded in 1848 as a small Baptist Female Institute, the university has transformed into a vibrant and beautiful institution, continuing to shape the future of its students and alumni.
The Young Alumnus Award bestowed upon Zachary Andrew Cooper is a testament to his exceptional accomplishments and unwavering dedication to making a positive impact in his community and beyond. Chowan University congratulates Zack on this well-deserved recognition and looks forward to witnessing his continued success in the years to come.