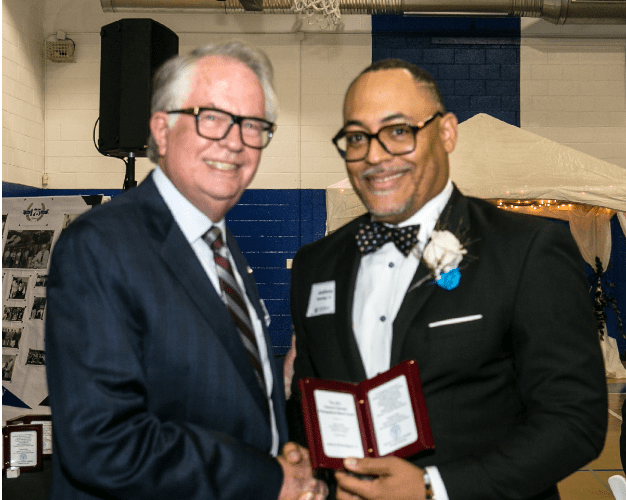 M. Christopher White and Anthony Rawlings
Chowan University Honors Distinguished Alumnus Pastor Anthony M. Rawlings, Sr.
Oct 12, 2023
by Staff Reports
In a prestigious ceremony that marked a milestone in its 175-year history, Chowan University proudly presented the Distinguished Alumni Award to Pastor Anthony M. Rawlings, Sr., a 2011 graduate of the institution. The award was presented by M. Christopher White, Former President and Chancellor of Chowan University, who served from 2003 to 2020.
Pastor Anthony M. Rawlings, Sr., is the Lead Pastor of Celebration Church in Franklin, Virginia, and a multifaceted individual whose contributions have left an indelible mark in both his community and beyond. His journey continued in November 2011 when he graduated from Chowan University with a Bachelor of Science degree in Religion.
Pastor Rawlings has dedicated his life to serving others and has been involved in various boards and organizations, including Early Childhood Western Tidewater, United Way, The Planning Commission for the City of Franklin, Franklin/Southampton Wellness Coalition, and the Franklin Southampton Charity Board. In his role on the latter, he played a pivotal role in helping the board make critical decisions on grant allocations to benefit qualified applicants throughout the Western Tidewater region of Virginia.
With a wealth of experience and expertise, Pastor Rawlings has earned certifications as a Transformational Coach, course and content creator, and a Certified Church Consultant. His coaching niches encompass Executive Coaching, Organizational Coaching, Life Coaching, Leadership Coaching, Clarity Coaching, and Time Management Coaching. For over 15 years, he has empowered individuals to unlock their potential and fortify their mental resilience on their transformational journeys.
Pastor Rawlings is not only a leader in his professional life but also in his personal life. He is married to Elder Eureka Rawlings, and together, they are parents to six wonderful children: Anthony Jr., Amber, Andrew, Ashley, Alicia, and Aaron. Inspired by the generational legacy of his beloved grandparents, Harvey and Alie Boone, and his parents, Raymond and Sarah Pope, Pastor Rawlings is committed to showing others that they can be generational trendsetters.
Reflecting on his life's journey, Pastor Rawlings lives by the motto, "You don't go as far as your dream, you go as far as your team," a principle instilled in him by his pastor, Dr. Dharius Daniels.
Chowan University, celebrating 175 years of excellence, takes immense pride in recognizing Pastor Anthony M. Rawlings, Sr., as a distinguished alumnus who exemplifies the institution's values of active learning, career success, personal growth, and service to society. Founded in 1848, Chowan University has transformed from a small Baptist Female Institute into a vibrant and illustrious university.