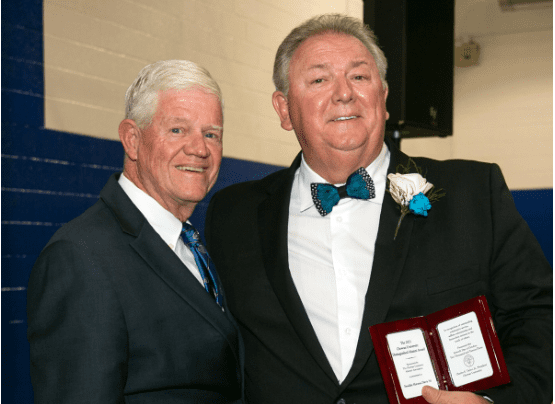 President Charles E. Taylor and Freddie Davis
Chowan University Honors Distinguished Alumnus Freddie Havana Davis, Class of 1981
Oct 12, 2023
by Staff Reports
Chowan University proudly celebrated the remarkable achievements of one of its esteemed alumni, Mr. Freddie Havana Davis, a 1981 graduate of the institution. The Distinguished Alumni Award was presented to Mr. Davis in recognition of his outstanding contributions to his community, his remarkable career, and his unwavering commitment to excellence.
The prestigious award ceremony took place at Chowan University, with Mr. Edward Wooten, a former faculty member who served from 1967 to 1993, presiding over the event. Mr. Wooten, a respected figure within the university, presented and recognized Mr. Davis for his exceptional accomplishments.
Freddie Havana Davis, a proud graduate of Chowan University's Class of 1981, continued his educational journey at Appalachian State University, graduating in 1984. Hailing from Morganton, NC, Mr. Davis had a stellar academic and athletic career at Freedom High School, where he distinguished himself as both a standout student and athlete.
Throughout his life, Mr. Davis maintained a deep bond with his beloved wife, best friend, and business partner, Teresa, for 38 years. They resided in Lenoir, NC, and Nokomis, FL, and were blessed with a loving family, including their daughters Tiffany Bowman and Terra Bryant, along with their respective families.
During his time at Chowan University, Mr. Davis held several leadership positions, demonstrating his commitment to excellence. He served as the President of Phi Theta Kappa Honor Fraternity, President of The Monogram Club, and was appointed SGA Auditor. His exceptional leadership qualities led to his recognition in "Who's Who Among America's Colleges and Universities."
In 2001, Mr. Davis received the honor of being inducted into the Garrison Sports Hall Of Fame, a testament to his exceptional baseball career under the guidance of Hall Of Fame Coach Jerry Hawkins. Mr. Davis was not only named team Captain but also earned a spot on the Region X Western Conference first-team All-Conference. His baseball achievements included winning the batting title, earning MVP honors, receiving the Coach's award, and breaking the school's home run record.
Following his successful stint at Chowan, Mr. Davis continued to excel at Appalachian State, where he was invited to try out for the United States Olympic Team.
Mr. and Mrs. Davis, together with their family, embarked on an entrepreneurial journey, founding, building, and successfully selling nine companies in industries ranging from Furniture and Domestic Transportation to International Shipping. Mr. Davis currently serves as the Chairman of Pelagic Consulting LLC and Gulfstream Shippers Association LLC, while also holding partnerships in Pelagic Holdings LLC, Bluewater Logistics Group LLC, Bluewater Asia LLC, and Mesa Davis Enterprise LLC.
Over the years, Mr. Davis has been actively involved in various Boards of Directors, contributed to economic development, and demonstrated his dedication to the Furniture and Transportation Industries. He served as Booster Club President for several years and was a devoted 6th-grade Sunday School teacher.
Mr. Davis attributes his success to his unwavering faith in God, his deep-rooted family values, and his love for his country. His interests include spending quality time with his family, traveling, attending sporting events, and cheering on the Appalachian State football team. He also enjoys driving through the majestic Appalachian and Blue Ridge Mountains, hunting for shark's teeth with Teresa on the Gulf of Mexico, and relentlessly pursuing joy.
As a proud alumnus, Mr. Davis is an active member of the Chowan University Brave Hawks Club. His life motto is "Cherish Yesterday, Live Today, and Dream Tomorrow!" while his favorite saying is "Ain't It Great!" His favorite verse is, "In All Things Give Thanks."
Chowan University, which is celebrating its 175th anniversary, takes immense pride in the accomplishments of its alumni like Freddie Havana Davis, who exemplifies the university's commitment to preparing students for lives of active learning, career success, personal growth, and service to society. Founded in 1848, Chowan University has evolved into a vibrant and distinguished institution dedicated to nurturing excellence.