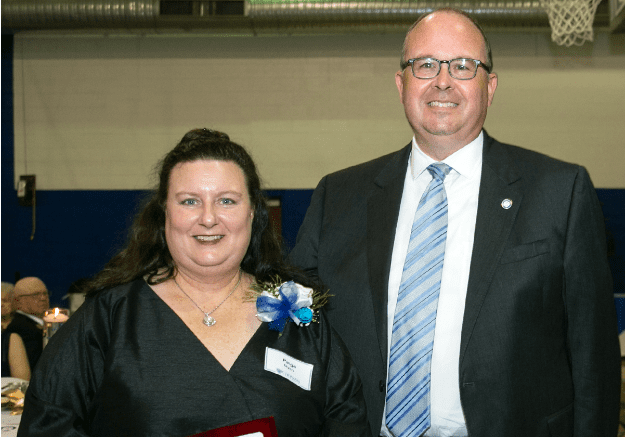 Paige Myers and John Tayloe, Assistant to the President who recognized her at the event.
Chowan University Honors Distinguished Alumna Theresa Paige Myers, Class of 1988
Oct 12, 2023
by Staff Reports
Chowan University proudly recognized Theresa Paige Myers, a 1988 graduate, for her outstanding achievements and contributions to the fields of textile conservation and costume design. The prestigious Distinguished Alumni Award was presented to Ms. Myers at a special ceremony held on October 7, celebrating her remarkable career and her deep connection to Chowan University.
Born and raised in Ahoskie, North Carolina, Theresa Paige Myers is the daughter of Elaine Myers and the late Lawrence W. Myers. Ms. Myers embarked on her educational journey at Chowan, graduating in 1988 with a degree in Liberal Arts. She continued her academic pursuits, earning a Bachelor of Science Degree in Clothing and Textiles from East Carolina University and a Post Graduate Diploma in Human Ecology with a specialization in Textile Conservation from the University of Alberta, Canada.
Ms. Myers has dedicated over 28 years to the field of textile conservation and has made significant contributions to preserving historical artifacts. Her extensive career includes contract work for prestigious institutions such as the Smithsonian Institution and the National Museum of American History. She also completed internships at renowned organizations, including the American Textile History Museum, the Smithsonian Institution, and Biltmore Estate.
A committed member of the Costume Society of America since 1991, Ms. Myers is also affiliated with the American Institute for Conservation and the Southeast Regional Conservation Association. From 2016 to 2018, she served as a board member of the North Carolina Preservation Consortium, further demonstrating her dedication to preserving cultural heritage.
In addition to her work in conservation, Ms. Myers boasts a rich career in costume design, spanning over 30 years. She has collaborated with companies such as Raleigh Creative Costumes and Troika, Inc. and has contributed her expertise to various local film productions as a wardrobe assistant, FX makeup artist, properties master, and production manager. Notably, her involvement in films like "Dar He: The Lynching of Emmett Till" and "Box Brown: A Box Marked Freedom" has garnered critical acclaim.
Beyond her professional achievements, Ms. Myers generously volunteers as a living historian at several historic sites in North Carolina, including the Joel Lane House in Raleigh, the House in the Horseshoe in Sanford, and Historic Hope Plantation in Windsor.
Reflecting on her time at Chowan University, Ms. Myers shared, "The impact that Chowan had on me was the great base of education that I received right out of high school. On this foundation, I have built my career and used skills from what I learned during my time at Chowan throughout my professional and personal life."
She also noted the significant role that public speaking played in her career, recalling a course taught by Dr. Joyce Elliott (Brown) that helped hone her communication skills. "In all, I look back fondly on my time at Chowan and the friends I made and the knowledge I gained. I have carried and will continue to carry those memories with me always."
The Distinguished Alumni Award holds special significance for Ms. Myers due to her family's enduring legacy at Chowan University. She stated, "My family is still very involved in activities at the University. One great example of this involvement is the posthumous gift from my father toward the purchase of a grand piano for the auditorium. He loved music and the university and has shared that through a bequest that will last for generations."
Chowan University, celebrating its 175th anniversary, takes pride in honoring Theresa Paige Myers as a distinguished alumna who exemplifies the university's mission of preparing students for lives of active learning, career success, personal growth, and service to society. Her remarkable journey from Chowan graduate to accomplished textile conservator and costume designer serves as an inspiration to the entire Chowan community.