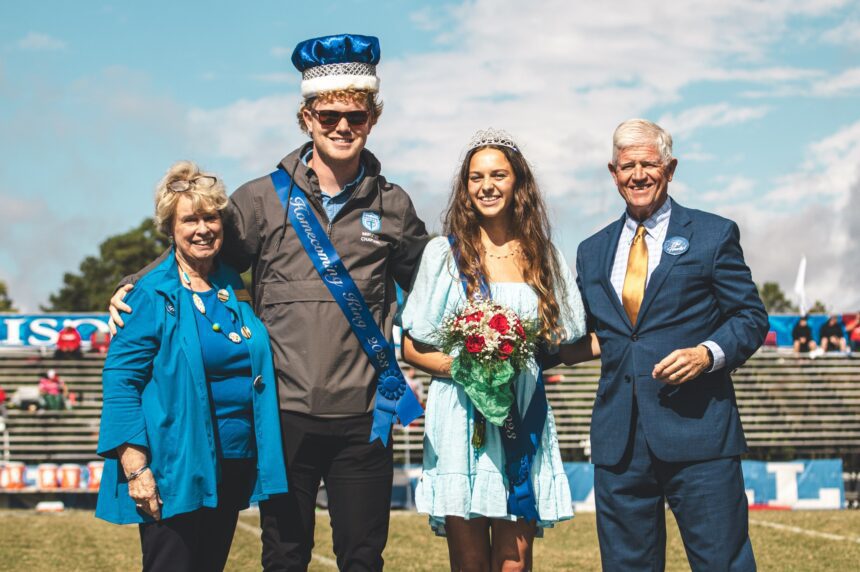 President Taylor and First Lady with Homecoming King and Queen Colin Riddick and Erica Mock.
Chowan University Homecoming 2023: A Spectacular Celebration of Alumni and Students
Oct 9, 2023
by Staff Reports
Chowan University, nestled in the heart of Murfreesboro, North Carolina, celebrated its Homecoming with a thrilling mix of festivities, bringing together alumni and current students in a grand celebration of the institution's rich history and promising future. The Homecoming, held from Monday, October 2, through Sunday, October 8, 2023, featured a series of events and activities, culminating in the 175th Anniversary Gala Event and the Instruments of Praise (IOP) Gospel Choir Reunion Homecoming Worship.
Thursday, October 5th kicked off a high-energy Pep Rally held at the Hawks Athletic Center. The event was attended by enthusiastic alumni and students, igniting the Homecoming spirit throughout the campus.
On Friday, October 6th, the Executive Partners Forum took place in the Vaughan Auditorium, Marks Hall. This event provided a platform for alumni to connect with current students, fostering meaningful relationships and networking opportunities.
Sports enthusiasts were treated to the Chowan Women's Basketball Alumni Game held at the Hawks Athletic Center at 6:00 pm on the same day. The game was a thrilling showcase of talent and camaraderie.
The main event took place on Saturday, October 7th, with a day full of activities. Tailgating commenced at 10:00 am, offering a lively prelude to the much-anticipated football game against the North Greenville Crusaders. Alumni also had the opportunity to reconnect during the Baseball Alumni Game at Hawkins Field and the Softball Alumni Game at Hawks Field, both starting at 10:00 am.
A special tour of the new Chowan Chapel from 10:00 am to 12:30 pm allowed attendees to explore the university's newest building on campus. The tours reflected on its significance to campus life and worship. Meanwhile, basketball fans enjoyed the Blue and White Basketball Game at the Hawks Athletic Center at 10:00 am.
The day continued with the Blue and White Celebration for the Alumni and Brave Hawks Club at 11:00 am, hosted at the Alumni Tent in front of the Hawks Nest. RSVP was required for this event, and alumni had the opportunity to reminisce and create new memories.
The grand finale of the Homecoming was the 175th Anniversary Gala Event and then on Sunday the Instruments of Praise (IOP) Gospel Choir Reunion Homecoming Worship, which brought together the Chowan University community in a spirit of unity, joy, and gratitude.
Chowan University's Homecoming 2023 was an incredible testament to the institution's enduring legacy and the strong bonds that connect alumni and students. The university looks forward to continuing this tradition in the years to come, celebrating its heritage while embracing the future.