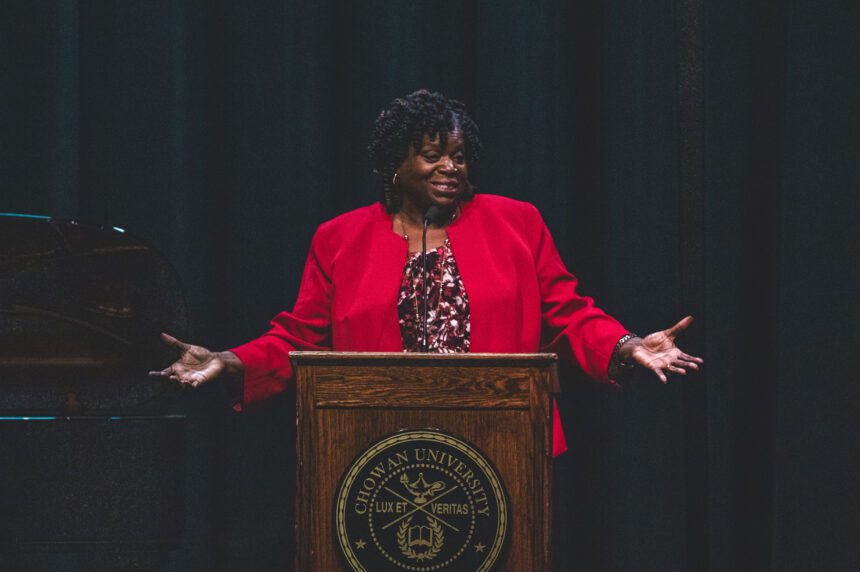 The Rev. Dr. Carolyn L. Gordon Delivers Engaging 2023 Taylor Religious Heritage Lecture at Chowan University
Sep 22, 2023
by Zoe Beale
MURFREESBORO, NC – The 2023 Taylor Religious Heritage Lecture was led by The Reverend Dr. Carolyn L. Gordon, an Associate Professor of Mass Communication and Acting Chair and Coordinator of the Convergent Media Graduate Program at Mississippi Valley State University. Serving also as the Associate Pastor of the Mt. Gaza Missionary Baptist Church in Stringtown, Mississippi, she was able to lead the campus in a conversation that merged theology with convergent media.
Engaging and inspirational, Dr. Gordon's two-part lecture series on September 18 and 20 covered various topics, ranging from how we feel we can speak with God to how we are influenced by unrealistic standards. She spoke to the students endearingly, informing them that "…you are at a time where you are trailblazing in a way that you do not know." And while finding their way on the journey, she shared her wisdom to aid them in their search to find themselves.
Dr. Gordon engaged in conversation with the students throughout her lecture, reminding them that while in life, there would be instances where we found ourselves struggling. She called them to her first rule: trust God.
"You've got to Trust God. And in navigating this journey, and getting where God has planned for you to go – if you're going to survive, if you're going to make it, rule number one is that you must trust God."
Dr. Gordon stated, "Fairytales have soured us because they live happily ever after – but our happily ever after is not always God's happily ever after…Don't negate your contributions to this world. You have no idea what God has planned for you, and as you navigate this journey, you are your companion. Make friends with you, love you, accept you, and understand that God is working it out."
Through both sessions, Dr. Gordon encouraged students to follow three rules throughout their lives. First: trust God. Second: stay on the path – and if you stray, go back to step one. And finally: find joy in the journey. It is with hope that the students of Chowan University will take note of her advice, and spend their time enjoying the journey while they find their place in God's plan.
You may watch both parts of Dr. Gordon's Lectures, as well as a Q&A with ministerial community members, using the link https://vimeo.com/manage/videos/865726160
About the Taylor Religious Heritage Lecture
Dr. and Mrs. Hargus Taylor and Chowan University established this endowed lecture series in 1994. The Taylor Religious Heritage Lectures bring leaders of diverse expertise and rich experience to campus.
Jeremiah 29:11 For I know the plans I have for you
Chowan University, grounded in its Christian faith, has been transforming the lives of students of promise for over 174 years. A Christian liberal arts university founded in 1848, Chowan is located in the Historic Inner Banks community of Murfreesboro in northeastern North Carolina. The university is in close proximity to the Outer Banks and Hampton Roads, Virginia. Chowan's park-like campus features more than 400 acres, including Lake Vann, the beloved "Squirrel Park," and the original McDowell Columns Hall, erected in 1851 and listed on the National Register of Historic Places.
Accredited by the Southern Association of Colleges and Schools Commission on Colleges, Chowan offers over 60 undergraduate academic programs through the School of Undergraduate Studies. Master's degrees are awarded through the School of Graduate Studies. The Music Department is also individually accredited by NASM. An NCAA Division II member institution, Chowan offers 21 varsity programs and two developmental teams, baseball and men's basketball. Twenty programs compete in Conference Carolinas and one in the Gulf South.
For more information about Chowan University, visit www.chowan.edu or call 1-888-4-CHOWAN.