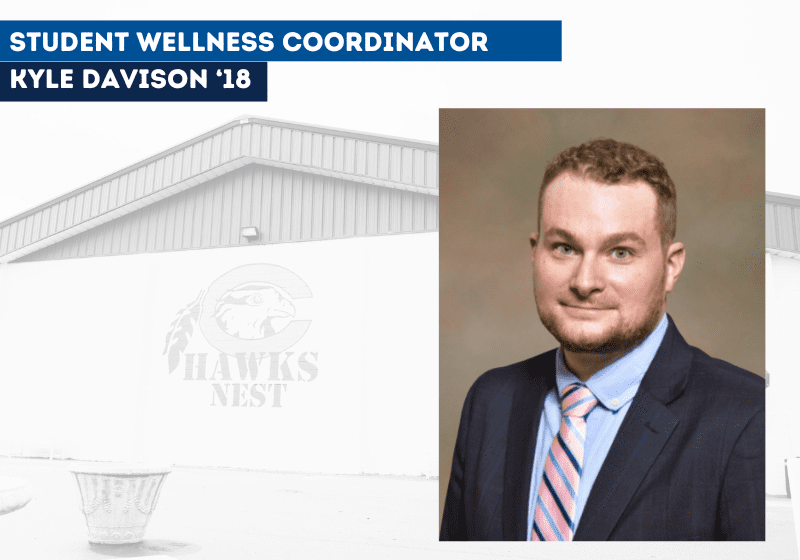 Kyle Davison '18, Returns as Student Wellness Coordinator 
Sep 21, 2023
by Harri Lovett
Kyle Davison, who graduated from Chowan University with the class of 2018, is returning to serve as the Student Wellness Coordinator within the Student Life Department. Having furthered his education and professional career at West Virginia University, Davison will contribute towards the wellness of students while promoting positive and healthy initiatives across campus.
The Student Wellness Coordinator is responsible for promoting wellness by creating campus awareness and executing initiatives and activities that enhance and encourage student well-being. Davison will act as a connector for students and relevant university medical and mental health resources. On his return to Murfreesboro, NC, Davison said, "I hope to help the wellbeing of all students and promote a positive, healthy environment on campus. I am available to meet in the Hawks Nest for anyone who wishes to stop by and chat or see the scarfs and flags I collected while a student here."
Davison graduated from Chowan in May 2018 with a degree in Sports Management before being hired as the Jenkins Center Coordinator and Parker Hall Residence Director. To further his education, Davison attended West Virginia University, where he earned two master's degrees in Coaching and Sports Education and Sports Management. Rev. Mari Wiles, Director of Student Life, added, "We are excited to welcome Kyle Davison back as our Student Wellness Coordinator. Kyle will work closely with us as we offer support to the overall wellness of our students and provide resources for ways to stay healthy in mind and body."
Please join Chowan University in welcoming Kyle Davison back to Chowan University and wishing him well in his student-serving position!