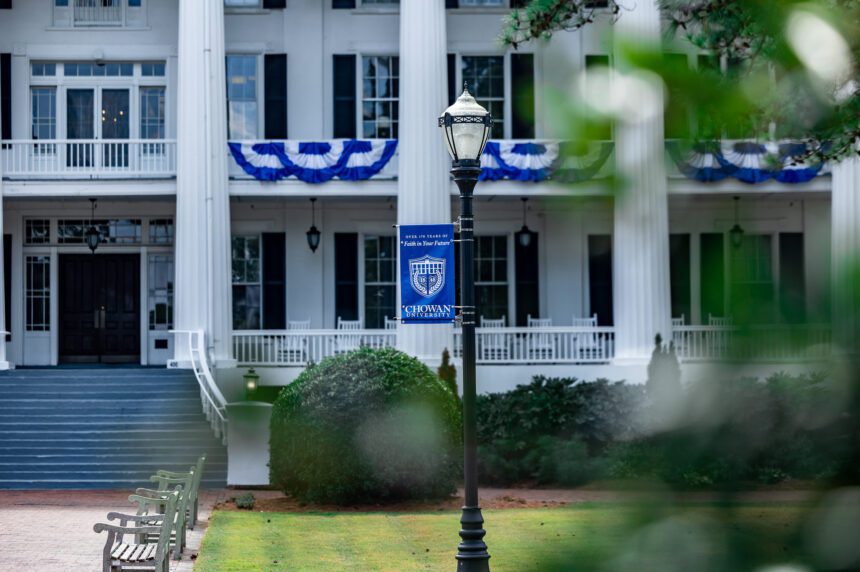 Chowan University Chapter of Alpha Chi Taps New Members
Sep 21, 2023
by Kim Sherman Bailey
The Chowan University chapter of Alpha Chi, a general honor society, will hold its induction ceremony on Tuesday, October 24, at 7 p.m. in Vaughan Auditorium. The ceremony will recognize the academic achievements of 22 students who have been tapped for membership.
To be eligible for membership, students must have completed 24 hours of class credit at Chowan University, earned a grade point average of 3.5 or higher, and be ranked within the top 10 percent of the junior and senior classes combined.
The following students have met these requirements and will be inducted into the Chowan University chapter of Alpha Chi:
Haydon Marie Ahlers
Cameryn Elizabeth Barrow
Caryn Richelle Bowe
Brayden Thomas Conboy
Skyler Aaron Davies
Carson Andrew Everette
Aaron Leaveah James
Joshua Ronnie James
Haley Lenay Jensen
Hiba Laknit
Eleanor Katherine Middleton-Orchelle
Cameron Lewis Moss
Sreshta Puducheri
Megan Hope Roberts
Kayleigh Grace Roberts
Rayn Elizabeth Ross
Gracie Mae Ross
Ivory Brooks Stallings
C'nya Stevens
Gracie Morgan Timken
Morgan Jo Tucker
Carrington Spencer Williams
Ronaldo Tyrese Williams
Alpha Chi admits students from all academic disciplines, and membership is a prestigious honor. The society promotes academic excellence and exemplary character among college and university students and seeks to honor those who achieve such distinction.
For more information about Alpha Chi and its mission, visit the society's website at www.alphachihonor.org.