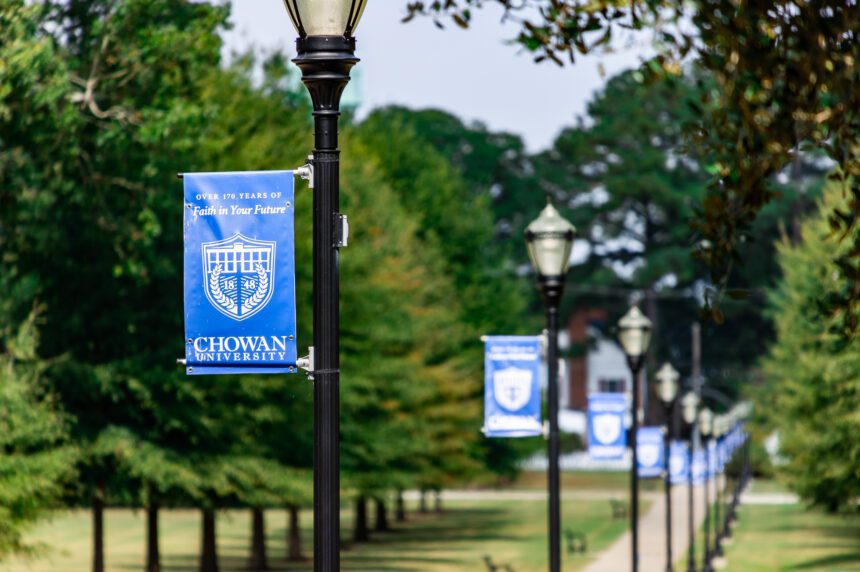 Chowan University Chapter of Pi Gamma Mu Taps Students for Membership
Sep 20, 2023
by Kim Sherman Bailey
The Chowan University chapter of Pi Gamma Mu, the International Honor Society in Social Sciences, has announced the tapping of eleven students for membership. The students who have been selected for membership are Zyanna K Amaker, Dauquann Damarrie Capers, Grace McKenzie Crawford, Ebony Kianna Gaither, Haley Lenay Jensen, Selene Willa Jean Kentish, Haley Rebekah Lowe, Kamari Alan Matthews, Eleanor Katherine Middleton-Orchelle, Gracie Mae Ross, and Rayn Elizabeth Ross.
The induction ceremony will take place on Monday, November 13 at 7 p.m. in Vaughan Auditorium. Pi Gamma Mu is an honor society that recognizes outstanding scholarship in the social sciences. The society was founded in 1924 and has over 150,000 members worldwide. Membership in Pi Gamma Mu is open to students who have demonstrated exceptional academic achievement in the social sciences.
---
Pi Gamma Mu is the oldest and preeminent interdisciplinary social science honor society. The mission of Pi Gamma Mu is to encourage and promote excellence in the Social Sciences and to uphold and nurture scholarship, leadership, and service. Pi Gamma Mu serves the various social science disciplines which seek to understand and explain human behavior and social relationships as well as their related problems and issues. Currently, there are around 150 active chapters in the United States and overseas.
Pi Gamma Mu's constitution defines the social sciences to include the disciplines of history, political science, sociology, anthropology, economics, psychology, international relations, criminal justice, social work, social philosophy, history of education, and cultural/human geography. Membership is also extended to interdisciplinary social science areas that build on the core social science disciplines, such as business and society, education, minority studies, public administration, international studies, public finance, leadership studies, consumer behavior, public policy and organizational behavior.