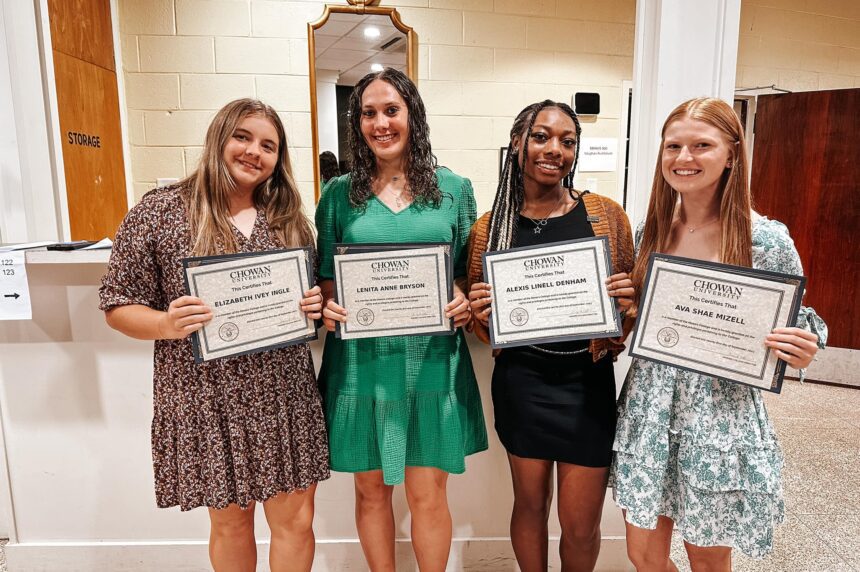 Chowan University Inducts Thirty-Eight into Honors College
Sep 25, 2023
by Kim Sherman Bailey
On September 21, 2023, Vaughan Auditorium, Marks Hall, hosted the induction of thirty-eight students into the Chowan University Honors College Association. Prior to the pinning ceremony, attendees were treated to an extremely personal account by University Registrar Richard Todd on the importance of adaptation.
The Honors College is a curriculum designed for talented and extremely motivated students who want to gain the most from their university experience. Participants are given the opportunity to grow on many levels-academically, culturally, and socially. Honors courses are specially designed to develop students' writing and discussion skills and their ability to think critically beyond the norm. Honors students will also have the opportunity to attend cultural events, take field trips, and build social responsibility through community service. The college is designed to foster abilities in the student that can be used throughout their academic and professional careers.
The ceremony consisted of a welcome from the Director of the Honors College, Dr. Thomas Whitaker, who congratulated inductees on their strong start to collegiate life, also reiterating the importance of academic responsibility and the opportunities afforded with induction to the Honors College. Following Dr. Whitaker's remarks, Honors College Student Association Officers Gracie Ross and Abbie Sutton delivered the Symbols of the Honors College. Following on, Co-President Olivia Wheeler, introduced guest speaker Richard Todd.
Richard Todd delivered a powerful speech titled "Adapt and Overcome." Todd, who serves as Chowan University Registrar, as well as an adjunct professor of Mathematics, provided an extremely motivating message to attendees based upon his personal experience of childhood paralysis, military missions, and the transition into higher education as a mature student. Todd also offered congratulations to inductees and expressed how excited he was to watch their academic progress.
Dr. Danny Moore, Provost and Vice President for Academic Affairs for the Honors College, was assisted by Erica Mock, Co-President of the HCSA, in the Presentation of Pins and Certificates. The following students were inducted into the Chowan University Honors College:
Natasha Bailey, Birmingham, UK
Raelyn Blanchard, Jacksonville, NC
Siena Booth, Wesley Chapel, FL
Carly Brewer, Heathsville, VA
Lenita Bryson, Louisburg, NC
Reagan Corley, Humble, TX
Patrick Crutchfield, Smyrna, DE
Matthew Davis, Seaboard, NC
Alexis Denham, Hampton, VA
Gabriel Espiritu, Gloucester, VA
Valeria Martinez, Ferrol, Spain
Andrew Garrison, Franklin, NC
Sydney Ginaitt, Valrico, FL
Conner Gore, Rocky Point, NC
Malik Gregory, Concord, NC
Brandon Hill, Jamestown, NC
Briana Huff, Columbia, SC
Laura Hulme, Halifax, England
Elizabeth Ingle, Stanfield, NC
Landon Jewett, Indian Trail, NC
Genesis Joyner, Jersey City, NJ
Selene Kentish, Pembroke Pines, FL
Hiba Laknit, Murfreesboro, NC
Kendal Legg, Suffolk, VA
Dakota Long, Murfreesboro, NC
Destiny Makanjuola, Peterborough, England
Jacob Malia, Fuquay Varina, NC
Nicholas Mason, Raeford, NC
Arianna Medal, Stafford, VA
Ava Mizell, Washington, NC
Olivia Mock, Diamond, OH
Justin Peterson, Murfreesboro, NC
Sa'ni Savage, Townsend, DE
Calvin Smith, Asheboro, NC
C'nya Stevens, New Bern, NC
Blake Tutman, Perry Hall, MD
Elizabeth Waltz, Amissville, VA
Trevon Abraham, Co-Vice President for the HCSA, delivered the Honors College Pledge, which allowed Dr. Whitaker to present the newly inducted members to those in attendance before Kashara Simpson, the Academic Programs Co-Chair provided the benediction.
Please join Chowan University in congratulating the newly inducted members and encourage them to continue their academic excellence.
View the photos at faceboook.com/chownanuniversity.