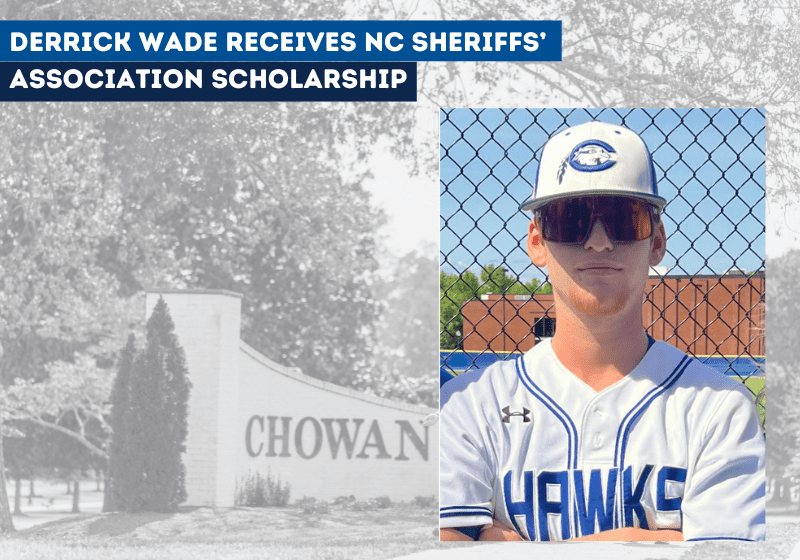 Derrick Wade Receives North Carolina Sheriffs' Association Scholarship
Sep 15, 2023
by Harri Lovett
Derrick Wade, a sophomore Criminal Justice major and member of the Chowan University baseball team has been successful in receiving a scholarship following an application to the North Carolina Sheriffs' Association (NCSA). The NCSA created the Criminal Justice Scholarship Program to assist students who are dependents of law enforcement officials or who are studying in the criminal justice field and express an interest in pursuing a career in law enforcement.
The NCSA scholarship is awarded annually to one recipient from each of the 12 North Carolina State Universities, as well as 26 private colleges in conjunction with the North Carolina Independent Colleges and Universities (NCICU). Dr. Pamela Woodward, Chair for the Department of Criminal Justice at Chowan, has been an integral part of Wade's educational experience and proposed to the association that Wade would be a worthy beneficiary of the grant. Dr. Woodard contributed, "Derrick is a good athlete, a good student, and a great fit for this scholarship. Derrick has all the qualities to have a successful career in law enforcement, and we are so pleased that he has been recognized and assisted by such a significant organization in the NCSA." To be considered, Derrick also had to provide a letter of recommendation from the Sheriff in his hometown, Bunn, NC.
Applicants must be a North Carolina resident enrolled for a minimum of 12 credit hours in an undergraduate degree-granting criminal justice program at one of the institutions of The University of North Carolina or the North Carolina Independent Colleges and Universities. Applicants must express an interest in pursuing a career in law enforcement and must be recommended by their local sheriff.
On receiving the scholarship, Derrick added, "For as long as I can remember, I have always hunted and fished with my dad. Those times with my dad are very special. Since hunting and fishing have always been a favorite recreational sport of mine, I want to make sure that the next generation can have the same safe hunting and fishing environment as I did. Thus, I am currently pursuing a Bachelor of Science degree in Criminal Justice with a minor in Environmental Studies. I plan to combine my passion for gaming and fishing with criminal justice to become a Fish & Wildlife Game Warden."
He continued, "I have thoroughly enjoyed the Criminal Justice program at Chowan University. From the moment I met Dr. Woodward at student orientation advising and registration (SOAR), I knew that Chowan University was the perfect place for me to continue my education. Her excitement about Criminal Justice, along with her passion to build lifelong relationships with her students, makes her the best of the best. I am humbled and blessed to have been chosen for the North Carolina Sheriff's Association Scholarship. My grandfather, Jimmy Wade, was a huge supporter of Law Enforcement Officers and the NCSA. Additionally, one of my mentors through my teen years was the Bunn Police Chief, who is currently a Captain at the Sheriff's Department in Franklin County. These two men, along with my dad, have been strong reasons behind my passion for Law Enforcement. It was an honor to have Sheriff White from Franklin County write a recommendation for me to be eligible for this scholarship. I am blessed to have received this scholarship as it helps my family financially with tuition payments."
Chowan University is immensely grateful for the generosity of the North Carolina Sheriffs' Association and their support of the North Carolina Law enforcement workers and would like to congratulate the Department of Criminal Justice at Chowan University and recipient, Derrick Wade.