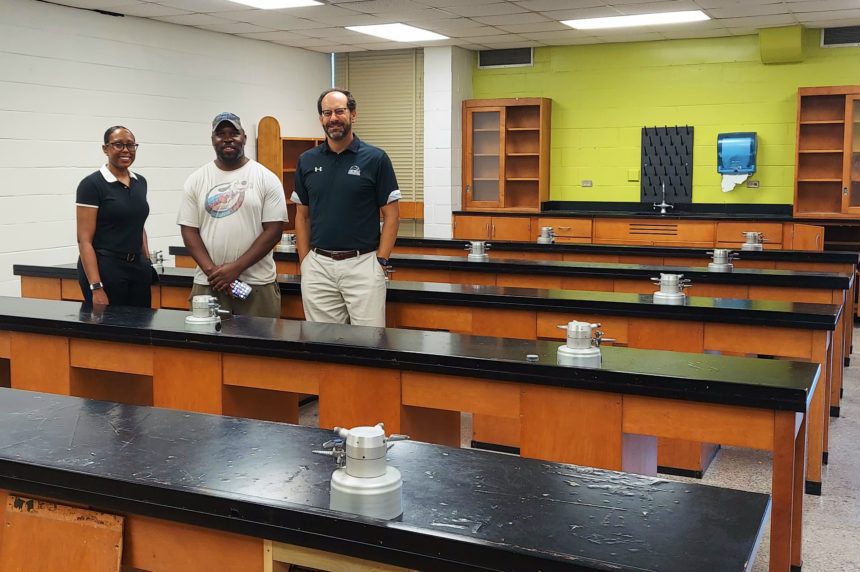 Donations Drive First Round of Science Lab Renovations 
Jul 26, 2023
by Staff Reports
Contributed by Dr. Jennifer Place, Professor of Psychology
Due to the generous contributions of donors, renovations are finally underway for the Freshmen Biology Lab at Chowan University.   After a historic Chowan Gives event in April 2023, $63,000 was raised specifically for a biology lab renovation in Camp Hall.  Additional donations brought the total to $72,000 which has allowed for a complete remodel of the previously antiquated lab.  
Terry Looney, STX President, is personally overseeing the project.  Mr. Looney has over 30 years of experience in offering state-of-the-art lab renovations.  He and Dr. John Dilustro, Associate Provost and Professor of Biology, have partnered together over several years to develop this design-and-build plan.  Recent donations have allowed for the renovation to finally become a reality.  Mr. Charles Taylor, Interim President, quickly green-lighted the long-awaited project with the goal of completing renovation by the fall.  The new biology lab will house new corrosion and vibration-resistant mobile workstations, which can be moved into various constellations for group work.  Brand-new countertops and wall cabinetry will be included around the perimeter of the lab.  
A group of Chowan faculty volunteers met on July 19th and cleared out the old materials and equipment to make room for the new!  Mr. Alex Chappell, Director of Facilities and Grounds, met with an STX team on July 20th, and the demolition of the pre-existing lab is now complete.  The final step of renovation will take place in mid-August, just in time for the Chowan University students to benefit from the use of the brand-new biology lab this fall.  
The Biology Department is appreciative of the many donors who have demonstrated "faith in the future" of the students, and we hope to continue such improvements within the highly marketable STEM programs at Chowan University.