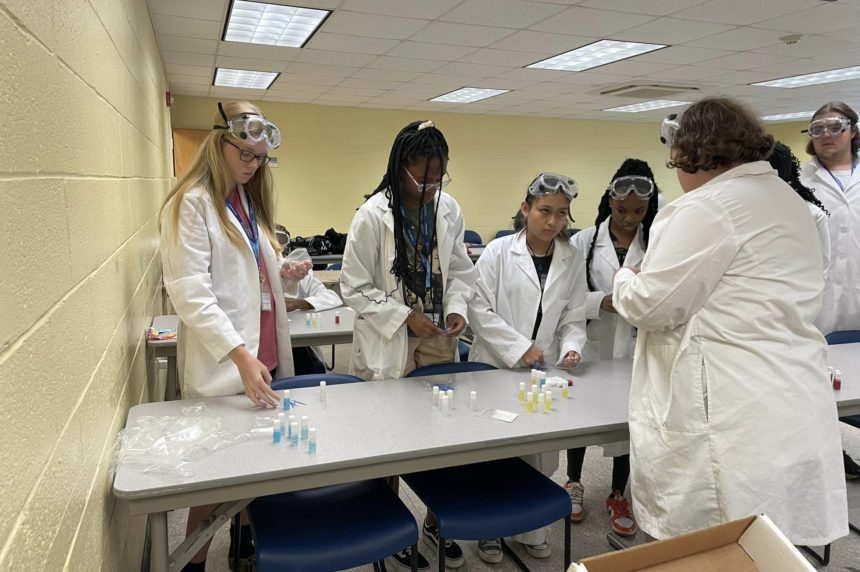 Chowan University Hosts Five Day Campapalooza
Jun 30, 2023
by Staff Reports
Chowan University hosted over eighty students June 18 through 23 at "Campapalooza," a 5-day academic summer camp for rising sophomores, juniors, and seniors. During the camps, students lived on campus, enjoyed meals in the dining hall, and engaged in exciting academic activities with our University Faculty in their chosen academic areas.
Studio Art students engaged with Jason Fowler, Assistant Professor of Graphic Design, completing many projects, including acrylic painting, scratchboards, and graphic art. Students interested in Movie Making were led by Dr. Samuel Miller, Associate Professor of Mass Communication in every aspect of filmmaking, from writing the script to filming the movie to editing and final effects. Dr. David Ballew, Professor of History, led the Horror, History, and Pop Culture camp, which explored the historical contexts of horror films. The group collaborated to write a script for a horror film and produced movie posters for their film. Dr. Pam Woodard, Associate Professor of Criminal Justice and Chair for the Department of Criminal Justice, along with Professor Phillip Entzminger, created engaging activities for Crime Scene Investigation (CSI) students. The CSI student learned about DNA and crime investigation techniques and watched films, and completed activities related to famous criminal cases. Dr. Woodard also invited the Police K-9s for a demonstration. The CATALYST group, led by Dr. Torrence Gill, Assistant Professor of Biology, engaged in many scientific experiments related to feeding the cotton bollworm various food sources.
The Bridge to College camp was hosted by Dr. Ella Benson, Dean of Accessibility Services and Professor of Education. These students completed educational and work interest surveys, learned about financial aid, met with Scott Parker, Director of Admissions, engaged in team building exercises, sailed paper boats, managed their free time, completed a Shark Tank activity of awesome new products, completed a common app for practice and learned about perception from Chowan University Provost, Dr. Danny Moore.
As part of their time on campus, they spent evenings at the Hawks Nest student center, playing basketball in the Jenkins Centers, and swimming in the Brown Aquatic Center. They were also able to meet and hear from Interim President Taylor, along with Admissions Professionals Andy Wilson and Scott Parker.
According to Dr. Mitchell Henke, Director of Ancillary Services, "Campapalooza was intentionally designed to provide the students a mini academic college experience with multiple academic camps going on concurrently…to simulate what that first week of the college experience is like. Students enjoyed their time on campus, interacted with faculty, made new friends, and we hope to see them return in the coming years as Chowan students."