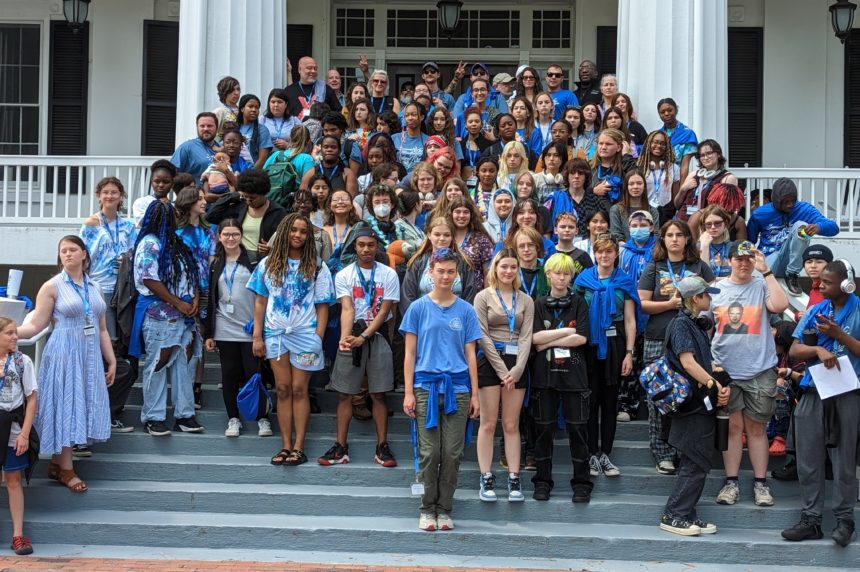 Longleaf School for the Arts on the steps of the Historic McDowell Columns Building at Chowan University.
Chowan University Hosted Mindfulness Retreat
Jun 28, 2023
by Staff Reports
Chowan University hosted 125 students and 25 teachers from the Longleaf School for the Arts, a charter school in Raleigh, NC, June 11 through 16 in what was dubbed a "Mindfulness Retreat."
While on campus, the students attended seminars and workshops on wellness, stress management, anxiety reduction, time management, financial decision-making, and executive functioning skills. They also worked in large and small groups to pursue their artistic interests around campus.
The students lived in Belk and Simons Halls and had meals in the university's dining hall. As part of their time on campus, they spent evenings at the Hawks Nest student center, playing pickleball and wiffleball and swimming in the Brown Aquatic Center. The Office of Admissions created an informative and interactive session with the students where they tie-dyed Chowan t-shirts. They attended a presentation from Interim President Taylor and Provost Moore to end their week.
During their time in Murfreesboro, the group also visited the Historic District, touring the Rea Museum,
Murfree-Smith Law Office, Agriculture & Transportation Museum, and Village Print Shop under the direction of the Murfreesboro Historical Association. The students also visited The Jefcoat Museum of Early American History, which houses a collection of American artifacts from the 1850s to the 1950s. These artifacts were collected by Brady C. Jefcoat of Raleigh, NC, who was a plumber, electrician, and general contractor.
About the Longleaf School for Arts
"Longleaf School of the Arts is the first charter high school in Raleigh, NC that integrates academics with the fine and performing arts."
View their video highlights from the camp here.