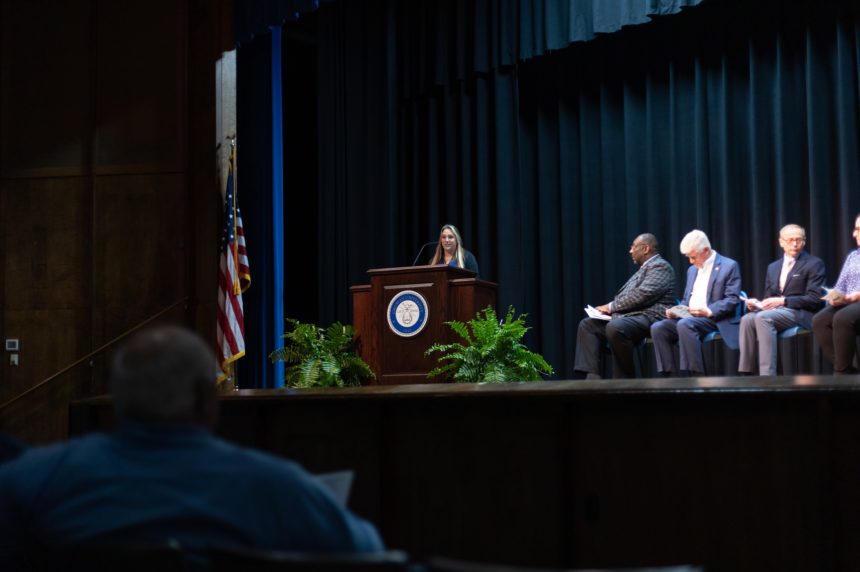 University Recognizes Staff Members of the Year
May 31, 2023
by Lou Ann Gilliam
At the annual Faculty-Staff Appreciation Recognition Day on Tuesday, April 28 Julie W. Emory and Kimberly S. Bailey received the Staff Members of the Year Awards.  The staff members of the year award was established in 2004 to recognize the most outstanding members of the staff. Selection is based on years of service, commitment to the vision of the University, competence in the area of responsibility, positive impact on the University community, and respect by the University community.
Julie W. Emory joined the staff in 1987. She first served in accounts receivable, then accounts payable, and on May 31st retires as the Director of Business Services. Beyond day-to-day responsibilities, Emory has offered her talents to the University by serving on the Christmas Decorating Committee and assisting
the Advancement Office for several years decorating for the annual Scholarship Luncheon.
Kim S. Bailey joined the staff in 2010 and is a two-time graduate, earning bachelor's and master's degrees from Chowan. Bailey first served the University as an Admissions Counselor. She continued advancing in admissions and was the Vice President for Enrollment Management until she made the transition to University Relations. Bailey now serves as the Assistant Vice President of Advancement and Director of University Relations. In this position, she has overseen the University's marketing, created a new website, established brand standards, and prepared interns for the workforce.
Please join Chowan University in congratulating Julie W. Emory and Kimberly S. Bailey on being the 2023 Staff Members of the Year.