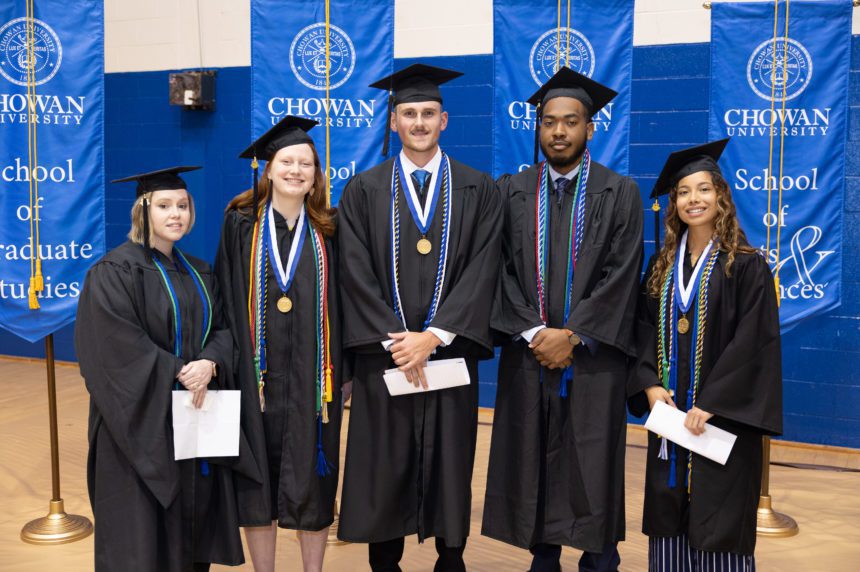 Students selected to speak at commencement (right to left): Christina Flores, Daniel Prevost, Shane Rademacher, Rachel Van Buren, and Ruth Casper.
Chowan University's 164th Commencement Highlighted Its Students
May 9, 2023
by Kim Sherman Bailey
Chowan University held its 164th Commencement on Saturday, May 6, at 10 am in the Hawks Athletic Center. The ceremony was led by chief faculty marshal James "Bo" K. Dame II, Professor of Physical Sciences and 2021-2022 Excellence in Teaching Award recipient. Each school was led by its chosen gonfalonier and candidates for graduation in the processional. Anixa Maris Rosa Martinez served as gonfalonier for the School of Arts and Sciences, Alexa Catherine Woolson for the School of Business and Design, Annery Ester Abreu for the School of Education and Professional Studies, and Kaci Isabel Pena for the School of Graduate Studies.
Rev. Mari Wiles opened the ceremony by reading scripture and delivering the invocation. Following the national anthem, Interim President Charles E. Taylor, Jr. brought greetings and congratulations, and Chairman of the Board of Trustees, Kemper Baker, also shared his congratulatory remarks with the class. Dr. Maurice Fluitt '09, President of the Chowan University Alumni Council, brought a welcome from the Association. He welcomed the class in joining the ranks of over 13,000 alumni and issued a four-prong challenge to the class – be an advocate for the university, stay in touch with the university, get involved, and support their alma mater.
Commencement is a celebration of the accomplishments of each student who walks across the stage. Every year, rather than bringing in an outside speaker, Chowan University takes a more relatable approach by inviting members of the graduating class to speak to their peers and the audience. In addition, five members of the class that were invited to share their Chowan experience at last week's Senior Banquet: Bricen Andreasen, Shania Black, Hamilton Darden, Rebekah Lucas, and Destiny Vaughan, and five students were selected to speak at commencement: Christina Flores, Daniel Prevost, Shane Rademacher, Rachel Van Buren, and Ruth Casper.
Christina Flores, an exercise science major from Jeffersonton, VA, shared her story as a first-generation college student of a migrant family who instilled the passion in her to succeed in both her academics and athletics. She shared, "If you haven't noticed already, family is very important to me. It's one of the main reasons why I chose to study and play at Chowan and to remain at Chowan. Family matters; family is important, and Chowan is about family."
Daniel Prevost, criminal justice major from Columbia, MD, reflected on his experience growing up in a large city to arriving in Murfreesboro, the home of Chowan University. He shared, "Chowan is a small university, but that gives you the opportunity to form strong bonds and friendships… Chowan has given opportunities for success. You will learn the skills needed to succeed in life, whether those skills are life skills or skills designed for your major."
Shane Rademacher, an exercise science major from Greenville, NC, reflected on his student-athlete experience but noted that "If you ask most people at Chowan, the majority would say that what makes Chowan special is the people" going on to thank those along his journey.
Rachel Van Buren, a music major from Pittsboro, NC, reflected on her college journey, both the highs, and lows, being raw with her classmates about personal challenges and sharing that once she let God take control of her life at Chowan, it began to change. She encouraged her classmates to "pursue God's will and not your own and just do it. It is time to move where God wants you and to trust and obey."
Rounding out the student perspectives, Ruth Casper '06 from Ahoskie, NC, a baccalaureate alumnus and employee who completed her master's degree, shared how her journey first began at Chowan and what ultimately led her to enroll in the MOL program and crediting the influential individuals along the way.
Following the speeches, Joshua Lynch, a music major from Washington DC, performed a solo of "The Lord's Prayer." Dr. Danny Moore, the Provost, gave special recognition to the graduating senior having the highest cumulative academic average. This year, there was a four-way tie, each having a 4.0. This year's recipients of the Senior Scholastic Award are:
Christina Flores of Jeffersonton, VA
Karensa Strieder of Aylett, VA
Rachel Van Buren of Pittsboro, NC
Paige Wilhelm of Frederick, MD
Dr. Moore then recognized the recipient of the Faculty Excellence in Teaching Award, which is chosen by his or her colleagues on the faculty of the University. The 2023 Faculty Excellence in Teaching Award was awarded to Professor Shannon Williams.
Following the presentation of the degrees by Dr. Danny Moore, Provost, and conferral of the degrees, Interim President Taylor, delivered the charge to the class. Following Dr. Benjamin Thorborn leading the University's Alma Mater, Rev. Mari Wiles delivered the benediction preceding the recessional.
Please join Chowan University in congratulating the class of 2023!