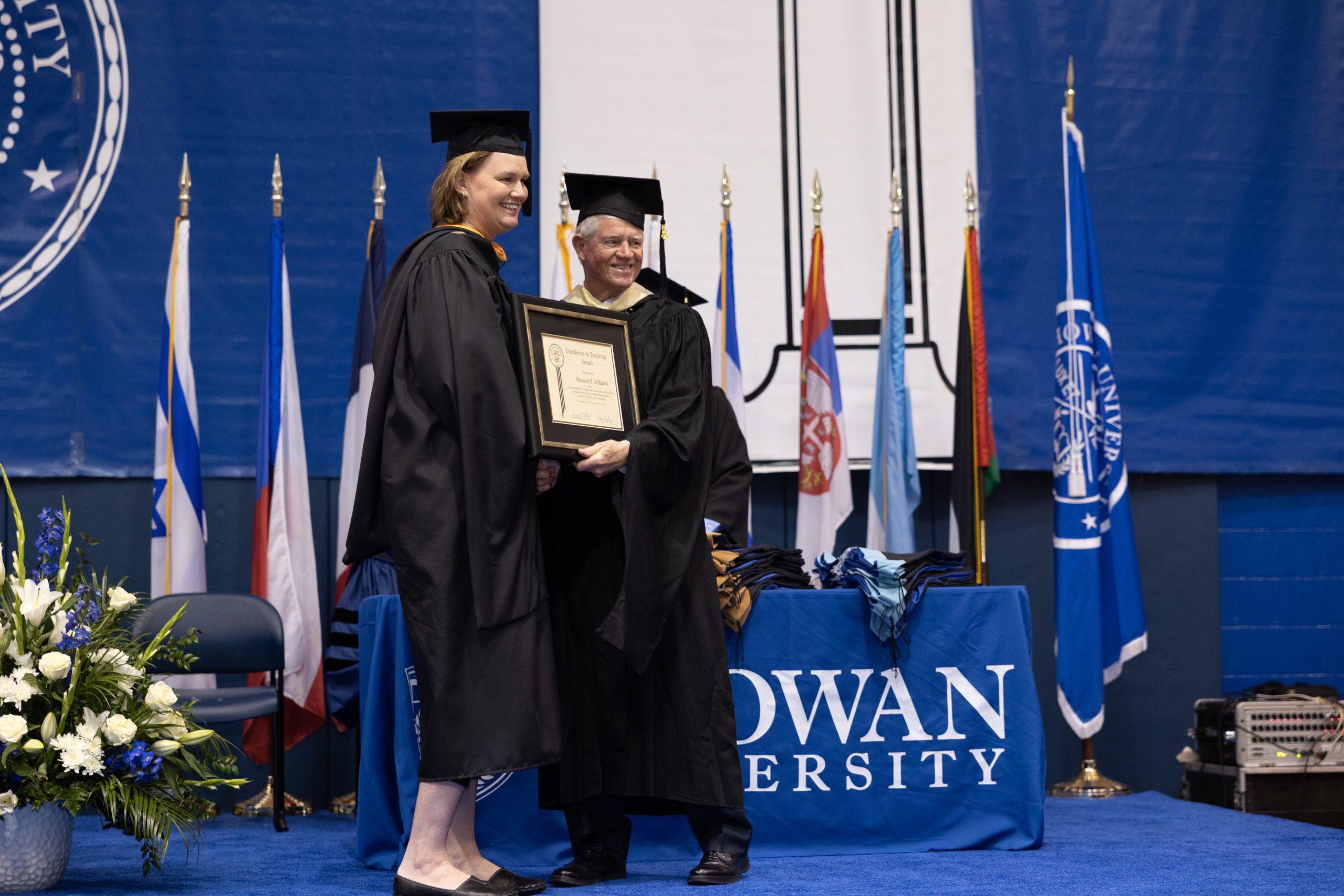 Shannon Williams Receives the 2023 Chowan University Faculty Excellence in Teaching Award
May 10, 2023
by Kim Sherman Bailey
On Saturday, May 6, at the 164th Chowan University Commencement Ceremony, Professor Shannon Williams was honored as the recipient of the Faculty Excellence in Teaching Award for 2022-2023. Professor Williams joined the faculty in 2007 and is the Associate Professor in Accounting.
During the award presentation, Provost Dr. Danny Moore shared that the criteria for this award are based on the professor's "dedication to the profession and to students, effectiveness as a teacher, continued professional growth, availability to students, participation in the University's program of extracurricular activities, and relationship with colleagues and students." Dr. Moore continued in the presentation saying Professor Williams "exemplifies those qualities."
"​​I am honored to receive this recognition from my colleagues," shared Professor Williams. "But, more importantly," she continued, "I am blessed to have found a career where I am part of a community that makes such a difference in the lives of our students. They grow from those first steps on campus to their graduation and leave their Chowan family prepared to change the world. That is the true reward for teaching."
Professor Williams holds an MBA from Campbell University and a BSBA with a concentration in Accounting from Campbell University and is a Certified Public Accountant. In 2010 she was awarded the Faculty Advisor of the Year Award, the Alpha Chi Teacher of the Year in 2020-21, and served as the Chowan Athletics' Faculty Athletic Representative from 2018 until 2021. She is the faculty advisor for Sigma Beta Delta and has led many initiatives like Chowan University's first-ever "Reading Fest," a community reading night, and serves as the First Year Experience Coordinator.
Selected by her peers for this award, Professor Williams is known not only by them but the students as being student-centered. She supports her students both in the classroom and out, attending their sporting events, award ceremonies, campus ministry events, etc.  Alexa Woolson '23 shared, "Going into college, I knew that I wanted to be an accountant, but Mrs. Williams solidified that choice. I can honestly say I wouldn't be where I am currently, graduated with a job already lined up, without her." Like many other students that Professor Williams has impacted, Alexa knows that she goes above and beyond, and it is out of genuine care for them. 
Professor Williams was chosen from a worthy slate of finalists, including Jason Fowler, Assistant Professor of Graphic Design, Torrence Gill, Assistant Professor of Biology, Edward Snyder, Associate Professor of History, and Lia Walker, Assistant Professor of Biology.
Please join Chowan University in congratulating Professor Shannon Williams on receiving this honor.