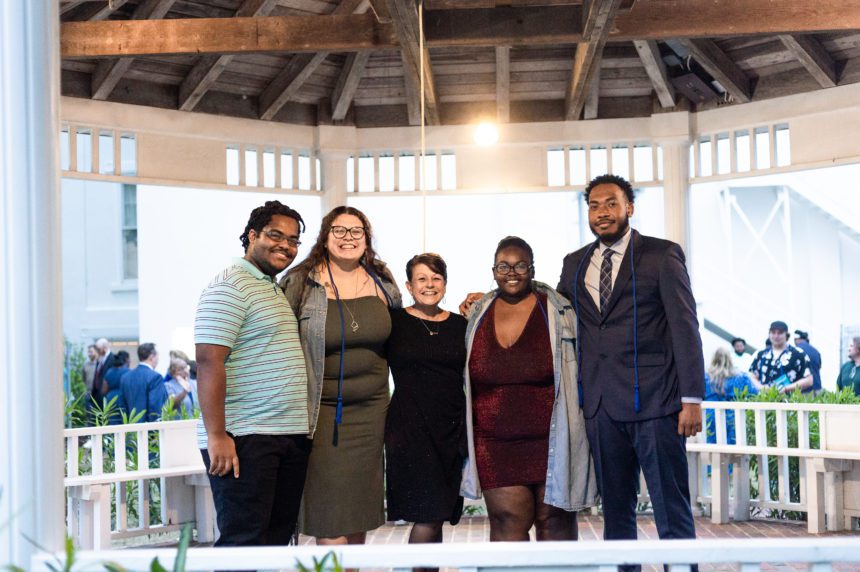 2023 Graduating Students Honored at Senior Banquet
May 2, 2023
by Kim Sherman Bailey
On Thursday, April 27th, in an effort to recognize, honor, and celebrate its graduates, the Office of Advancement hosted the annual Senior Banquet. To celebrate the class, the Office of the Provost selects five seniors to deliver student perspective speeches each year. This year Bricen Andreasen, Shania Black, Hamilton Darden, Rebekah Lucas, and Destiny Vaughan represented the graduating class.
Kay Thomas, Director of Alumni Relations, brought greetings to the soon-to-be graduates and shared her role in their Chowan journey now and in the future. Elijah Brown, a music major from Spring Hope, NC, read scripture from Psalm 1, followed by Jordan Jefferson, a music major from Norfolk, VA, who delivered the invocation. Graduates and select faculty and staff enjoyed dinner, followed by reflections from five of the graduates.
Bricen Andreasen, a history major from Virginia Beach, VA, recalled his move-in day in the August heat and the "feeling of starting a new chapter in your life" when you begin college. He shared that he "met so many new people and made a lot of new friends in the process. Some of them are here today. I also got closer to God in the four years I have been here. I wasn't a religious person growing up, but now I believe in him. I'm a firm believer that everything happens for a reason. We each have an impact on each other's lives in one way or another."
Senior class president Shania Black, a psychology major from Greensboro, NC, shared her gratitude for allowing her classmate the opportunity to serve them. She also shared her college experience, beginning her journey "experiences trials as (she) tried to discover who (she) was" through the pandemic and how having completed coursework in December, completed additional schooling, and continues to trust God's plan for her life.
Hamilton Darden II, a graphic design major from Pleasant Hill, North Carolina, shared his journey that led him to Chowan after already moving to another college after high school graduation sharing Chowan helped him find his career path in graphic design and helped develop him as a leader first as a Residence Assistant and Chowan Sapphire, then as a University Relations Intern.
Rebekah Lucas, a biology major from Davie, FL, reflected on the student-athletes' perspective. She shared that "being a student-athlete, I immediately had a family, but I wasn't so sure that I would be able to find a place with other peers throughout the campus. Due to small class sizes and the amazing faculty on campus, I soon had good friends in many of my classes. The professors were welcoming and always open to help and encourage when necessary." As she concluded, she encouraged everyone to take a moment to make the most of the rest of their time on campus with the friends and professors that have shaped their lives.
Destiny Vaughan, a graphic design and studio art major from Ahoskie, NC, and co-president of the Honors College, chose to capture her and her peer's Chowan experiences in a poem in which she entitled "Answering with Hope."
Dr. Moore, Provost of the University, also shared his perspective on the class of 2023. He reflected that many of them attended an orientation session with him before they enrolled about how to survive in a college classroom and the fact that they indeed did survive. Part of his speech at orientation was about perception. He lightheartedly took the time to speak about several graduates present and share his perspective of them. He addressed all graduates and said that it is not just perception that matters; it is also loyalty. Loyalty in the fact of giving your life meaning and living life with a purpose, being responsible, knowing your core values, and remaining loyal to those values.
Interim President Charles "Chuck" Taylor congratulated the seniors, sharing that while he has only been at Chowan for a brief amount of time, he is immensely impressed with their talents and knowledge and looks forward to the gifts they bring back to Chowan as alumni.
Andy Wilson, Vice President for Advancement, shared with the graduates what it means to be an alumnus of Chowan University – participating in alumni events, being invited to serve on board, and most of all, visiting and staying in contact with the Alumni Office.
Rev. Mari Wiles concluded the dinner with the benediction, which was followed by each graduate proceeding to the University Gazebo for the bell-ringing tradition. Following the ringing of the bell, each student received a gift and individual congratulatory remarks from Interim President Taylor and his wife, Carol Taylor.
Please join us in continuing to celebrate the Chowan graduating class of 2023!