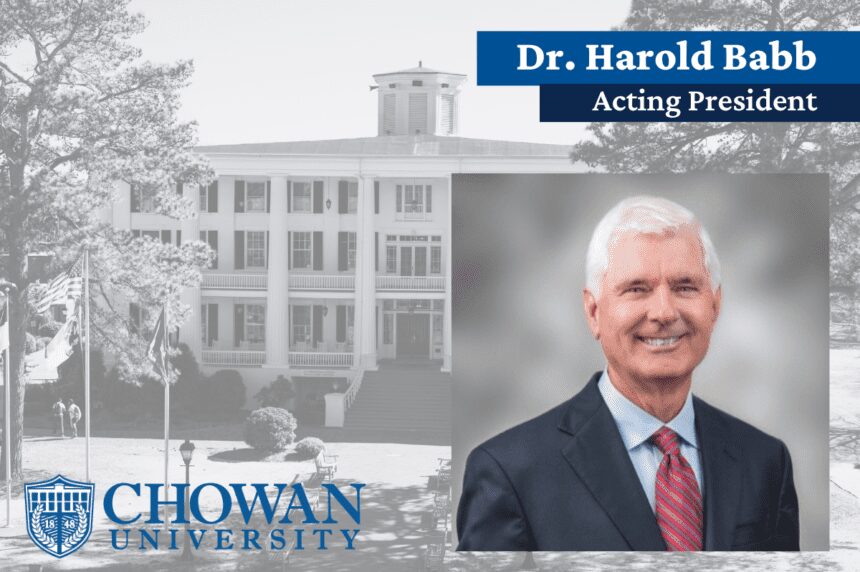 Chowan University Selects Dr. Harold Babb as Acting President
Mar 3, 2023
by Kim Sherman Bailey
Dr. Harold W. Babb of Manakin-Sabot, Virginia, has been appointed acting President of Chowan University by the Board of Trustees, effective March 2, 2023.
Dr. Babb is a 1970 graduate of Chowan University with an A.S. in Accounting. He continued his education, receiving a B.S. in Accounting from the University of Richmond, an M.S. in Marketing and Finance from Virginia Commonwealth University, and a Ph.D. in Marketing from the Virginia Polytechnic Institute & State University (Virginia Tech). Dr. Babb has taught undergraduate and graduate courses at the University of Richmond while serving as Department Chair for 20 years and, most recently, as Professor of Marketing at the Robins School of Business. He is the author of numerous articles and peer-reviewed papers. Dr. Babb was a Fulbright-Hayes Scholar to South Korea and the Republic of China, the F. Carlyle Tiller Distinguished Professor of Business Chair recipient, received the University Distinguished Teaching Award and was inducted into the University of Richmond Athletic Hall of Fame.
In 2016, Dr. Babb joined the Chowan Univerity Board of Trustees. He served as a Visiting Executive for the School of Business in February 2017 and as an Executive Partner for Alumni Relations during Homecoming 2022. He and his wife, June, established the June and Harold Babb Christian Entrepreneurship Endowment, which will provide financial assistance to business students called to the mission field to support learning experiences beyond the confines of the traditional classroom setting.
In addition to his academic career and service to Chowan, Dr. Babb is an entrepreneur, having founded businesses in the health care, investment banking, student financial services, and renewable energy industries. Dr. Babb currently serves on the National Executive Board for Lead Like Jesus, was Chairman of the Board for the Central Virginia Salvation Army, and is an Elder in his local church in addition to other civic and professional work. Dr. Babb is married to June Slater Babb, alumnae of then Chowan College. They are the proud parents of two children, a daughter and a son, and have five grandchildren. His interests include family, international travel, and sports of all kinds.
About Chowan University
Chowan University, grounded in its Christian faith, has been transforming the lives of students of promise for over 174 years. A Christian liberal arts university founded in 1848, Chowan is located in the Historic Inner Banks community of Murfreesboro in northeastern North Carolina. The university is in close proximity to the Outer Banks and Hampton Roads, Virginia. Chowan's park-like campus features more than 400 acres, including Lake Vann, the beloved "Squirrel Park" and the original McDowell Columns Hall, erected in 1851 and listed on the National Register of Historic Places.
Accredited by the Southern Association of Colleges and Schools Commission on Colleges, Chowan offers over 70 undergraduate academic programs among the School of Arts and Sciences, the School of Education and Professional Studies, and the School of Business and Design. Master's degrees are awarded through the School of Graduate Studies. The Music Department is also individually accredited by NASM. An NCAA Division II member institution, Chowan offers 20 varsity sports, as well as co-ed competitive cheerleading and co-ed esports, and a junior varsity men's basketball team. Nineteen programs compete in Conference Carolinas and one in the Gulf South.
For more information about Chowan University, visit www.chowan.edu or call 1-888-4-CHOWAN.