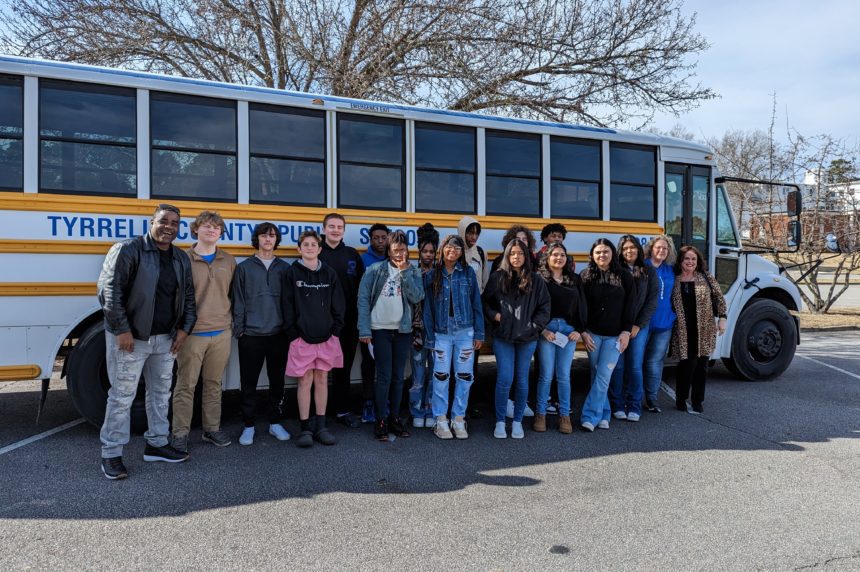 Local Schools Visit and Cheer on the Hawks
Feb 15, 2023
by Staff Reports
On Saturday, February 11th, Chowan University hosted local high schools for informative sessions and cheering on the Hawks at the home basketball games. A group of high school students from Tyrrell County visited Chowan University under the guidance of their DARE Officer, Deputy Frank. These students were presented certificates to come to a sporting event for good grades and positive behaviors that were shared with their superintendent during the NERESA Meeting in the Chowan Room in January. Dr. Tyranna Battle, Assistant Superintendent in Halifax County Schools, arranged for students from Northeast Halifax Collegiate and Technical Academy and Southwest Halifax Collegiate Prep Academy to visit campus through their partnership with Chowan under the "President's Partnership Initiative."
The students began their visit in Vaughan Auditorium, where they were welcomed by Dr. Ella Benson, Dean of Accessibility Services, who asked the students to take lots of photos and selfies to share on their social media and to tag #ChowanUniversity. Ruth Casper, Assistant Vice President for Student Financial Services, shared an informative presentation on the many financial aid opportunities available to students and the process of applying for financial aid and being awarded. John Yancey, Vice President for Enrollment Management, spoke with the students about how the Chowan University Admissions team could help them through the application process and invited them to apply to become students at Chowan. Mr. Yancey said that it is especially important for students who want to go to college and are the first in their families to go, to do all they can to get there. He offered to help them achieve their goals and make their dreams of college a reality.
After the presentation, the group of about 50 students walked across campus, past the library, and over the bridge on the lake to the Hawks Athletic Center. The students were able to enjoy the second half of the women's basketball game and the men's basketball game. Dr. Henke, Director of Ancillary Services, who coordinated the visit introduced some of the students to President Peterson, and many of the students visited the concession stand for popcorn and snacks. Both groups received a shout-out from Dr. Pam Woodard, Chair of Criminal Justice, before the men's basketball game. Both Dr. Henke and Dr. Battle remarked what a wonderful time the students were having and how important it is for the students as well as for the University for them to visit.
To learn more about Chowan University, visit chowan.edu. Campus Visits may be scheduled at chowan.edu/visit or by contacting the Office of Admissions at admissions@chowan.edu or 252-398-6230. Information on the President's Partnership Initiative can be found here.