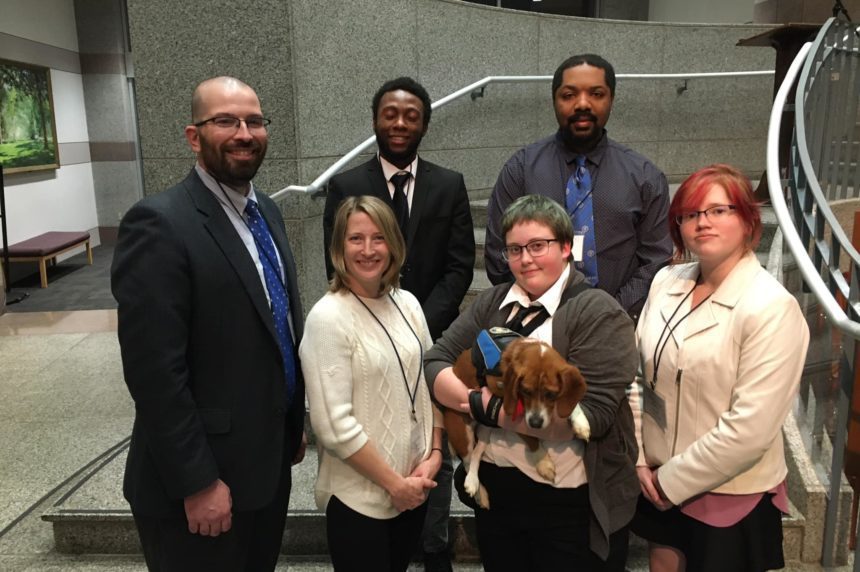 Chowan University Participated in North Carolina Independent Colleges and Universities Ethics Bowl
Feb 15, 2023
by Staff Reports
Chowan University is one of sixteen colleges and universities that competed in the North Carolina Independent Colleges and Universities Ethics Bowl, debating ethics in contemporary society, on February 10th and 11th at the North Carolina Legislative Complex in Raleigh.
Five students represented Chowan University:
Harley (Remus) Cox – English
Marcus Clarke – Religion
Patricia Anne (Flaire) Novak – Business Administration
Jeanette Ahmes – History
Shawn Lambre – Business Administration
They were accompanied by their campus advisor, Dr. Edward Snyder, Associate Professor of History, Chair, Department of History and Religion. "The team won its first match and competed very well throughout the tournament," shared Dr. Snyder. "We are so proud of the team and their hard work in preparing for the tournament."
Each Ethics Bowl team has four-to-six student members. A campus coordinator works with the students to help them prepare for the competition, which consists of four rounds over two days, plus semi-final and final rounds. In each round, a specially developed case study outlining a complex ethical situation related to the theme will be presented to the teams for debate. Each match is awarded to the team that makes the most sound, persuasive presentation. Three judges and one moderator participate in each match. Approximately 60 business, non-profit, and government professionals have volunteered to fill those roles.
A banquet for campus participants, judges, moderators, and sponsors was held Friday evening at the North Carolina Museum of History with Leslie Garvin, Executive Director of NC Campus Engagement, as the keynote. NC Campus Engagement is a collaborative network of colleges and universities that champions civic and community engagement in higher education.
"This is NCICU's 12th annual Ethics Bowl, and the first in-person event since 2020. The broad theme of Ethics in Contemporary Society presents timely and important topics for discussion," said NCICU President Hope Williams. "The Ethics Bowl is both academically challenging and an individually rewarding experience for our students," she continued. "Determining ethical responses to complex situations leads to personal awareness and valuable discussion among team members and participating business and community leaders."
Please join Chowan in thanking these students for representing the university.