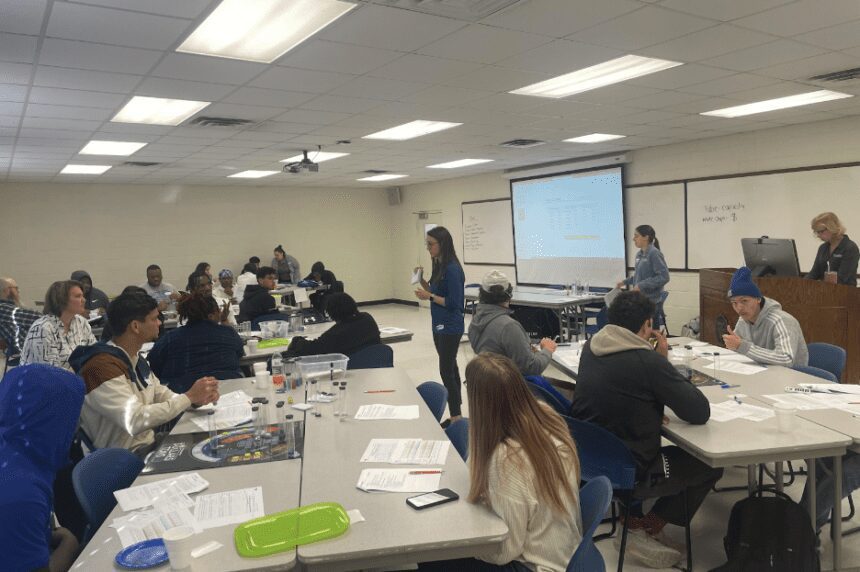 Chowan University Department of Business Welcomes Nucor for Interactive Experience
Feb 20, 2023
by Harri Lovett
After visiting the Hertford County Plant in Cofield, NC, on February 16th, senior business students of Chowan University were afforded the opportunity to get "hands-on" in an interactive business model game hosted by executives from Nucor, the largest and safest producer of steel in the United States.
Four executives from Nucor's Hertford County steel mill facilitated the "Dollars and Tons" game for twenty business students in Chowan University's McSweeney Hall. Tasks in the activity were designed to replicate a real-life model of a corporation. Students were tasked with building their own business strategy, considering factors such as incomes, trade, marketing, loans and interest rates, expenses, and available resources to return a profit. Courtney Vincent, who graduated from Chowan in 2020, returned to Murfreesboro as one of Nucor's representatives. Courtney now works as a claims administrator for Nucor's Hertford County plant and stated "these activities prepare students for real life. It is great to see business students performing as business professionals with these tasks in the same way my colleagues and I do on a daily basis."
Courtney was joined by a fellow Chowan University alumna, Harley Draper (formerly Williams), who currently serves as an accountant for Nucor following her graduation. Students were also able to learn from Cindy Harrell, the accounting supervisor for the plant, and Heather Niemetz, an inside sales representative. In an environment with competition at the core, students had the opportunity to tap into these business professionals' perspectives in gaining an upper hand over their classmates. Wesley Illes, a senior business major graduating this May, claimed, "it has been something unique and been an eye-opener for a lot of us today. There are a lot of moving parts to corporations that a textbook does not always cover. So today has been brilliant."
"We are appreciative of Nucor partnering with us to provide this real-life simulation for our students," says School of Business and Design dean, Hunter Taylor, "This was a fantastic interactive experience that brings financial concepts to life in a way that helps our students better understand strategic decisions. The Nucor team was amazing, and we appreciate their time investing in our students' futures."
Chowan University would like to thank Nucor for their support of our students and sharing their knowledge with the esteemed business program. Well done to all participating students!