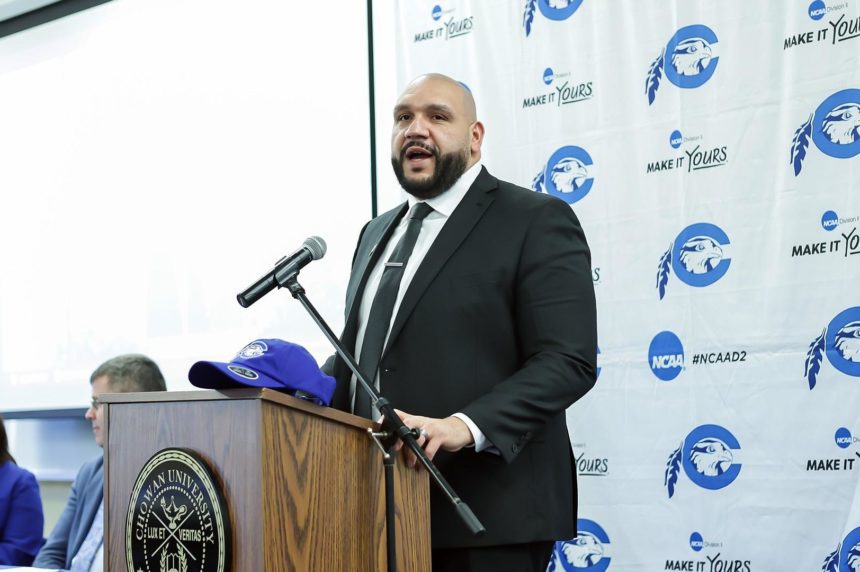 Chowan Football Joins Gulf South, Conference Carolinas In 2025
Jan 27, 2023
by Staff Reports
In an introductory press conference held in the Football Pond Center, the introduction of Head Coach Paul Johnson, along with the future of the Chowan Football program was announced on Thursday afternoon.
For the 2023 and 2024 seasons, the Chowan Football program will compete in the Gulf South Conference (GSC). This move guarantees the Hawks eight conference games for the next two seasons with four home games and four road games. The GSC features: Delta State, West Georgia, West Alabama, Shorter, North Greenville (football only), West Florida, Mississippi College, and Valdosta State. Erskine will join the GSC in 2024 as a football only member for one season.
Starting in the 2025 season, the Chowan Football program will move to the Conference Carolinas as a full member, as the Conference Carolinas announced the addition of Shorter University as the league's 15th member and sixth football playing member in 2024-25. It will mark the first time in Chowan's Division II history that all of Chowan's sponsored sports will be under the same conference affiliation. Conference Carolinas will feature six programs with football: Barton, Chowan, Erskine, UNC Pembroke, North Greenville, and Shorter.
To start the 2023 season, Chowan will hit the road to take on Barton on Thursday, August 31 before hosting NCAA Playoff participant, Delta State, on September 9 in the program's first-ever Gulf South contest. The Hawks will then take on the Hawks of Shorter on the road before a potential bye week in Week 4. Chowan will host Valdosta State on September 30 to wrap up the opening month.
In October, Chowan will face a familiar foe, North Greenville, as the Crusaders compete in the Conference Carolinas in their other sponsored sports. The meeting will be the first since 2007. The Hawks will then hit the road to take on West Georgia (October 14) and Mississippi College (October 21), before wrapping up with a home contest against West Alabama on October 28.
The Hawks will have a bye week before finishing up the season on the road against West Florida. Chowan competed against the Argos during the 2016 and 2017 seasons with both programs winning on their home field.
The full release from the Gulf South can be found here.  The full release from the Conference Carolinas can be found here.
The original article can be found here.