Marketing and Brand Contact:
Office of University Relations and Communications
Felton University House

After fifteen months of research and collaborative creative development, Chowan University publically unveiled its new brand identity, which includes a comprehensive brand strategy, new website, and new recruitment and communications materials in January 2022 with the launch of the new website.
All Together, Chowan
Chowan is a community. A community united by faith—faith in the future of our students. We believe Chowan students have unlimited potential. To achieve, to flourish, and to pursue the lives they were created for. We're a community that cares. We care about the success of each individual and the fulfillment of our collective mission.
It's in what we say, how we say it, and how we present ourselves across all mediums that furthers our brand and our mission.
WE'RE ALL IN THIS TOGETHER.
---
Our brand promise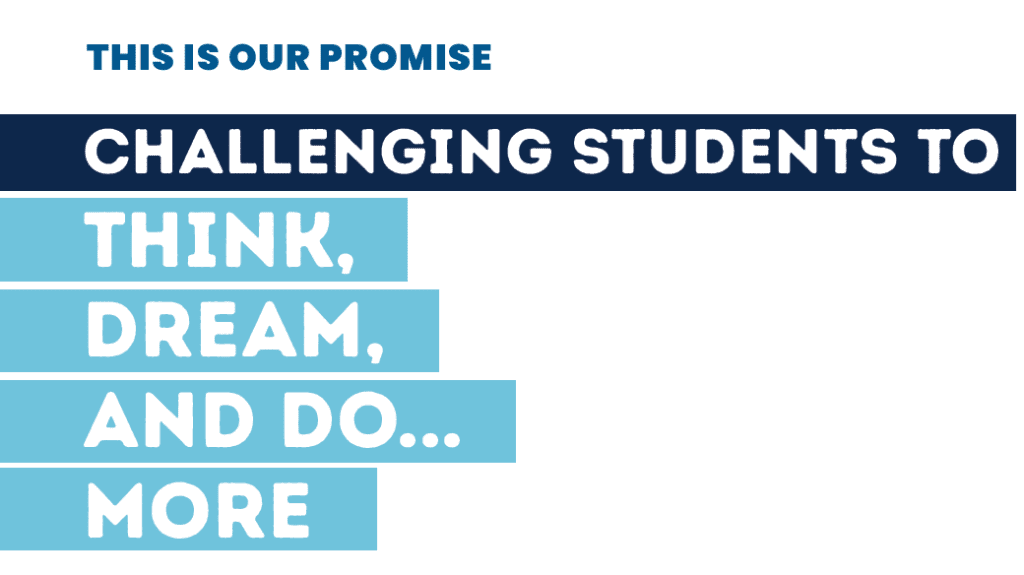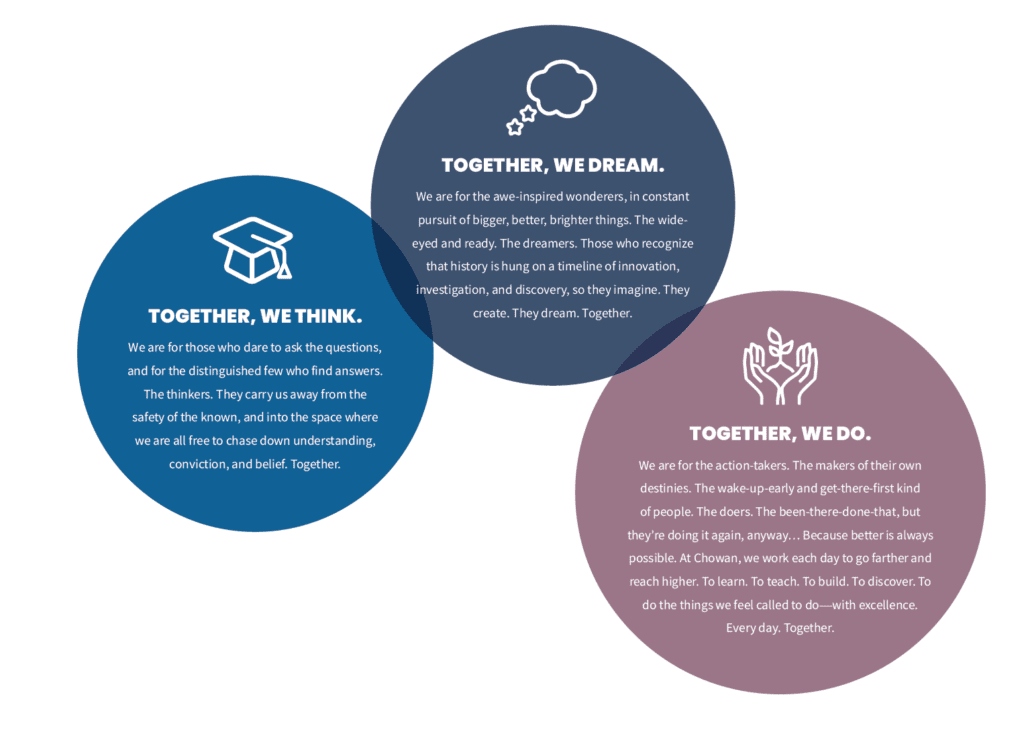 ---
Our Rally cry
All Together is an institution-wide rally cry, because we are, in fact, together in this journey. We are unified not just by geography and intention. That means that we are constantly joining together for a common purpose, a shared belief, a way of thinking, a goal. Not just some of us, but the sum of us. Regardless of our personal hopes and dreams for what's next, we are all in this together and we are FOR one another. Always.
At Chowan, this unity is about strength in numbers—not in order that we might gain power, but that we might be able to share more, serve more, and do more with all that we have been called to be.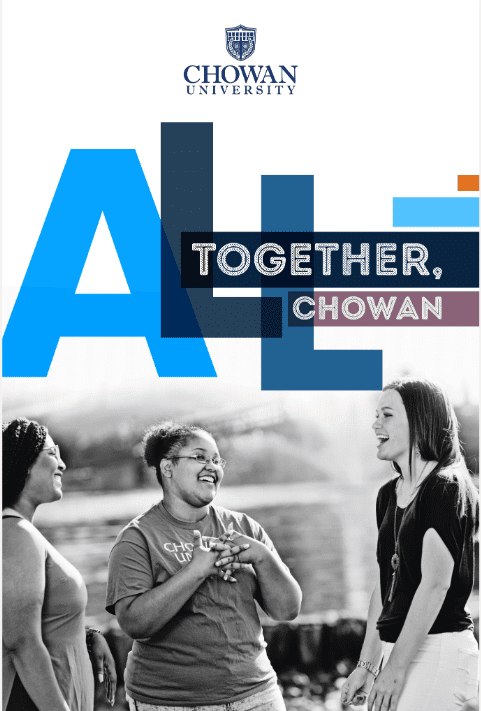 ---
About The Chowan Brand and its Refresh
What actions do the individuals at Chowan commit to every day? What can the people who rely on us—the people we interact with—expect from us consistently? Whether an 18-year old college student or a faculty member celebrating 20 years on campus, each member of our community is valued. Every brand is a promise. A great brand is a promise, kept. 
Most plainly stated, a brand is a perception. It's the combination of values, identity, images, personality, stories and experiences that comes to mind when you think of a Chowan, or any other brand.
It is increasingly important in today's higher education marketplace to create a strong, memorable brand. In order to create this strong brand identity,
Chowan University must express continuity in vision and voice in all that we do. The logo, visuals, and words we use to describe Chowan University will
enable us to establish and maintain a clear, unified brand identity, both within the University community and beyond. With the approach of Chowan's 175th anniversary, we put together a comprehensive brand that unites all of Chowan – from the Braves to the Hawks.
The Chowan University Institutional Mark that launched in 2018 remains. The athletics logo remains in place for athletics' programs and services. The Chowan University motto, "Lux et Veritas", and tagline, "Faith in your Future" remain in use.
From photos and design elements to colors and fonts, each component within the brand builds upon our visual identity to form a cohesive visual experience. While keeping the university logos and Chowan (royal) blue, a new color pallet was created and typography have been introduced.
In design, we aim for our logo to stand out in white space (aka quiet space).  The use of multi-colored "flags" bring attention to headlines over backgrounds, often in conjunction with dominant high-contrast grayscale images.
The research for the brand refresh focused extensively on developing an authentic institutional narrative built from input from University constituents.
Chowan launched a new website in January 24, 2022. The website redesign is focused on the user experience of prospective students, and prioritizes brand-authentic content, ease of navigation, search engine optimization and security.
From the rally cry and discovery phase, 5° Branding and the University began refreshing its marketing materials beginning with Admissions to ensure recruitment pieces were complete in fall 2021.
"It's been so exciting sharing new, fresh pieces that represent all the growth Chowan has experienced and the amazing things we have to offer," shared Vera Landrum,  Assistant Director of Admissions Communication (Marketing). "The new branding is something students have really gravitated toward and been excited about as Admissions Counselors meet with them during their travels and on-campus visits."
The University began its initiative to enhance its brand identity in summer 2020, and in November 2020 partnered with 5° Branding to assist in the development of a brand refresh and new website. The project began with a research and discovery phase that included surveying university constituents from current students to alumni and donors, and a campus visit to hold workshops with students, faculty, and staff of the University. From this, research and collaboration with stake holders on campus the brand refresh was created.
Admissions began in fall 2021 with its new recruitment pieces.  By fall 2022, University Relations and Communications will have assisted internal departments in transitioning their materials to include the new brand.
The project has been a significant focus of University Relations and Communications, and although the redesigned website has launched and new materials have been created for Admissions, work on the project will continue as the new website provides the best platform for elevating the university brand and telling the Chowan story.