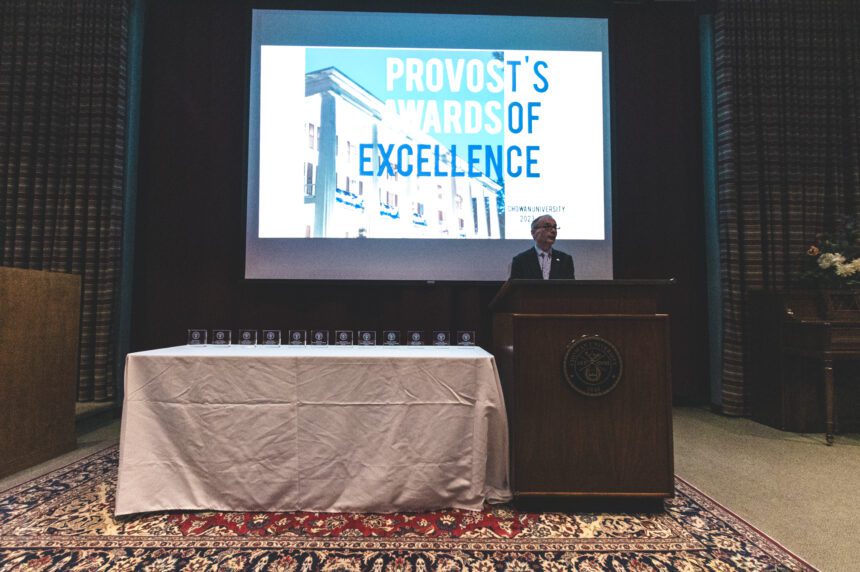 Professors Honored at 2023 Provost's Award Ceremony
Nov 16, 2023
by Zoe Beale
On Tuesday, November 14th, the annual Provost's Awards were held in Vaughan Auditorium. This annual ceremony recognizes faculty and staff members on campus for their outstanding work with students and dedication to Chowan University. The awards and recipients are as follows:
Excellence in Student Engagement Award – Taylor Furlough, Coordinator of Student Life
Excellence in Academic Service – Elizabeth D. Cox, Database Administrator
Excellence in Servant Leadership – Mari E. Wiles, Minister to the University
Excellence in Athletic Leadership – Brenna Schuler, Head Athletic Trainer
Excellence in Assistant Coaching – Philip R. Simshauser, Assistant Men's Lacrosse Coach
Excellence in Coaching – Junior Bailey, Head Softball Coach
Excellence in Teaching – Tomica D. Crosby, Assistant Professor of Education
Excellence in Advising – David E. Ballew, Professor of History
Excellence in Mentorship – Pamela C. Woodard, Associate Professor of Criminal Justice
Excellence in Adjunct Teaching – Pudden S. Gorlesky, Instructor in Health
Excellence in Community Service – Jill A. Awuni, Assistant Professor of Religion and Business Administration
McDowell Columns Scholar Prize – Christopher E. Cook, Associate Professor of Music
We would also like to congratulate Mary E. Mitchell for being the recipient of the Pi Gamma Mu Social Science Faculty Award and W. Thomas Collins as the recipient of the Honors College Faculty Award. The recipients and nominees alike go out of their way every day to encourage and support students on our campus – the work you do does not go unnoticed. Congratulations to all!