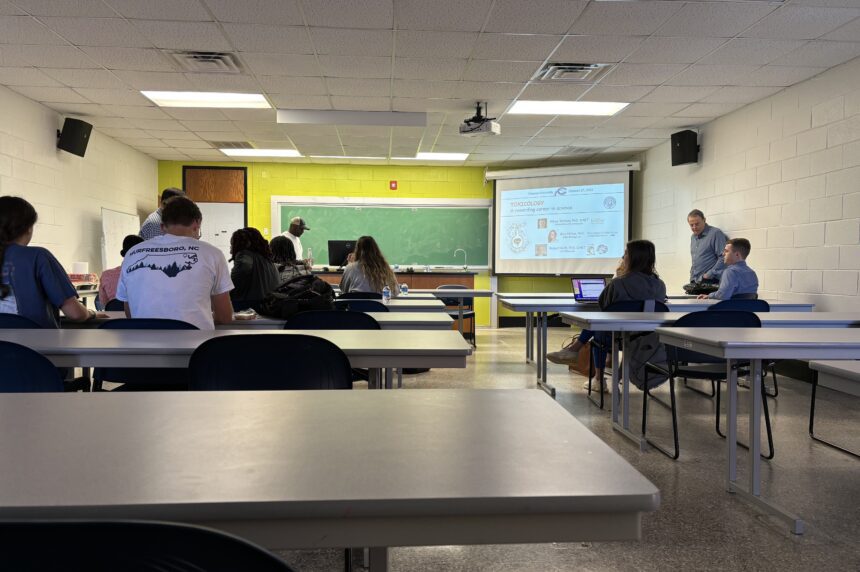 Chowan University Biology Students discuss Postgraduate study and Careers
Oct 30, 2023
by Zoe Beale
The Chowan University Biology department recently organized an insightful in-person panel discussion featuring three distinguished toxicologists, Robert Roth, PhD, DABT; Gina Hilton, PhD; and Lee Watson, PhD, DABT. The event aimed to provide students with valuable information about continuing education opportunities within the Biology department and post-graduate studies, further expanding their career prospects. This initiative is part of the ongoing efforts by the biology department to foster networking opportunities and help students unlock their full potential.
In addition to the panel discussion, earlier this month, Chowan University biology students were privileged to engage in a stimulating Q&A session with Ms. Sheri Dailey from Campbell University. The session focused on Campbell University's esteemed Master of Science in Biomedical Studies program, offering students a comprehensive understanding of the curriculum and facilities. Furthermore, students had the opportunity to inquire about the admission requirements for this prestigious program.
The panel discussion and Q&A session were met with great enthusiasm from the students, who eagerly participated and gained valuable insights into their future academic and professional endeavors. The Chowan University Biology department remains committed to providing students with opportunities to explore various career paths and establish connections within their field of interest.
Dr. Robert Roth, a renowned toxicologist and DABT-certified professional, shared his expertise during the panel discussion. Dr. Roth's extensive knowledge and experience in the field of toxicology provided students with a unique perspective on the subject matter. Similarly, Dr. Gina Hilton and Dr. Lee Watson, both esteemed PhD holders, contributed their valuable insights, enriching the students' understanding of the field and its potential career opportunities.
The Chowan University Biology department's dedication to fostering student success and career development is evident through initiatives like these. By organizing events that facilitate networking and provide access to valuable resources, the department ensures that students are well-equipped to pursue their academic and professional aspirations.
For more information about the Chowan University Biology Department and its ongoing efforts to support student career development, please visit www.chowan.edu.