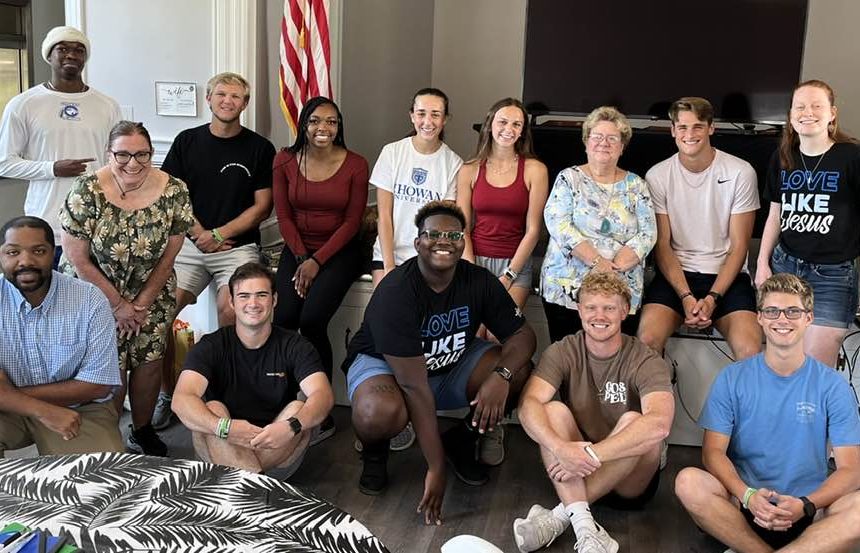 Chowan University Campus Ministry Hosts Retreat at The Gathering Place
Sep 7, 2023
by Lou Ann Gilliam
On Sunday, September 3, Chowan University Campus Ministry and the Office of Advancement hosted the annual Chowan Christian Service Association (CCSA) Scholar Retreat at The Gathering Place in Ahoskie.
"This year's retreat emphasis was on poverty," shared Minister to the University Rev. Mari Wiles. "We are trying to open our eyes to see the folks that society deems invisible." In preparation for the day, the scholars read Under the Overpass by Mike Yankoski. During the retreat, students explored how quickly money goes if you are making minimum wage by playing the online game SPENT (www.playspent.org) from Urban Ministries of Durham.
Pat Byrd, Executive Director of the Christian Women's Job Corps, welcomed the Scholars to The Gathering Place. With the emphasis on poverty, Scholars were able to gain firsthand knowledge of the many services this ministry provides to the Town of Ahoskie and the greater area. The Gathering Place brings the community together for events, ministry, learning, and help.
Dinner for the students deepened their exploration into poverty. Rev. Wiles gave each student $2 to buy dinner. She reminded them that globally, over 10 million people live on less than $2 a day. The group then walked to Piggly Wiggly, and after much discussion, the students pooled their dollars to buy bread, peanut butter, sandwich meat, and pickles. Cooperation enabled them to share a unique meal.
Reflecting on the retreat experience, new student Olivia Mock shared, "the retreat gave me a whole new perspective on poverty, in which everyone is in poverty in some aspect of their life — we are all in need of something, and we all have something to give to others." She continued sharing, "I will take this retreat and everything I learned and apply it to my life, and I will be so much better than I was before."
Along with the eye-opening life lessons, students were invited to share their faith journeys and to pray for one another. The retreat encouraged the students individually and as a group.
"CCSA is a scholarship program supported by a multitude of individuals, churches, and organizations and is designed for students who have expressed a calling to ministry. Thirteen student scholars are benefiting from the program this academic year." stated John M. Tayloe, Assistant Vice President for Development.
Many of the CCSA scholars serve as student ministry chaplains in their residence halls or on their athletic teams. CCSA's mission is to help students discover their calling in the ministry. The annual retreat has been an effective means of exposing students to a variety of ministry concepts. For more information about CCSA and to become a member contact John M. Tayloe at tayloj1@chowan.edu or Chowan Campus Ministry, contact Rev. Mari Wiles at wilesm@chowan.edu.