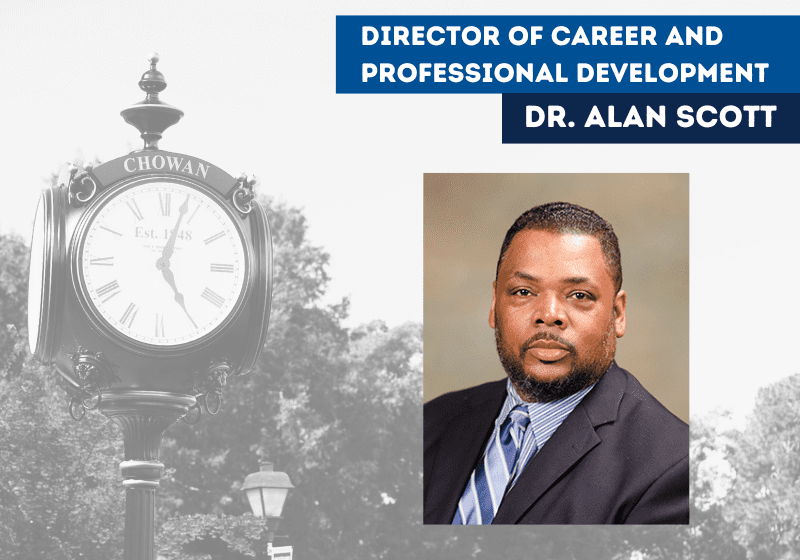 Dr. Alan Scott Appointed as Director of Career and Professional Development
Aug 22, 2023
by Harri Lovett
Following a short stint away from the University, Dr. Alan Scott has returned to Chowan as the Director of Career and Professional Development. Dr. Scott will provide career direction, assistance in job searches, and preparation for professional life to students. Previously, Dr. Scott has undertaken roles such as Assistant Director of Residence Life and Title IX Coordinator at Chowan.
Joining Chowan University in 2014 as the Assistant Director of Residence Life – Careers and Programs, Dr. Scott's primary role was to assist students and alumni as they work to meet their professional and career goals. In July 2020, he assumed the role of Title IX Coordinator. In this role, he was tasked with ensuring the University complies with Title IX policies and regulations. Through his tenure at the university, Dr. Scott has become a valued colleague and a respected staff member by countless students.
In his newest role, effective fall semester of 2023, Dr. Scott will assess students' goals, interests, and goal paths and assist them in finding relevant resources to achieve their career aspirations. Students will now have the opportunity to build resumes, partake in mock interviews, build LinkedIn profiles, and be provided with strategies for challenging recruiting tasks.
Dr. Scott holds an EdD from Northcentral University and completed advanced studies at Old Dominion University. He earned his MEd from Troy State University and his BS in Mass Communications from Norfolk State University and Virginia Commonwealth University.
Please join Chowan University in congratulating Dr. Scott and wishing him every success with his new role.