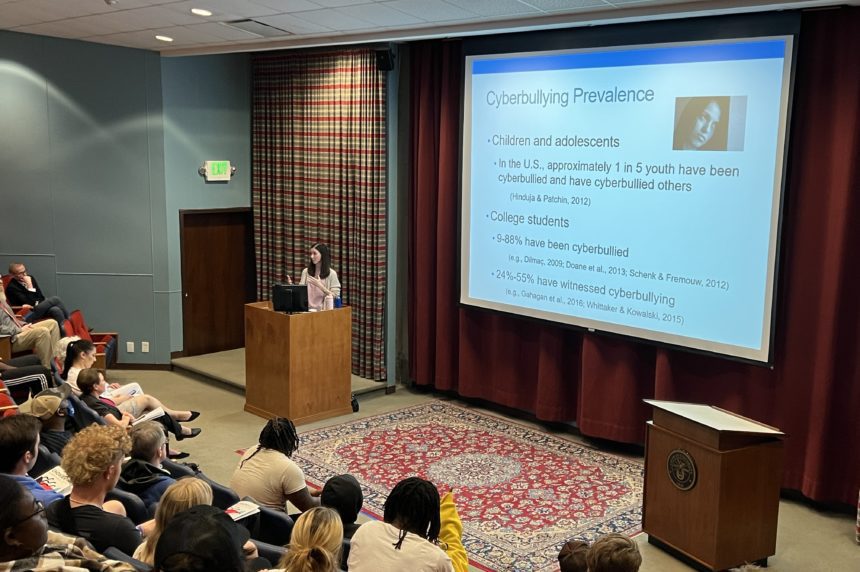 Dr. Ashley Doane Delivers John H. Davis Keynote Address
Apr 20, 2023
by Kim Sherman Bailey
On Monday, April 17, Dr. Ashley Doane, Senior Lecturer for the Department of Psychology at Old Dominion University, delivered the John H. Davis Keynote Lecture entitled, "The Emergence of Cyberbullying: From Conceptualization to Prevention to Intervention." This lecture was part of the 2023 Chowan Academic Forum and was delivered during the 18th Annual Faculty Interdisciplinary Symposium, which was themed "Connectivity."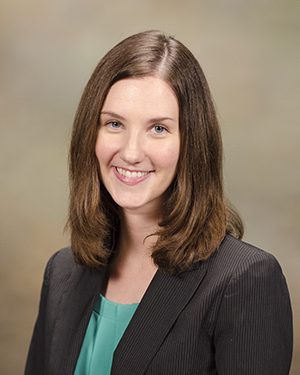 Introduced by Dr. Jennifer Place, Dean of the Arts of School and Science and former colleague, Dr. Doane, who served at Chowan University for over a decade before joining the facility at ODU in Norfolk, VA, shared that she was excited to be back at Chowan.
Opening her lecture, Dr. Doane shared that cyberbullying is a topic that is her passion. When she was in college, Facebook had just launched, and participants had to have .edu emails to have an account. MySpace was also popular, and her brother, four years younger than she, had an account. She noticed there seemed to be a lot of "drama" on the platform. She was a psychology major, and that is how her interest began in what would be described as cyberbullying in 2009. Dr. Doane shared that being socially connected creates positive interactions, but all interactions are not positive. When she got to graduate school, there was little on the online bullying topic she was interested in and thus, she's been a pioneer in this field of study.
In graduate school, Dr. Doane formed surveys to conduct her research on cyberbullying and is one of the first to assess the psychometric properties of cyberbullying. Her research has been used in numerous studies across the world. From the beginning, her goal has been to better understand cyberbullying experiences, improve attitudes toward cyberbullying, and create empathy toward the victims, which will theoretically reduce cyberbullying.
Dr. Doane shared that she created cyberbullying news stories, information slides, and scenarios during her dissertation. While at Chowan, she established a "Cyberbullying Research and Awareness Group," and over the years, she had numerous students working on many of these projects, often creating several short films, a few of which she shared with the audience.
On Tuesday, April 18th, during the Chowan Undergraduate Student Research Conference Luncheon, Dr. Doane also spoke, focusing on survey results and surveys conducted while she was a professor at Chowan. She shared that all show that participants who viewed videos created to bring awareness to cyberbullying had a significant impression on how the participant viewed the cyberbullying following their participation.
Dr. Ashley Doane earned her B.S. in Psychology, M.S. in Psychology, and Ph.D. in Applied Experimental Psychology (now Health Sciences) from Old Dominion University. She is currently a Senior Lecturer in the Department of Psychology at ODU. Prior to returning to ODU, Dr. Doane was a Professor of Psychology and Chair of the Department of Psychology at Chowan University. Dr. Doane has taught a variety of undergraduate courses (primarily courses in developmental psychology, cognitive psychology, statistics, and research methods).
She was a recipient of the McDowell Columns Scholar Prize in 2013 and the Faculty Advisor of the Year Award in 2022 at Chowan. At ODU, Dr. Doane received the Outstanding Classroom Instructor Graduate Teaching Award. Dr. Doane's research interests include predictors of cyberbullying victimization and
perpetration, the role of cyberbullying bystanders, and cyberbullying prevention. She has worked with students to develop and evaluate student-led cyberbullying programs that focus on reducing cyberbullying perpetration and victimization and improving positive bystander behavior. Dr. Doane previously participated in the Consortium Research Fellows Program as a Senior Consortium Fellow to assist the Army Research Institute in addressing cyberbullying among soldiers.