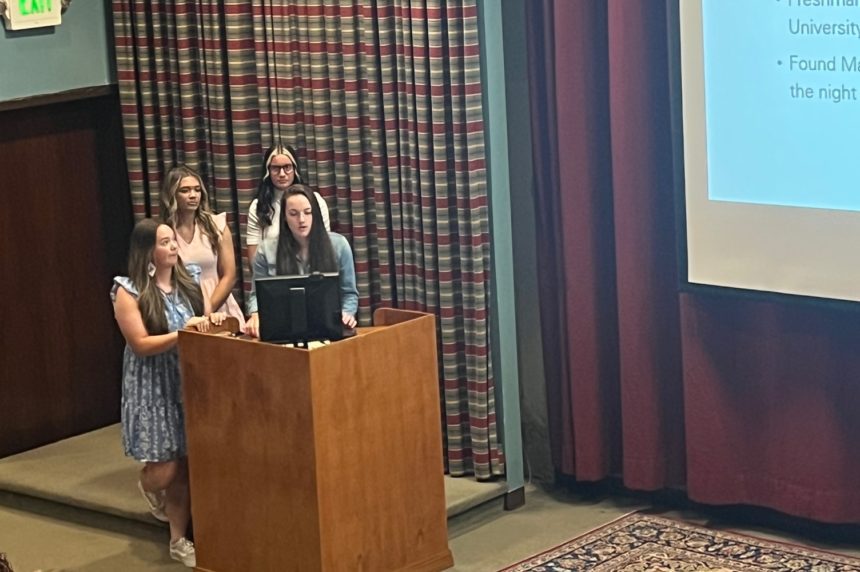 Chowan University Students Present Original Research at Annual Student Conference
Apr 20, 2023
by Kim Sherman Bailey
The 25th Annual Chowan University Student Research Conference was hosted on April 18, 2023, as part of the 18th Annual Chowan Academic Forum: A Celebration of the Intellectual and Artistic Life of the University.
The Student Research Conference is open to any Chowan University student to present on any topic of interest. The only requirement is that the student has a faculty sponsor to help guide the research. More than 160 presentations occurred. Students presented on a variety of topics, including literary readings of original poetry and short stories, research related to biology, criminal justice, business administration, English, psychology, sports management, health and physical education, elementary education, fine arts, interdisciplinary studies, religion, history, exercise science, graphic communications, graphic design, mathematics, music, studio art, and social studies education.
Sessions occurred simultaneously to accommodate the multitude of presenters, each moderated by a faculty member. While some sessions were musical performances, others were recited poetry written by students, and more were academic presentations. At the end of each session, the audience, comprised of fellow students, faculty, and staff, was able to ask questions and interact with the student presenter. Each session was judged by Chowan faculty, and student winners were presented with awards the following day at the Awards Convocation. The awards are listed below:
Best School Of Business And Design Paper: Kai Marshall George Rymes of Ascot, England and Sarai A. Sanders of Powder Springs, GA
Best School Of Education And Professional Studies Paper: Olivia Ann Wheeler of Seaboard, NC
Best School Of Arts And Sciences Paper: Erica Elizabeth Mock of Diamond, OH
Best Poster Presentation: Andrew Boyd Simmons of Fayetteville, NC
Best Visual Display: Davonte Christopher Hooks of Washington DC
Best Literary Work: Destiny Esther Vaughan of Ahoskie, NC
Best Musical Performance: Malachi Jar'quezs Cobb of Washington, NC
Best Graduate Paper: Susan Nabinger Colvin of Ahoskie, NC and David William Keck of Rocky Mount, NC
Please join Chowan University in congratulating the winners and participants of the 25h Annual Chowan University Student Research Conference.