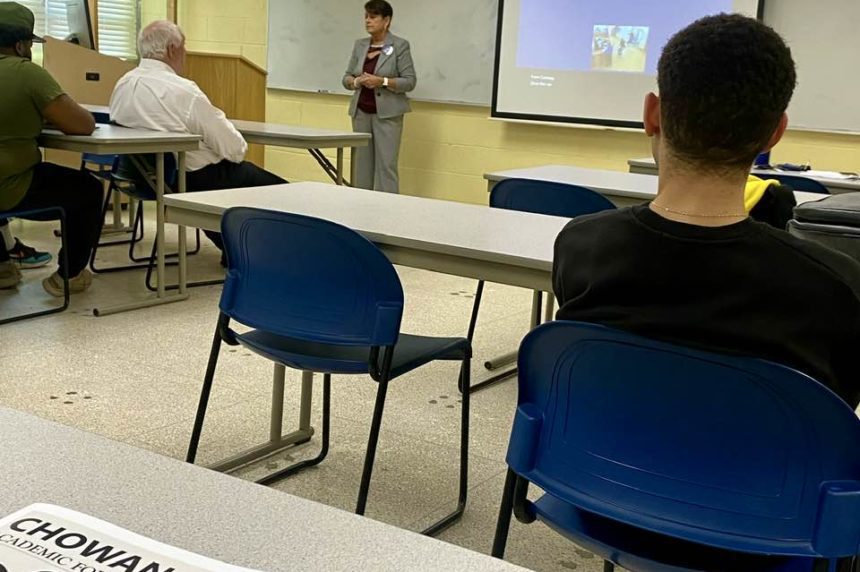 Dr. Pamela Woodard presenting during the 18th Annual Faculty Symposium.
18th Annual Faculty Interdisciplinary Symposium Connects Disciplines  
Apr 20, 2023
by Kim Sherman Bailey
Monday, April 17, 2023, Chowan University hosted the 18th Annual Faculty Interdisciplinary Symposium as part of the 18th Annual Chowan Academic Forum: A Celebration of the Intellectual and Artistic Life of the University.
The symposium unites faculty members across a unifying theme this year, "Connectivity," to present related, original, and recent research to the student body. The symposium was developed in response to a call for greater interdisciplinary dialogue and collaboration among Chowan University faculty and the importance of demonstrating to Chowan students the connections among various disciplines in their education curriculum. The symposium is based on the premise that if students have an opportunity to see that their coursework is inherently linked and that what they learn in one class can be transferred to another, then their education might seem purposeful.
Simultaneous presentations occurred every hour throughout the day. Each session was moderated by an Honors College student. Two professors each presented a topic in their field related to the theme. Upon completion, 24 presentations were given, all pertaining to the theme of connectivity, thus enabling students to build connections across academic fields.
This type of cross-disciplinary collaboration is a unique experience Chowan is able to offer its students. The Symposium also featured John H. Davis Keynote Lecurturer, Dr. Ashley Doane, Senior Lecturer for the Department of Psychology at Old Dominion University. The day following the Faculty Symposium, students presented their own research to peers and faculty, and staff at the University during the 25th Annual Student Research Conference. While Chowan University may be considered a small institution, it offers substantial academic experience, in and out of classroom learning, and opportunities that are hard to find in a larger academic environment.
The full list of presenters may be found in the 18th Annual Chowan Academic Forum Program here.