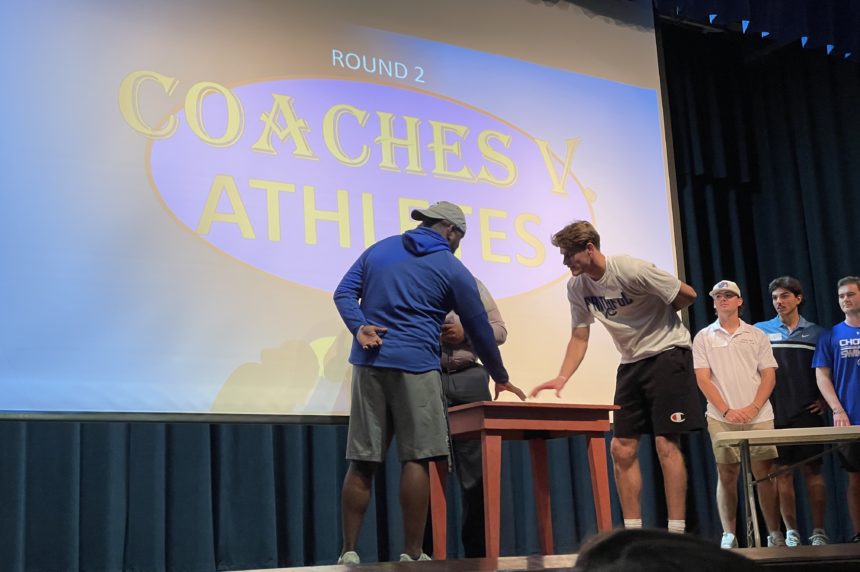 Coach Harris of Cross Country and Women's Lacrosse goes up against Skyler Davies of Men's Basketball in a round of Family Feud.
Chowan University Hosts Eventful Hawks Fest Week 
Apr 18, 2023
by Harri Lovett
On April 11, 2023, Chowan University kicked off a busy Hawks Fest week in celebration of Chowan University's student pride. Student life paired with the Athletic Department, 4:13 chaplains, and the International Student Club to facilitate numerous student-orientated activities on campus throughout a packed CU week!
On Tuesday, a tie-dye event kicked off Hawks Fest, where students were able to tie-dye their own Chowan-themed shirts to keep. Students had the opportunity to show off their new Chowan apparel at the 3v3 volleyball championship before heading over to Turner Auditorium, Chowan University, for a Family Feud, Athletics vs. Staff battle. Student, Malachi Cobb, enacted the humorous tones of a certain Steve Harvey in perfect fashion as students, staff, and faculty alike made for a rowdy audience, which saw a team made up of faculty and staff overcome a Men's athletics side.
On Wednesday, Hawks Fest continued with "Fun in the Park," where our famous Squirrel Park played host to multiple activities, including inflatable games, airbrush tattoos, photo booths, popcorn, music, and games. Students basked in the Murfreesboro sun all afternoon before heading off to the 7v7 intramural football event in the evening. The fun did not stop there, on Thursday, students enjoyed Alive After Five involving a Greek Probate of Kappa Alpha Psi Fraternity, Inc., followed by an ice cream social that led to the student favorite, "Big Bank Bingo," in Vaughan Auditorium, where students certainly enjoyed some big wins.
Chowan University alumnus DJ Ceekay returned to campus on Friday for the closing event of Hawks Fest, the Block Party. Students enjoyed music and food inside the Hawks Nest from 7:30 through 10:30. An amazing week that celebrated our outstanding students and CU pride came to a close following the Block Party.
Congratulations to all who coordinated a spectacular Hawks Fest, and thank you to our student body that showed up in numbers to participate and enjoy fellowship.