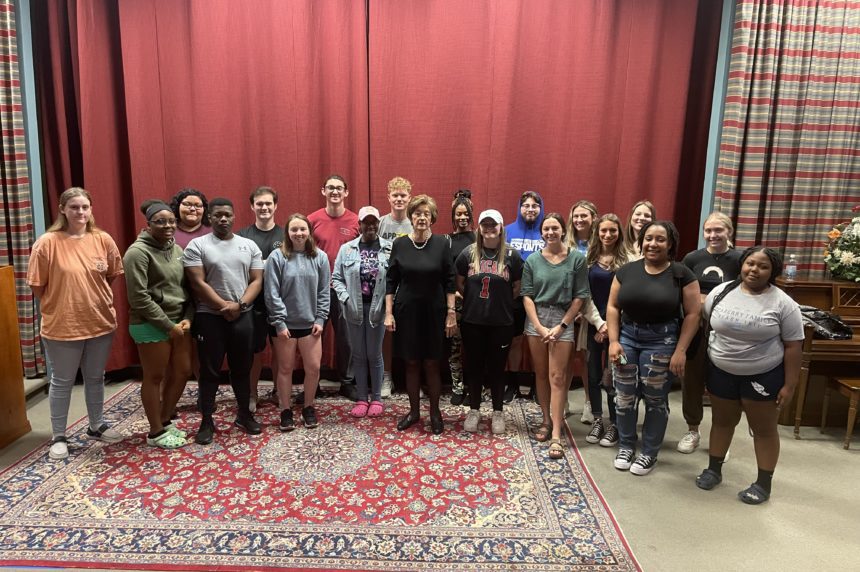 Secretary of State, Elaine Marshall with Chowan University students
NC Secretary of State Visits Chowan University
Mar 1, 2023
by Harri Lovett
On February 23rd and 24th, Elaine Marshall, the North Carolina Secretary of State, visited the region. She was the keynote speaker at the Ahoskie Chamber of Commerce annual dinner and visited the Chowan University campus to meet with local business executives, faculty, staff, students, and members of the Hertford County community. The elected member, who has served in her current role since 1997, was accompanied by Tim Crowley, the Communications Director for the North Carolina Secretary of State.
Mrs. Marshall returned to Chowan for the first time since she served as guest speaker at Dr. Christopher White's presidential inauguration in 2003. On her return, she met with representatives from key stakeholders in the Hertford County region, including Nucor, Roanoke Electric, State Farm, Commercial Ready Mix Products, Inc., Roanoke-Chowan Community College and leadership of Chowan University. The key focuses of the meeting were economic development, enhanced broadband connectivity and transportation in the Hertford County area.
Venturing only a few hundred yards off campus, the Secretary of State attended the "Murfreesboro Coffee Club" at the Roberts Vaughan House in the town center, where she enjoyed fellowship and was educated by attendees on many of the historic trademarks associated with Murfreesboro and the surrounding areas. Following on, Marshall and Crowley met with the County Officials for Hertford County in the Felton University House on campus to discuss the retention of employees in the region.
According to Marshall, the most rewarding aspect of her visit came in the form of student interaction. Honors college students in Dr. Ballew's class were given the opportunity to meet with Mrs. Marshall to discuss current affairs, pathways to sustained employment and the skills that allowed her to climb the ladder in politics, despite a gender bias in the industry. A fascinating caveat to the visit was when Provost Moore informed the first woman to be elected to statewide office in North Carolina that he had organized her visit to Chowan College nearly thirty years prior. Students were precisely engaged with the Secretary of State and her wisdom. History major Erica Mock stated, "It was inspiring to hear from Mrs. Marshall. She has overcome oppression, setbacks, and personal tragedy but stands to be one of the constants in a turbulent political economy. She is an inspiration for women like me."
Marshall and Crowley toured the main campus and athletic facilities before traveling back to the Capitol.