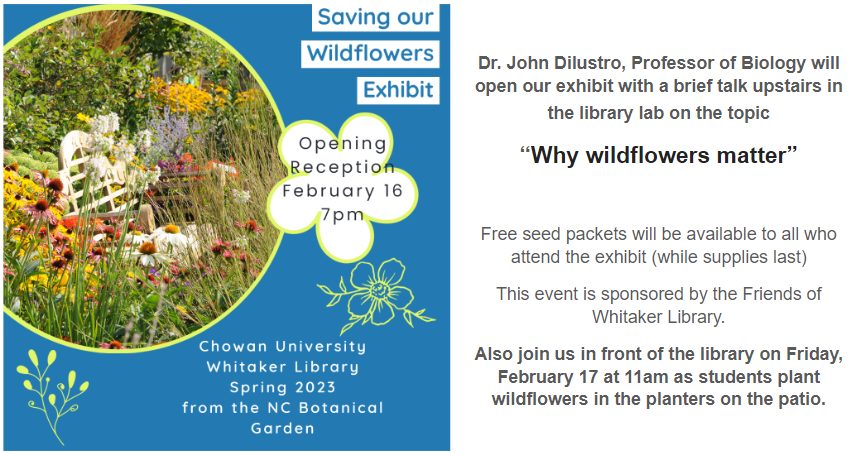 Chowan University Hosts "Saving Our Wildflowers" Exhibit 
Feb 7, 2023
by Kim Sherman Bailey
Celebrating North Carolina's Native Wildflowers: "Saving our Wildflowers" will be on display on the Main Floor of Whitaker Library at Chowan University from February 13, 2023, to May 10, 2023. This event is on loan from the North Carolina Botanical Garden and is sponsored by the Friends of Whitaker Library.
This exhibit is a traveling exhibit created through funding from the North Carolina Science Museums Grant Program overviewing wildflowers. The climate in North Carolina creates a home to over 3,300 wildflower species. Through this eight-panel display, visitors will learn about wildflowers, their relationship with wildlife, threats to the wildflowers, and how you can make a difference.
Dr. John Dilustro, Professor of Biology, will open the exhibit on February 16 at 7 pm with a brief talk on the topic "Why Wildflowers Matter." This event will be located on the third floor of Whitaker Library in the Learning Lab. For those who would like to attend the talk online, please register by sending an email to library@chowan.edu with the subject Wildflower Talk and we will send you a link to attend. Free native wildflower seed packets will be available to all who attend the exhibit while supplies last.
In celebration of the event, on Friday, February 17 at 11 am, students are invited to plant wildflowers in the planters on the patio of Whitaker Library. Sarah Bonner and Georgia Williams, librarians at Whitaker Library, were very excited to be able to bring this beautiful scientific exhibit to our local gardening community. The Library welcomes the local community to this and all library events. 
About the North Carolina Botanical Garden
The North Carolina Botanical Garden is a conservation garden. Our guiding mission is to inspire understanding, appreciation, and conservation of plants and to advance a sustainable relationship between people and nature.