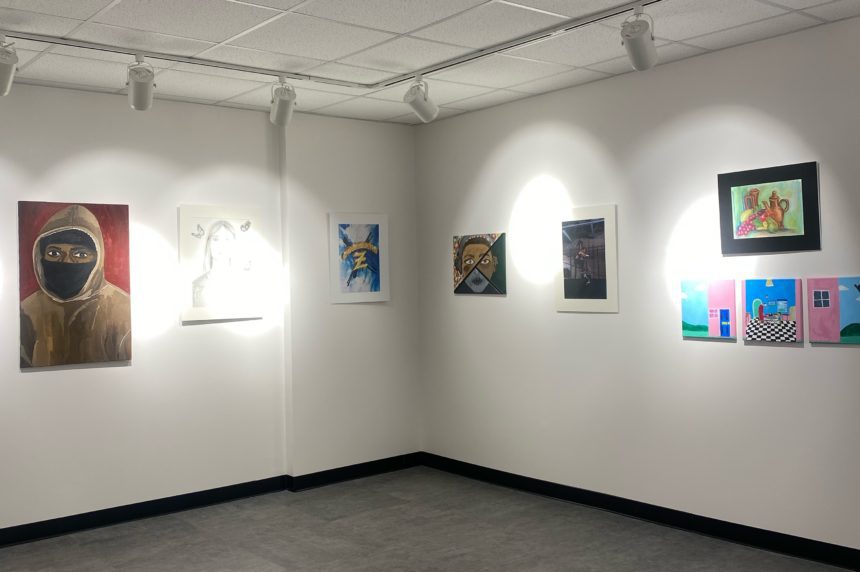 Chowan University Recognizes Winners of the 53rd Annual Student Art and Design Exhibition
Feb 9, 2023
by Kim Sherman Bailey
On February 3, 2023, Chowan University's Department of Communication Arts announced the award winners for the 53rd Annual Student Art and Design Exhibition during the opening reception.
Jan Gastal won First Prize of $150 and the Provost's Award of $100 for "Self-Portrait," which is charcoal on paper. There was a tie for Second Place with both students receiving $100; Destiny Vaughan for her work "Sanguine" and Sreshta Puducheri for her work "GURU." Mary Orletsky secured Third Prize and $75 for "Ancient Water Pot." 
The following Honorable Mentions were recognized and awarded $25 each for their notable submissions: Savion Woodley, "All of Me," Koray Sessoms, "Who are You?" Ishcah Browne, "Hibiscus," and Hannah Smith, "Untitled."
The annual art exhibition features all original artwork of Chowan University students. Typically, 30-50 students participate in the event, showcasing the work of students representing all academic years. Types of artwork and projects included in the exhibition feature graphic design, painting, printmaking, sculpture, pottery, drawing, and digital media.
"This year's entries were strong in studio art media and graphic design," commented Rob Buller, Associate Professor of Art and Director of Green Hall Galleries. "I am continually impressed with the development of our students' creativity, craftsmanship, and aesthetic sensibility. Of course, the proof of the pudding is the awesome student artwork in our galleries this month through March 3."
The exhibit is free and open to the public through March 3, from 9:00 to 5:00 pm, Monday through Friday, in Green Hall in the Juanita Kelly Pond and Charles & Frances Hinnant Galleries. Select pieces are available for purchase. 
Please join Chowan University in congratulating the winners of the 53rd Annual Student Art and Design Exhibition.