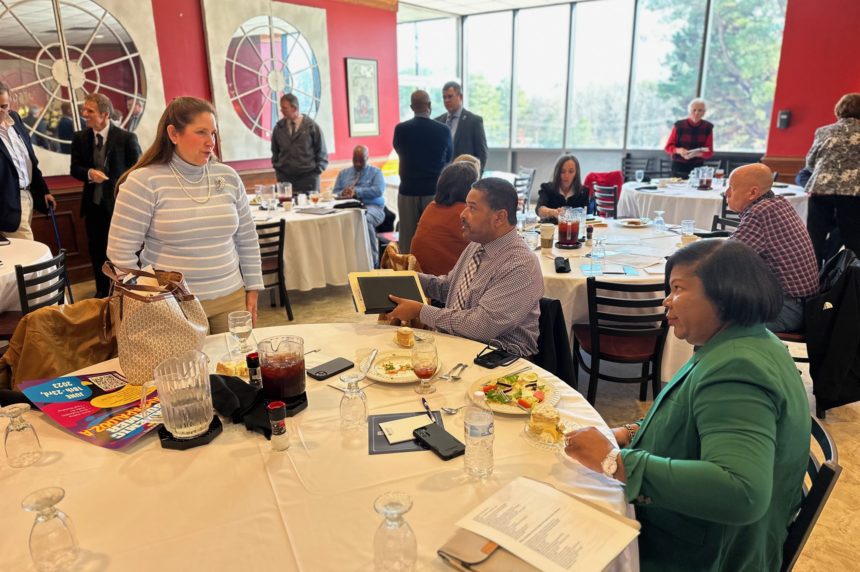 Chowan University Hosts NERSHA Meeting
Jan 20, 2023
by Kim Sherman Bailey
Chowan University hosted the monthly Northeast Regional Education Service Alliance (NERESA) meeting of superintendents from all over northeastern North Carolina. Over a dozen local superintendents joined to collaborate and work with a Department of Instruction (DPI) on current issues.
Hosting this event comes as "The President's Partnership Initiative" continues to provide support and partnership opportunities for our Local Education Agencies (LEAs). In addition to their regular scheduled meeting, Dr. Ella Benson, Dean of Accessibility Services; Professor of Education, brought greetings from the university and the partnership initiative along with a special invitation for superintendents to share with students to visit campus and gain free admission to their chosen athletic event. Dr. Mitchell Henke shared several examples of initiatives underway, like the collaboration with Halifax Country for 400 of their students to take swim lessons on Chowan's campus this summer and the Campalooza Academic Summer Camps happening in June. Dr. Kirk Peterson thanked those who have already partnered and reminded all that the university wishes to support them through a myriad of opportunities. 
About the President's Partnership Initiative
Chowan University seeks to partner with local public schools, private schools, home school associations, and other community groups. Coordinating this effort is Dean of Accessibility Services and Professor of Education, Dr. Ella Benson. She shared, "the goal of these partnerships is to help alleviate the teacher shortage, to bring local students to Chowan's campus for various academic, athletic, artistic, and social activities." She continued, "as well as to show that Chowan is a great choice for post-secondary education students and professional education for teachers and other professionals."
The University offers to partner for professional development activities for LEA employees, such as for credit "a la carte classes," tuition discounts for graduate programs at Chowan, and professional development boot camps.  For LEA students, the university offers dual enrollment opportunities as well as academic, athletic, and cultural and social enrichment opportunities. 

For more information on the President's Partnership Initiative, please contact Ella Benson at 252.398.6358 or email her bensoe@chowan.edu. Click here to view the brochure.