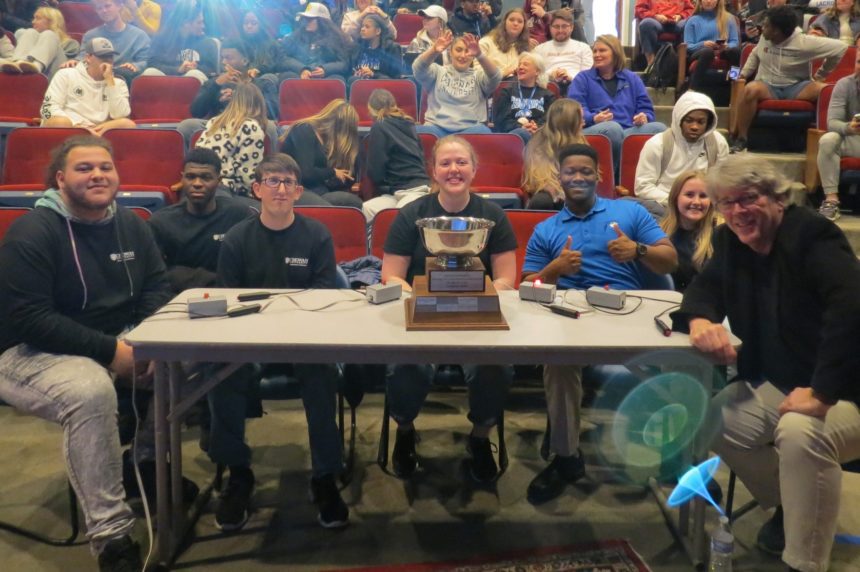 Department of Business Clinch Academic Bowl Success in Enthralling Final  
Dec 8, 2022
by Harri Lovett
Without a seat left sat on, a bursting Vaughan Auditorium, Marks Hall, was the venue for the final of the 2022 Brown Lady Academic Bowl Championship. The Department of Business was victorious over an outstanding Criminal Justice team, in a battle that went right to wire. Student and faculty all-stars were also announced, which concluded an exciting morning of academic competition and fellowship on December 1, 2022.
Having taken an early lead of 90-25, it looked certain that Dr. Entzminger would lead his high-performing Criminal Justice side to similar glory that had brought them to the final. However, it was the Business Department who got in their groove, charged by Academic Bowl MVP, David Liverman, eventually winning the game to a score of 295 to 240. The Championship is a first for the Department of Business since the Academic Bowl's inauguration in 2012.
The intent of the competition is to foster school spirit through an academic competition among the University's academic departments and student affairs offices. The event pits sixteen teams of students, faculty, and staff against each other in a fast-paced round of trivia that covers everything from chemistry to pop culture. This year, Rachel Van-Buren delivered the questions.
Having officiated and organized the event, Provost Moore announced the tournament all-stars, as well as faculty and student MVPs. The award winners are listed below:
Student MVP
David Liverman (Business)
Student All-Stars
Alexa Woolson (Business)
Rebekah Lucas (Biology)
Daniel Prevost (Criminal Justice)
Patricia-Anne Novak (Criminal Justice)
Amber Mann (English)
Jaxon Eck (Psychology)
Rayn Ross (Psychology)
Torie Brown (Fellows)
Gracie Ross (History)
Faculty MVP
Phillip Entzminger (Criminal Justice)
Faculty All-Stars
Tom Eisenmenger (Business)
David Ballew (History)
Tim Hayes (English)
Mary Mitchell (Psychology)
Rob Buller (Communication Arts)
Heather McGuire (Biology)
Torrence Gill (Biology)
Tom Collins (Sport Science)
Mitch Henke (Fellows)
Another victory for the Chowan University community was the evident school spirit exhibited inside the auditorium and the engagement delivered by both students and faculty. Although light-hearted, the jeering from the "sell-out" crowd provided an exciting, intense, and jovial atmosphere for a remarkable game.
Chowan University would like to congratulate the Department of Business on their well-earned 2022 Brown Lady Academic Bowl Championship, Student MVP David Liverman, Faculty MVP Dr. Entzminger, as well as all other participants in the annual academic event.