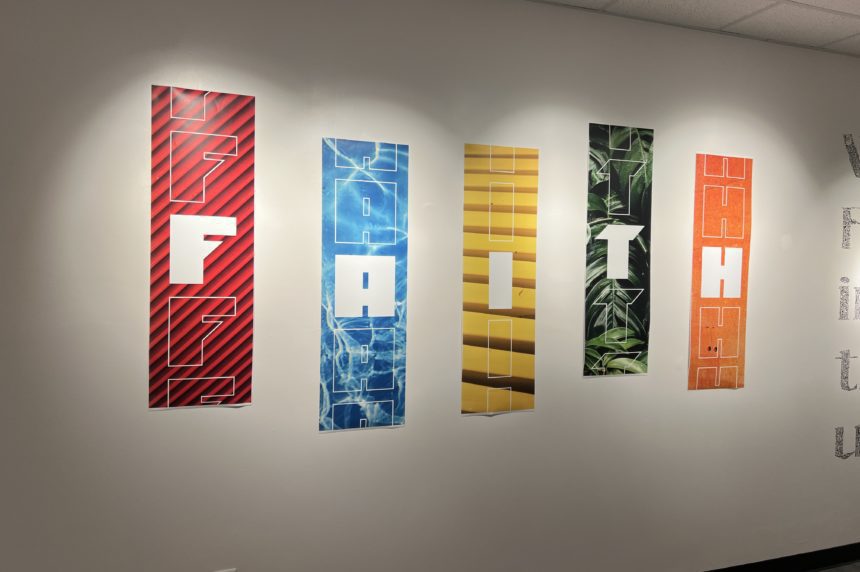 The Chowan Graphic Design Club FAITH Poster Show
Dec 7, 2022
by Staff Reports
On Thursday, November 28th, the Department of Communication Arts hosted "The FAITH Poster Show" opening reception in the Juanita Kelly Pond Gallery and Charles and Frances Hinannt Gallery in Green Hall.
A display of student work, the poster show is an exploration of what faith looks like from different perspectives. Whether through poster design or wall mural, it is a chance for students to express their views on Faith and how it shapes and impacts their lives. Every participant shares their visualization of their individual faith journey while also acting as an essential part of the greater fabric of the collective faith journey on display.
"The idea for the show came through brainstorming with the CGDC (Chowan Graphic Design Club) about what we all might like to dive into, and the idea came up a few times about diving into Faith, seeing as Chowan's tagline is "faith in your future," shared Jason Fowler, Assistant Professor of Graphic Design and curator of the show. "The students really wanted to explore what faith meant to them."
Participating students were: Chris Whaley '23, Dave Clark '23, Karensa Strieder '23, Tiyonte Flood '23, Jaylen Baucom '23, Destiny Vaughan '23, Morakinyo Fadahunsi '23, Kayla Casper '23, Sirmoses Buchannon '24, Chris Ward '24, Daisy Edwards '24, Ulyses Ortega-Espino '24, Tyler Ellis '25, and Corey Spruill '25.
The gallery is open Monday through Friday from 8 am to 5 pm until December 12, 2022.