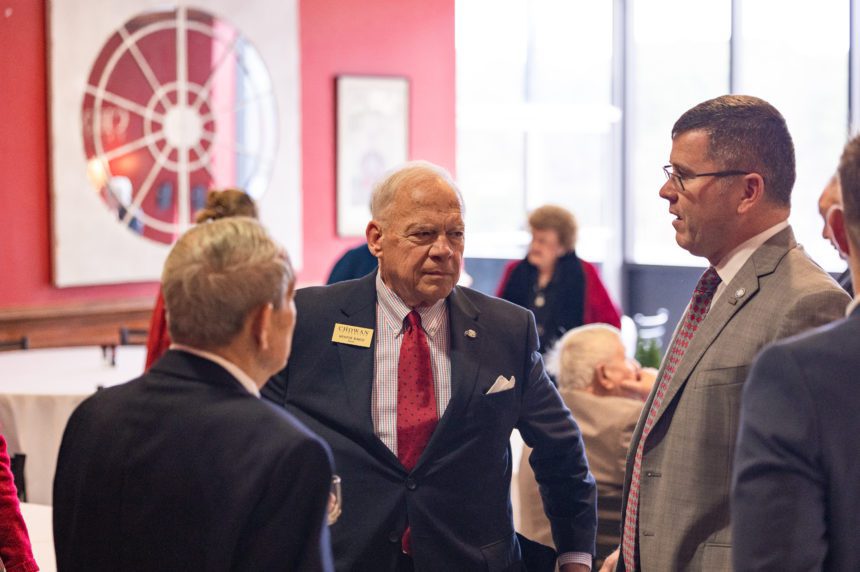 Chowan University Hosts the Inaugural Legacy Society Luncheon 
Dec 7, 2022
by Harri Lovett
On December 4, 2022, the Office of Major Gifts and Planned Giving at Chowan University hosted the Inaugural Legacy Society Luncheon. The luncheon celebrated members of the Legacy Society who have made commitments to Chowan through estate planning. The event, which preceded the Christmas at Chowan concert, was held in the Chowan Room.
Executive Director of Major Gifts and Planning Giving, John M. Tayloe led the event. He offered thanks to the donors in attendance and expressed the importance of spreading the message of Chowan. "Legacy gift plans offer us great inspiration as we look toward the future of Chowan with great anticipation," shared Tayloe. "Numbering more than 70, Legacy Society members will bless many aspects of Chowan."
Following the pinning ceremony and lunch, Dr. Kirk Peterson, President, spoke to the attendees about the vision for the future and the strategic planning process currently underway. Joshua Lynch, senior Music Major, sang "O Holy Night" to conclude the program and was accompanied by Dejuan Lee, pianist.
Individuals are granted membership in the Legacy Society by including Chowan University in their will or trust, naming the university as a beneficiary of all or part of a life insurance policy or retirement plan, or taking advantage of other giving opportunities as part of estate planning. Individuals can preserve their assets now and support Chowan University for years to come. Your gift will have a lasting impact.
To learn more about the Legacy Society and the impact it has on the future of Chowan University, contact Executive Director of Major Gifts and Planning Giving, John M. Tayloe, at (252) 398-1232.