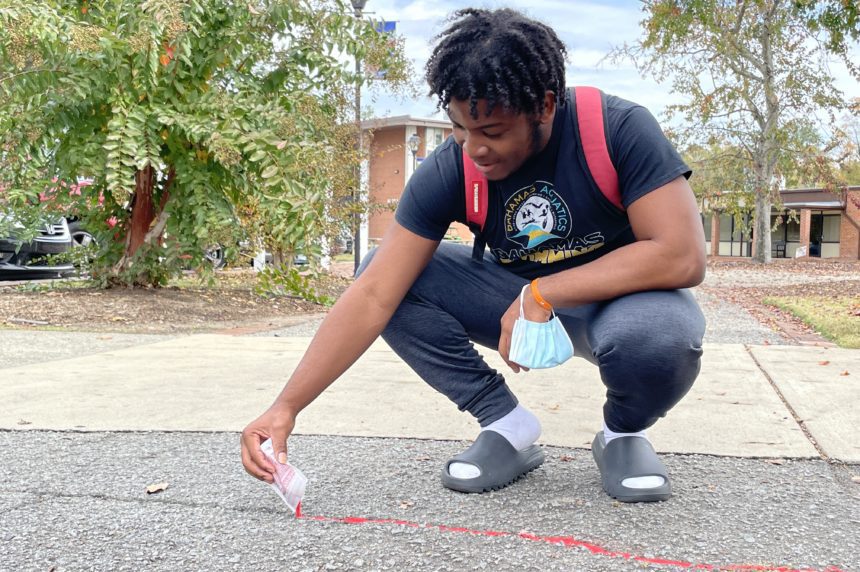 Campus Ministry Hosts Annual Chowan Cares Week
Nov 15, 2022
by Lou Ann Gilliam
Chowan Cares Week is a yearly tradition hosted each November by Chowan University Campus Ministry. Students were given hands-on opportunities each day to show kindness in very tangible ways. Many of the projects were completed around a big table in the Thomas Dining Hall during lunchtime. This format gave Minister to the University, Rev. Mari Wiles an opportunity to share with participants the mission and meaning behind each of the projects.
On Monday in the cafeteria, students created Thanksgiving cards for those experiencing homelessness. While creating the cards, Minister to the University Rev. Mari Wiles, shared with the students about Preble Street an organization that will deliver their cards with Thanksgiving meals to individuals living on the streets. Preble Street in Portland, Maine, has been a mission trip site for Chowan.
During lunch on Tuesday, students made pouches that will be delivered by the Campus Ministry Mission Team to Santiago de Cuba, Cuba. Students carefully covered Ziploc bags with colored duct tape to make the pouches beautiful and strong. Ny'Anna Mabry '23, a psychology major from Lexington, said that the project was "fun and helped her feel connected" to the people in Cuba. Rev. Wiles shared that the reusable bags would be well received by those they meet on the mission trip.
Wednesday's event began on the steps of McDowell Columns Hall. Director of Church & Community Relations, Lou Ann Gilliam shared with students about the "Red Sand Project" which raises awareness that an estimated 40.3 million people are living in slavery. Many are being trafficked or trapped in forced labor. Students then took bags of red sand to pour in sidewalk cracks to represent those that are "invisible" and make them "visible."
After receiving his bag of sand, Exercise Science major from the Bahamas, Ethan Moxey '24 returned to the spot where he poured his sand the year prior. "This is a problem that should not be ignored. I am glad to raise awareness about human trafficking," he shared.
On Thursday, students were invited to spend time with a mentor or friend. Chowan Cares Week concluded on Friday with students returning to the cafeteria table to write notes of encouragement to faculty and staff. Rev. Wiles praised the Chowan community for "a great job of showing you care."
For more information about Chowan Cares or Chowan Campus Ministry, you may contact Rev. Mari Wiles at wilesm@chowan.edu.