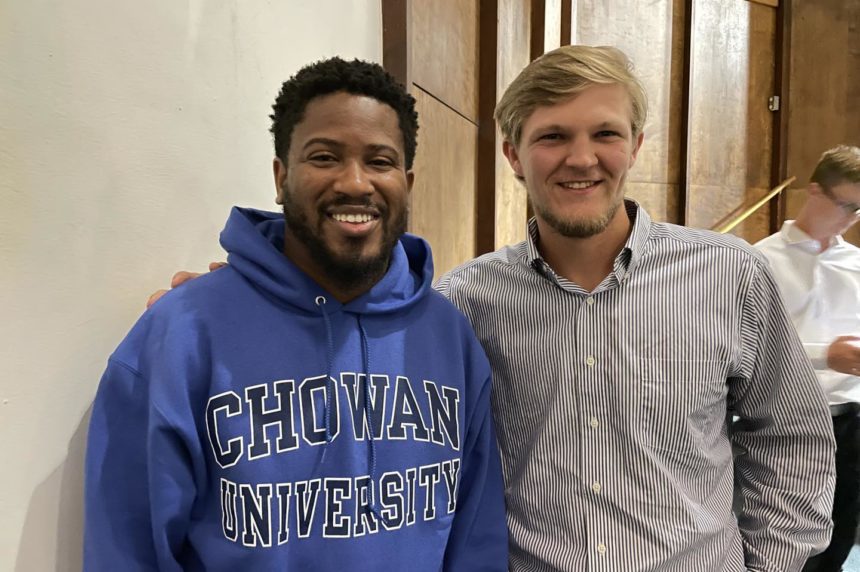 Chowan Begins Homecoming Celebrations with Annual Worship Service
Oct 12, 2022
by Lou Ann Gilliam
On Monday, October 10, Chowan University Campus Ministry Team 4:13, student chaplains for athletic teams, hosted the annual Homecoming Worship Service.
The evening began with Minister to the University, Rev. Mari Wiles welcoming the guests. Following her welcome, Men's Lacrosse chaplain Deondre Brown'25 opened the service in prayer. Minister of Engagement, Calvin Carter, the Gospel Choir, and the Praise Band led worshippers in several praise songs. The Daughters of the Most High Praise Dance team members, Shania Black'23 and Caryn Bowe shared a praise dance to the song, "Holy Spirit."
Powerful testimonies were given by student body president, Kashara Simpson'25 and football chaplain Jaylon Boyd'23. Both students shared how their faith has been a guiding force in their lives. Following the testimonies, former student Rev. Terrell Batten delivered the sermon, "It's His Love For Me" based on Mark 8:22-26 where the blind man receives a second touch from Jesus to restore his sight. Batten reminded students that Jesus continually offers them a second touch for healing.
The worship service concluded with graduate student and Baseball chaplain, Patrick Krack '22 offering the benediction. Guests were then invited to a special snack dinner from Chick-fil-A sandwiches. Students enjoyed the worship service and the fellowship meal. Rev. Wiles commented, "this annual tradition gives our student-athletes a platform during Homecoming Week to share their faith and it was doubly special for the 'homecoming' of former student, Rev. Terrell Batten."
For more information on Chowan Campus Ministry or Team 4:13 you may contact Rev. Mari Wiles at wilesm@chowan.edu.